3 Biotech Stocks to Buy on Sale Right Now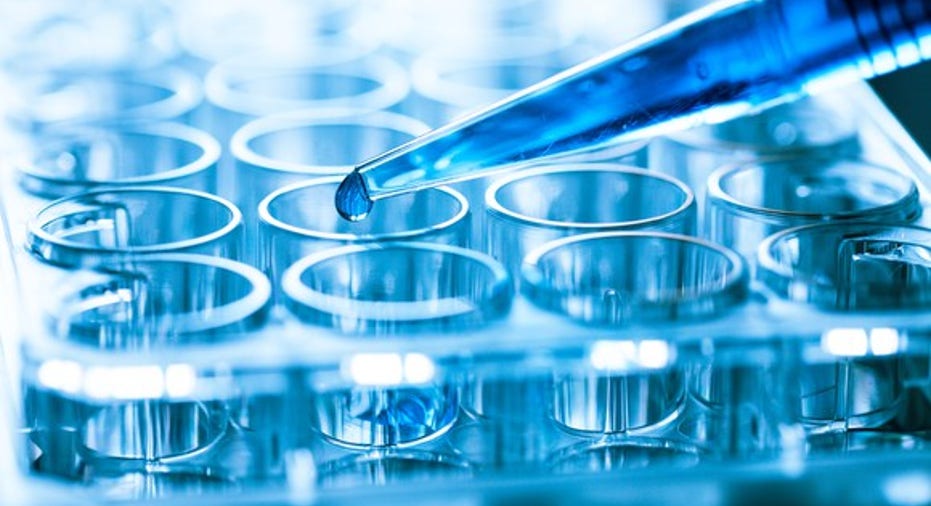 Image source: Getty Images.
Don't wait until next year; there are stocks you can buy right now that should give you exceptional returns over the long run. Three of them are in the once high-flying but now beaten-down biotech industry.
And you don't have go with speculative plays or stocks with valuations in the stratosphere. Gilead Sciences and Celgene are two big biotechs that are practically blue chips. Ligand Pharmaceuticals isn't nearly as large, but it's a rising star with solid revenue already and a strong pipeline. I think all three stocks are currently trading well below where they'll likely be over the next few years. Here's why to buy these biotech stocks sooner rather than later.
1. The "buyback and dividend" play: Gilead Sciences
Let's start with the knocks against Gilead. The biotech's wildly successful hepatitis C drugs Harvoni and Sovaldi probably won't be able to sustain their tremendous sales growth. A mainstay of Gilead's HIV franchise loses patent exclusivity in the not-too-distant future.And the biotech's earnings aren't likely to grow very much over the next few years.
All these statements are true. However, they also don't address some significant positives for Gilead. First, the biotech appears likely to continue buying back shares like it's going out of style. In 2015, Gilead implemented a buyback totaling $15 billion. The company followed that up this year with plans to repurchase another $12 billion worth of shares.
Even though Gilead's earnings growth will likely be anemic for a few years, Wall Street doesn't expect the biotech to experience any serious earnings declines. That means Gilead could easily keep on buying back shares at a rate that pushes earnings per share up around 10% or more annually.I'd say buying a stock trading at only 7 times earnings that can accomplish that feat is a pretty smart move.
And don't forget Gilead's dividend. The forward dividend yield currently stands at 2.3%. That's not bad at all. Gilead appears likely to increase the dividend payments down the road just as it did earlier this year.
Also, I wouldn't rule out a pleasant surprise in Gilead's earnings outlook. The big biotech still has over $8 billion in cash (including cash equivalents and short-term investments). Gilead has made some smart acquisitions in the past that dramatically impacted its financial future. A repeat performance isn't out of the question.
2. The "building blockbusters" play: Celgene
Most of Celgene's success to date has stemmed from one drug: Revlimid. The good news for Celgene is that sales for this blockbuster blood cancer drug are still growing solidly. Even better news for the biotech, though, is that more blockbusters are on the horizon.
Last year, Abraxane and Pomalyst/Imnovid were within striking distance of the coveted $1 billion annual sales mark. Both drugs appear to be on track to attain blockbuster status in 2016 based on first-quarter results.
Plaque psoriasis drug Otezla is also coming on strong. In 2015, Otezla generated sales of almost $472 million. This year, the drug has already made over 40% of that total in the first quarter alone.
Celgene's pipeline looks impressive, too. The company has clinical studies under way for additional indications for Revlimid, Abraxane, and Otezla. I'd say the winner of the Most Likely to Succeed award for new pipeline candidates goes to Ozanimod. The multiple sclerosis drug could hit peak annual sales between $4 billion and $6 billion.
All these likely blockbusters added to Celgene's arsenal translates to growth. Analysts project the biotech will increase earnings at an average pace of 22% per year over the next five years. I think those projections are realistic considering the sales trajectory of Celgene's current drugs and its pipeline prospects.
Don't be alarmed by Celgene's trailing-12-month earnings multiple of almost 49. If you look at the biotech's likely earnings growth, shares are actually relatively cheap at current levels. Celgene's forward earnings multiple is a much lower 14, making this biotech a bargain buy right now.
3. The "with a little help from my friends" play: Ligand
Ligand might be tiny compared to Gilead and Celgene, but good things often come in small packages.
The key to Ligand's success is its partnerships. Ligand's business model focuses on helping other drugmakers develop products more effectively. That strategy has borne fruit for the biotech. Licensing deals with larger partners led to success with Amgen's Kyprolis and Novartis' Promacta. The two drugs currently provide most of Ligand's revenue and profits.
That situation seems likely to change soon, however. Four drugs that use Ligand's technology are awaiting regulatory approval. Another eight drugs being developed by licensing partners are in late-stage clinical studies. Throw in a whopping 40-plus drugs using Ligand's technology in phase 1 and phase 2 testing.
Could this massive pipeline lead to ginormous earnings growth? Wall Street thinks so. Analysts project Ligand will grow earnings at nearly 46% annually over the next five years. Even if they're overly optimistic, Ligand still looks attractively valued considering its potential.
The article 3 Biotech Stocks to Buy on Sale Right Now originally appeared on Fool.com.
Keith Speights owns shares of Celgene and Gilead Sciences. The Motley Fool owns shares of and recommends Celgene and Gilead Sciences. The Motley Fool has the following options: short October 2016 $95 puts on Celgene. Try any of our Foolish newsletter services free for 30 days. We Fools may not all hold the same opinions, but we all believe that considering a diverse range of insights makes us better investors. The Motley Fool has a disclosure policy.
Copyright 1995 - 2016 The Motley Fool, LLC. All rights reserved. The Motley Fool has a disclosure policy.