3 Biotech Stocks to Buy Now for the Long Haul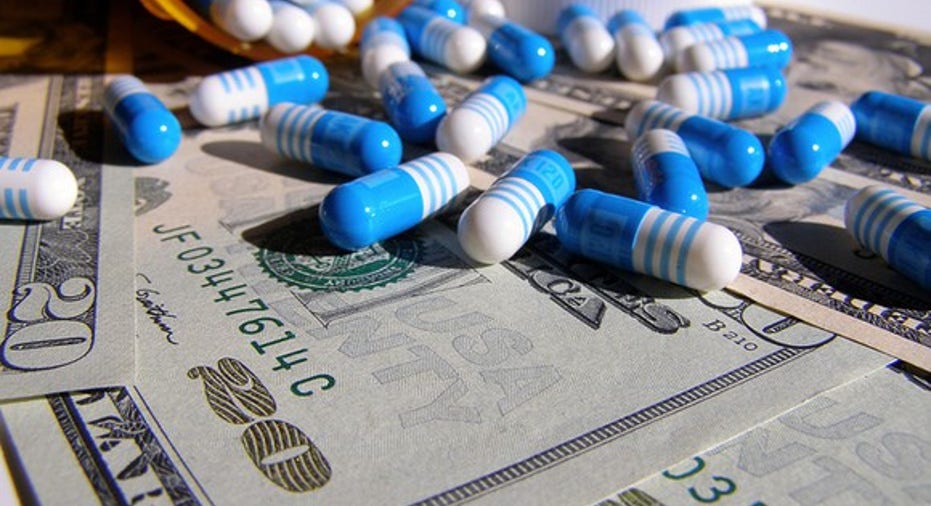 Image source: Flickr user stockmonkeys.com.
Patent expiration risk means that today's biotech leaders may not be the leaders of tomorrow, but despite that risk, Gilead Sciences , Celgene Corp. , and Regeneron Pharmaceuticals, Inc. appear to have the staying power necessary to make them core holdings in long-term portfolios.
Deep pockets getting deeper
Even after plowing $8 billion into stock buybacks last quarter, Gilead Sciences' cash stockpile remains the envy of the industry. The company's top-selling HIV and hepatitis C drugs are kicking off so much cash every month that Gilead Sciences' balance sheet boasts $21 billion in cash and investments at the end of March.
Gilead Sciences' financial firepower gives it the flexibility to invest in internal R&D projects and buy promising clinical-stage companies before they can become its competitors.
Recently, Gilead Sciences' share price has struggled over fear that a hepatitis C price war is causing sales to plateau. That pricing risk shouldn't be ignored, but the FDA is expected to approve the company's next-generation hepatitis C drug on June 28, and if it does, then that could firm up Gilead Sciences' market share and pricing power in the indication.
The company's dominance in HIV treatment appears intact too. Despite facing tough competitors like GlaxoSmithKline's ViiV, new formulations of combination therapies offer plenty of patent protection and potential for growth. That's because Gilead Sciences' new combination therapies include TAF, a version of the widely used Viread that's less toxic to the liver and that can therefore be used in sicker patients.
Gilead Sciences is also attacking new markets with billion-dollar blockbuster potential. In December it licensed Galapagos NV's filgotinib, a therapy for rheumatoid arthritis that's entering phase 3 trials soon. Gilead Sciences also has four R&D programs underway in nonalcoholic steatohepatitis, a major cause of liver transplants that has limited treatment options.
With firm financial footing and revenue drivers that could move the needle soon, Gilead Sciences remains one of my favorite stocks to own for the long haul.
Image source: Celgene Corp.
Tackling cancer
Although Celgene Corp's massive R&D spending hasn't cured cancer yet, it has led to significant treatment advances that offer hope to thousands of patients every year.
The company's top-selling multiple myeloma drug, Revlimid, has become the most widely prescribed first- and second-line therapy in the indication, and as a result, its sales should top $6.5 billion this year. Celgene's reformulation of the chemotherapy drug paclitaxel, which is sold as Abraxane, has become commonly used to treat pancreatic cancer. And collaborations with next-generation cancer drug developers, including Juno Therapeutics and Agios Pharmaceuticals , put it in a good position to remain at the forefront of the cancer treatment market for the long term.
In addition to becoming a leading cancer drugmaker, Celgene has also begun to dip its toes into other indications. Last year, the company's psoriasis drug Otezla became one of the fastest-growing drugs used to treat autoimmune disease. Sales of Otezla exited March at $196 million, prompting management to say that Otezla's sales could hit $1 billion this year.
Celgene also spent $7 billion last year buying biotech company Receptos so that it could add ozanimod to its product pipeline. Ozanimod is a multiple sclerosis drug in phase 3 trials that delivered efficacy and safety results in phase 2 that match up nicely against competitors. Results from ozanimod's phase 3 studies are expected next year. Celgene's also working on GED-0301, a Crohn's disease drug that could have 10-figure potential. Results from GED-0301's registration-enabling study should be available in 2017 too. With all those irons in the fire, there's good reason to be bullish on this company's future.
Image source: Regeneron Pharmaceuticals, Inc.
Becoming the next big biotech
Regeneron's been on a roll since winning approval for its wet age-related macular degeneration (AMD) drug Eylea in 2011. Eylea has increasingly captured market share from the megablockbuster drug Lucentis in wet AMD, and following approval for use in diabetic macular edema patients in 2014, Eylea's global sales reached an annualized pace of $4.8 billion in the first quarter of 2016.
Eylea's megablockbuster status is a big reason to own shares in Regeneron, but it's not the only reason.
Thanks to a collaboration with Sanofi , Regeneron's R&D pipeline is beginning to pay off.Last summer, Regeneron and Sanofi won approval of Praluent, a novel cholesterol-fighting drug.
Sales of Praluent haven't taken off yet because of reimbursement delays at insurers, but ongoing studies that could show Praluent reduces the likelihood of cardiovascular events could eventually turn Praluent into a big seller.
Additionally, successful late-stage studies for sarilumab and dupilumab, two monoclonal antibody drugs that target rheumatoid arthritis and eczema, respectively, could mean that they hit the market soon.In trials, sarilumab bested Humira, the world's best-selling drug, and dupilumab became the first systematic therapy to show positive phase 3 results in moderate to severe eczema patients. An FDA decision on sarilumab is expected on Oct. 30, and a filing for FDA approval of dupilumab is expected in the third quarter.
Because Eylea's sales continue to climb (Eylea revenue grew 44% year-over-year in Q1) and new drugs could begin contributing meaningfully to the top line in the coming year, I think Regeneron has a good shot at becoming a top-tier biotech company. If I'm right, then buying its shares now might be savvy.
The article 3 Biotech Stocks to Buy Now for the Long Haul originally appeared on Fool.com.
Todd Campbell owns shares of Celgene and Gilead Sciences.Todd owns E.B. Capital Markets, LLC. E.B. Capital's clients may have positions in the companies mentioned. Like this article? Follow him onTwitter where he goes by the handle@ebcapital to see more articles like this.The Motley Fool owns shares of and recommends Celgene and Gilead Sciences. The Motley Fool owns shares of Regeneron Pharmaceuticals and has the following options: short October 2016 $95 puts on Celgene. The Motley Fool recommends Juno Therapeutics. Try any of our Foolish newsletter services free for 30 days. We Fools may not all hold the same opinions, but we all believe that considering a diverse range of insights makes us better investors. The Motley Fool has a disclosure policy.
Copyright 1995 - 2016 The Motley Fool, LLC. All rights reserved. The Motley Fool has a disclosure policy.