3 Biotech Stocks That Turned $10,000 Into Over $100,000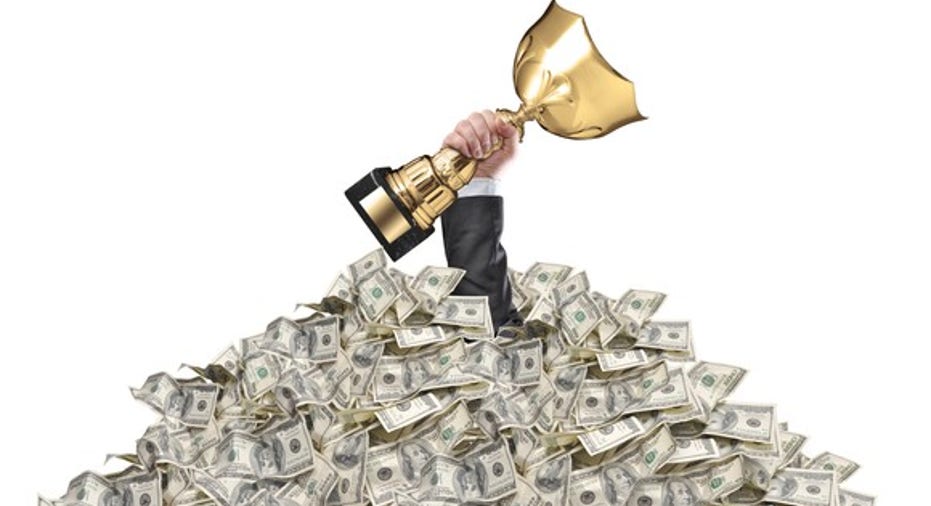 Some biotech stocks have made shareholders a lot of money over the last decade. Few, though, have performed as well as Opko Health (NASDAQ: OPK), Incyte (NASDAQ: INCY), and China Biologic Products (NASDAQ: CBPO). These three biotech stocks turned an initial investment of $10,000 into more than $100,000 in just 10 years. Here's how they did it.
Image source: Getty Images.
Opko Health: Acquiring growth
Opko's share price is up around 1,250% in the last 10 years, enough to turn $10,000 into over $110,000. The biotech's name hints at its early roots in developingophthalmic pharmaceuticals andophthalmic diagnostic and imaging systems. Through the years, though, Opko acquired other businesses that expanded its focus -- and drove its stock up tremendously.
2013 was a pivotal year for Opko. The company more than doubled its revenue thanks primarily to its purchases in the previous year of laboratory service providerProst-Data and European pharmaceutical and veterinary products companyFarmadiet.
Today, Opko claims a large diagnostics business, with the nation's third-largestclinical laboratory with a core genetic testing focus and products includingprostate cancer screening test 4Kscore andthe Claros 1 in-office immunoassay platform. Opko's pharmaceutical business unit featuressecondary hyperparathyroidism drug Rayaldee andchemotherapy-induced nausea and vomiting drug Varubi.
Opko continues to grow through acquisitions, most recently with its purchase of Canadian biotechTransition Therapeutics. The company recently announced disappointing results from a late-stage study of a long-acting human growth hormone in development with Pfizer, but still hopes to be able to move forward with the product.
Incyte: Jumping with Jakafi
During the last decade, Incyte's stock has soared over 1,600%. That performance would have turned an initial $10,000 investment into more than $170,000. Incyte's pathway to success came from its JAK inhibitor program.
Jakafi won U.S. regulatory approval in late 2011 for treatingpatients with intermediate or high-risk myelofibrosis. Incyte received U.S. approval in 2014 for Jakafi in treating polycythemia vera, which, like myelofibrosis, is a rare blood cancer.
To say that Jakafi has been a winner is an understatement. In 2015, Incyte's revenue from U.S. sales of the drug topped $600 million. The biotech made nearly $75 million on top of that from royalties for non-U.S. sales made by licensing partner Novartis. Incyte generated even higher revenue from Jakafi in just the first three quarters of 2016.
While Jakafi remains a key part of Incyte's story, the biotech has several other products potentially on the way. Baricitinib, a JAK1/JAK2 inhibitor licensed to Lilly, awaits regulatory approval in the U.S. and Europe for treating rheumatoid arthritis. Incyte's pipeline is also loaded with other JAK inhibitors as well as other candidates.
China Biologic Products: Powered by plasma
An even bigger biotech winner over the past 10 years is China Biologic Products. Shares have soared nearly 3,500% during the period, turning a $10,000 investment into over $350,000.
China Biologic Products makes its money primarily from two sources: human albumin andimmunoglobulin for intravenous injection (IVIG). Human albumin comes from plasma proteins in blood. It's used to help critically ill patients maintainblood volume and pressurelevels. IVIG also is made from human plasma and is used to enhance specific immunity.
The company has benefited from a surge inChina's plasma products market, which more than tripled between 2009 and 2014. China is the second-largest plasma products market in the world, trailing only the U.S. Despite the rapid growth, China'sper-capita consumption of plasma products is still well below that of developed countries.
While China Biologic Products' growth is still solid, it does appear to be tapering off somewhat. Revenue in the first nine months of 2016 increased roughly 15% compared to the prior-year period.
Ingredients for success
Don't look for any of these three biotech stocks to necessarily perform over the next decade as they have during the last 10 years. However, the ingredients for their success are good ones to look for in other biotech stocks.
Some biotechs might buy their way into impressive stock performance in a similar way that Opko did. Others could win approval for great new drugs with enormous market potential just as Incyte did with Jakafi. And there are biotechs that could simply be in the right place at the right time like China Biologic Products was with the booming Chinese plasma market.
Of course, all three stocks carried significant risks 10 years ago -- and they still do today (as seen with Opko's latest clinical setback). That's the same with any biotech stock. But sometimes with great risk comes great reward. Opko, Incyte, and China Biologic Products prove the point.
10 stocks we like better than China Biologic Products When investing geniuses David and Tom Gardner have a stock tip, it can pay to listen. After all, the newsletter they have run for over a decade, Motley Fool Stock Advisor, has tripled the market.*
David and Tom just revealed what they believe are the 10 best stocks for investors to buy right now... and China Biologic Products wasn't one of them! That's right -- they think these 10 stocks are even better buys.
Click here to learn about these picks!
*Stock Advisor returns as of Nov. 7, 2016
Keith Speights has no position in any stocks mentioned. The Motley Fool has no position in any of the stocks mentioned. The Motley Fool has a disclosure policy.