3 Biggest Risks for Bristol-Myers Squibb in 2017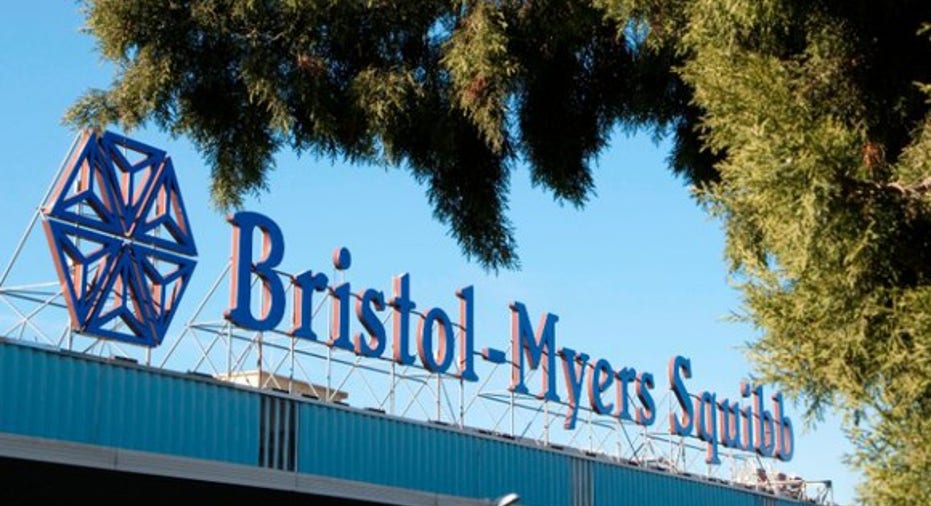 From a financial standpoint, 2016 was terrific for Bristol-Myers Squibb (NYSE: BMY). Revenue jumped more than 25% year over year in the first three quarters. Earnings more than doubled. Can the big drugmaker perform as well in 2017? Here are three of the biggest risks that Bristol-Myers Squibb faces in the new year.
Image source: Bristol-Myers Squibb.
Opdivo letdown
Despite all of the impressive financial numbers in 2016, Bristol's share price fell by a double-digit percentage. The primary culprit in the disappointing stock performance was the release in August of late-stage clinical study results for cancer drug Opdivo.
In this study, Opdivo failed to meet the primary endpoint of progression-free survival in patients with previously untreated advanced non-small cell lung cancer. Merck (NYSE: MRK), on the other hand, reported positive results in June from a late-stage study of its Keytruda as a first-line treatment of non-small cell lung cancer in patients with high PD-L1 expression.
Although Opdivo has generated stronger sales so far than Keytruda, that could change in 2017. Merck now appears to be in the driver's seat in the lucrative lung cancer market. Bristol-Myers Squibb's strategy is to grow sales for Opdivo by combining it with other drugs. That approach could very well pay off. However, there's a real risk that Opdivo might be upstaged by Keytruda in the new year.
Current lineup losses
Bristol-Myers Squibb needs all the growth it can get from Opdivo and other drugs like blood thinner Eliquis. Sales are slipping for several of its biggest moneymakers from the past.
Abilify lost patent protection in 2015. As a result, sales for the antipsychotic drug plunged 86% year over year in the first three quarters of 2016. Bristol's group of mature drugs that have already lost patent exclusivity saw sales drop 20% during the same period.
The company is also feeling pain from its antiviral products, which combined for more than a quarter of Bristol's total revenue in the first three quarters of 2016. Sales were down year over year by double-digit percentages for hepatitis B drug Baraclude and HIV drugs Reyataz and Sustiva. The only bright spot in the antiviral lineup came from Bristol's hepatitis C franchise, with sales climbing 18% from the prior-year period.
This downtrend for drugs losing patent protection isn't likely to end in 2017. There probably won't be a significant bounce for Bristol's antiviral drugs, either. The risk for the company is that these losses from its current product lineup put a big dent in gains from newer drugs.
Pipeline setbacks
The disappointing late-stage study results for Opdivo illustrate just how much of a negative impact a pipeline setback can have. Bristol-Myers Squibb's pipeline includes several phase 3 clinical trials that could make a difference for the company in 2017.
A combination of Opdivo and Yervoy is being evaluated in treating melanoma. Final data for the primary outcome measure of this study is expected to be collected in April 2017. Another late-stage study of this combo regimen in treating melanoma is also underway, with final data collection for the primary outcome scheduled to be completed in October.Final data for the primary outcome from yet another study of Opdivo in treating advanced liver cancer is expected in July 2017.
Outside of exploring potential additional indications for current drugs on the market, Bristol-Myers Squibb has a pretty slim late-stage pipeline. That could put the company's phase 2 candidates more in the spotlight. The danger is that there is more risk of failure with these experimental drugs that aren't as far along in the development process.
Weighing the risks
How big is the threat to Bristol-Myers Squibb's stock performance in 2017 from these three risk factors? WhileOpdivo might not reach the peak sales level that some had predicted, the drug should still remain a huge winner. I think the negative implications of the disappointing late-stage study results are already baked into Bristol's share price, so an Opdivo letdown probably doesn't present a huge risk in the new year.
The sliding sales for several of the company's existing drugs aren't a surprise to anyone. I suspect the real danger is that Bristol's hepatitis C drugs don't perform as well in 2017 as they did in 2016. Still, though, my guess is that any underwhelming numbers wouldn't be enough to derail Bristol's stock.
That leaves pipeline setbacks. If any of the late-stage Opdivo clinical studies currently in progress flop, 2017 will likely be a horrible year for Bristol-Myers Squibb. I see this as the biggest risk for the company. However, my view is that Bristol is probably right that Opdivo will prove successful in combination with other drugs.
Overall, I think the company will enjoy continued financial success in the new year. I'm not as confident that the stock will experience a huge rebound, though.
10 stocks we like better than Bristol-Myers Squibb When investing geniuses David and Tom Gardner have a stock tip, it can pay to listen. After all, the newsletter they have run for over a decade, Motley Fool Stock Advisor, has tripled the market.*
David and Tom just revealed what they believe are the 10 best stocks for investors to buy right now... and Bristol-Myers Squibb wasn't one of them! That's right -- they think these 10 stocks are even better buys.
Click here to learn about these picks!
*Stock Advisor returns as of Nov. 7, 2016
Keith Speights has no position in any stocks mentioned. The Motley Fool has no position in any of the stocks mentioned. Try any of our Foolish newsletter services free for 30 days. We Fools may not all hold the same opinions, but we all believe that considering a diverse range of insights makes us better investors. The Motley Fool has a disclosure policy.