3 Biggest Challenges Facing Raptor Pharmaceuticals Corp. Stock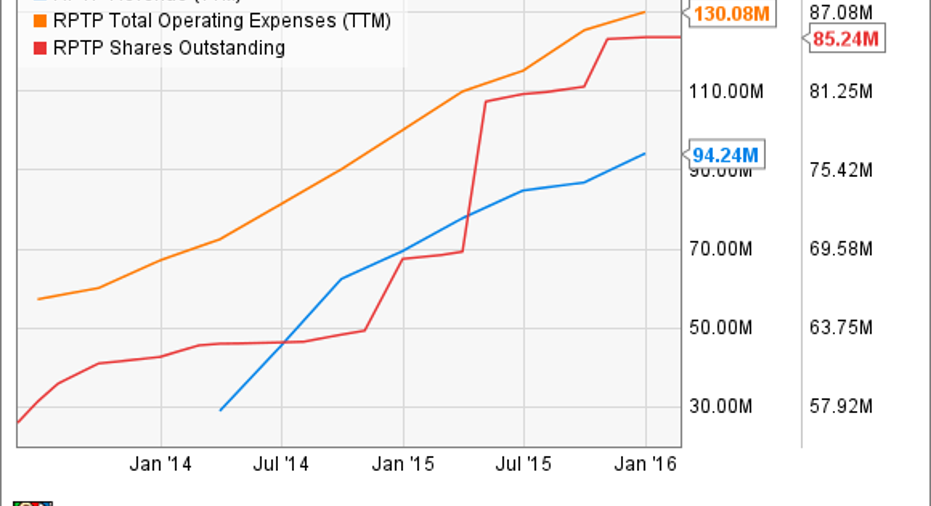 Image source: Wikimedia Commons.
The latest earnings report fromRaptor Pharmaceuticals (NASDAQ: RPTP) was full of good news. Quarterly sales of its lead product, Procysbi, were higher than ever, and heading higher. Recently it purchased an antibiotic that had already won approval in the EU and is likely to receive an expedited review from the FDA.
Despite this great news, the stock is down over 22% this year. Although it's bounced around since the Feb. 25 release of fourth-quarter earnings, the stock has remained flat.In the face of all the good news, you'd expect some positive movement. Let's take a closer look at the three biggest challenges this company is facing. Maybe then we'll be able to understand why the stock price and news flow aren't lining up.
Challenge 1: Procysbi limitationsCurrently, Raptor's only commercial product is an extended release version of cysteamine bitartrate, marketed as Procysbi. Its only indication is for treatment of nephropathic cystinosis,an ultra-rare metabolic disorder marked by buildup of the amino acid cystine. With an addressable population of less than 500 in the U.S., and perhaps 2,000 worldwide, the drug's sales potential is limited.
Procysbi sales popped in the fourth quarter last year, following an FDA approved expansion to younger children last August.The company expects annual revenue to rise from $94.2 million last year to between $115 million and $125 million this year.
That pace of sales growth is outstanding, but going forward it should be less explosive for a few reasons. First, nephropathic cystinosis, left untreated, typically results in kidney failure in early childhood. If a child has it, the pediatrician is highly likely to know, andcysteamine bitartrate has been used to treat the disease for decades.Improved marketing isn't going to bring in more patients.
Efforts to expand its indication aren't going well, either. The drug prevents toxic buildup of cystine, that's all,but that hasn't stopped Raptor from trying to expand its label beyond cystinosis. Given its recent failure in a phase 2nonalcoholic steatohepatitis trial,and underwhelming data in a phase 2/3 Huntington's disease trial,I'd say Raptor has taken Procysbi as far as it can.
Challenge 2: Quinsair limitationsLast October, Raptor purchased rights to another decades-old drug, the broad-spectrum antibiotic levofloxacin.Instead of using the "extended release" route to secure exclusivity, this is aninhaled version marketed as Quinsair.
Already approved in the EU and Canada, for management of lung infections caused by Pseudomonas aeruginosa in adults with cystic fibrosis,this acquisition should begin adding to the company's top line when it launches in these regions later this year.
Image source: Wikimedia Commons.
In the U.S., the FDA has already given the antibiotic a special designation that should expedite a potential approval, once an application is filed. Investors can only hope the FDA will be satisfied with existing data. If not, Raptor might need to run another trial. We'll have a clearer picture after Raptor meets with the FDA sometime in the second quarter.
Another trial could be the least of Raptor's problems with Quinsair. Cystic fibrosis is a rare condition with roughly 30,000 patients in the U.S., and Quinsair wouldn't be the first inhaled antibiotic approved for those who develop this infection. Inhaled tobramycin has been available for CF patients since 1980,Teva markets a generic version that runs about $1,700 every eight weeks.
Quinsair might find a niche among patients with infections resistant to generic tobramycin, but that's an extremely limited market that keeps getting smaller. Truly innovative medicines developed by Vertex Pharmaceuticalsto treat the underlying cause of the disease are increasingly successful.
Challenge 3: Fiscal disciplineThe first two challenges bring us to the company's biggest, generating profits to pay of its mounting debts. Raptor is sitting on over $260 million in long-term liabilities. Its only source of revenue right now is Procysbi. It's generating sales, but the company's spending is out of control.
The recommended maintenance dosage for child weighing about 50 pounds costs insurers over $416,000 per year,but that won't last forever. Its seven years of orphan exclusivity in the U.S. expires in 2020, and 2022 for the more recent expansion to children ages 2 through 6. In the EU, where it fetches a fraction of the price it does in the U.S., its orphan exclusivity expires in 2023.After that, I think it will be up to Quinsair to pay Raptor's debts. I think it might flop, but it had better succeed. There are some big milestones to pay if the FDA approves it, and even more once sales commence -- up to $350 million in total.
Since Raptor began sales of Procysbi in June 2013,it has raised a lot of equity. That tap will eventually run dry.
The article 3 Biggest Challenges Facing Raptor Pharmaceuticals Corp. Stock originally appeared on Fool.com.
Cory Renauer has no position in any stocks mentioned. The Motley Fool recommends Teva Pharmaceutical Industries and Vertex Pharmaceuticals. Try any of our Foolish newsletter services free for 30 days. We Fools may not all hold the same opinions, but we all believe that considering a diverse range of insights makes us better investors. The Motley Fool has a disclosure policy.
Copyright 1995 - 2016 The Motley Fool, LLC. All rights reserved. The Motley Fool has a disclosure policy.