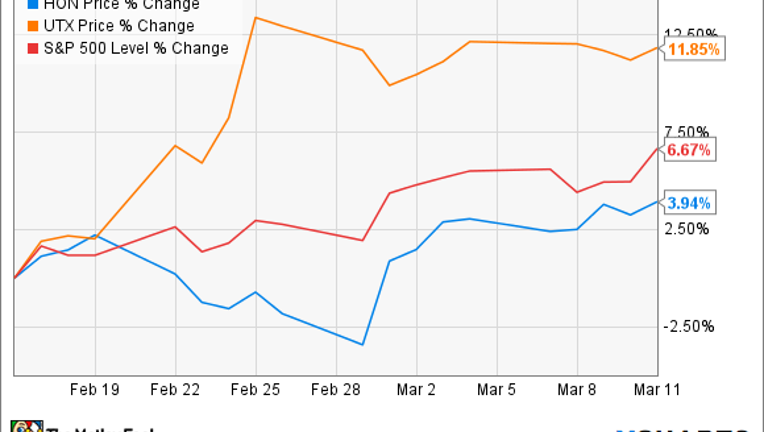 Going up? Or down ...? Image source: United Technologies.
The on-again, off-again romance betweenHoneywell(NYSE: HON) and its rival industrial giantUnited Technologies(NYSE: UTX) reminds me of nothing more than a certain Taylor Swift song.The latest chapter involved the companies' cover-of-US-Weekly-worthy public spat over a rejected takeover offer.
Nevertheless, the news generated a lot of buzz...and a lot of buying and selling. But those who jumped on the news were ignoring three established investing pitfalls.
Pitfall #1: An offer isn't an acceptanceHoneywell CEO David Cote didn't just throw out a merger offer to United Technologies CEO Gregory Hayeson a whim. The two companies had been in talks for more than a year. This after flirting seriously with the idea in 2011, and before that in 2000. That's a lot of water under the bridge.
But if Cote was also expecting a warm reception from Hayes, that isn't what he got. On February 26, Hayes wrote a letter to shareholders blasting the proposal as "negative" and "not an attractive deal." He concluded that "[i]t would be irresponsible for UTC to move forward with the proposed combination."
An investor who puts money into a stock anticipating a merger, buyout, or sale is risking a lot until the ink is dry.
Pitfall #2: Your results may varyHoneywell's offer looked to be a pretty sweet deal for United Technologies shareholders. Cote wasoffering a mix of cash and stock in the amount of $108, or a 22% premium to United Technologies' then-current valuation. He estimated that the combined company would achieve cost synergies of $3.5 billion per year, and operating margins of approximately 20%.
News of the offer was revealed after market close on Feb. 22, and sure enough, United Technologies investors were cheered, sending its stock higher over the next few days. But look at what happened to Honeywell:
Honeywell's stock actually dropped in response to the news! It only rebounded on March 1, when Cote put out a press release, titled appropriately, "Honeywell No Longer Pursuing Combination With United Technologies."
If you had bought Honeywell right after the merger was announced, and things hadn't gotten called off so fast, you could have lost a bundle, or worse, had your money tied up in an unprofitable investment for a long road to recovery. Interestingly, United Technologies' stock has retained most of the gains it made while the merger was still on the table, highlighting the fact that you never can predict with certainty how a stock will perform.
Pitfall #3: Even done deals can get undoneIn his rebuttal to Honeywell's offer, Hayes pointed to regulatory hurdles as the primary reason for rejecting Honeywell's proposal. And he's right: U.S. regulators have recently frowned on mergers or acquisitions that would result in dominant U.S. market shares.
This means that even a deal that's been accepted by both parties can still fall through. General Electric's failed attempt to sell its appliances division to Electrolux is one recent high-profile example.
The ongoing struggle ofHalliburtonto buy rivalBaker Hughesis another excellent case study. Although the merger hasn't been completely nixed -- at least, not yet -- the government has been holding it up for over a year, demanding more and more concessions from Halliburton. Meanwhile, both stocks have dropped. If the deal is eventually approved, the stocks may recover somewhat...but there are no guarantees.
In the case of Honeywell and United Technologies, their customersBoeing andAirbusimmediately objected to the deal, and it's almost certain that regulators would have forced the combined company to sell off some of its aerospace assets.There was no way to tell how many or how few of those assets would need to be sold, but given the size of the companies' aerospace businesses, the requirement probably would have been substantial. This affects the investment thesis in a big way, but sometimes these details don't emerge for weeks or months after a merger announcement, making an immediate buy very risky.
The Foolish bottom lineIn a perfect shareholders' world, every proposed merger would occur leaving both companies stronger. However, this ain't a perfect world. Mergers, acquisitions, and asset sales routinely fall through, or are denied by regulators, or succeed only to have disastrous results.
Before you buy on news of a pending transaction like this, be sure you understand the risks. Ask yourself if you would be willing to buy the stock even if the deal doesn't pan out, because sometimes, that's exactly what ends up happening.
The article 3 Big Investing Risks Revealed by the Honeywell - United Technologies Merger Collapse originally appeared on Fool.com.
John Bromels has no position in any stocks mentioned. The Motley Fool owns shares of and recommends Halliburton. The Motley Fool owns shares of General Electric Company. Try any of our Foolish newsletter services free for 30 days. We Fools may not all hold the same opinions, but we all believe that considering a diverse range of insights makes us better investors. The Motley Fool has a disclosure policy.
Copyright 1995 - 2016 The Motley Fool, LLC. All rights reserved. The Motley Fool has a disclosure policy.