3 Big Battles Brewing in Biotech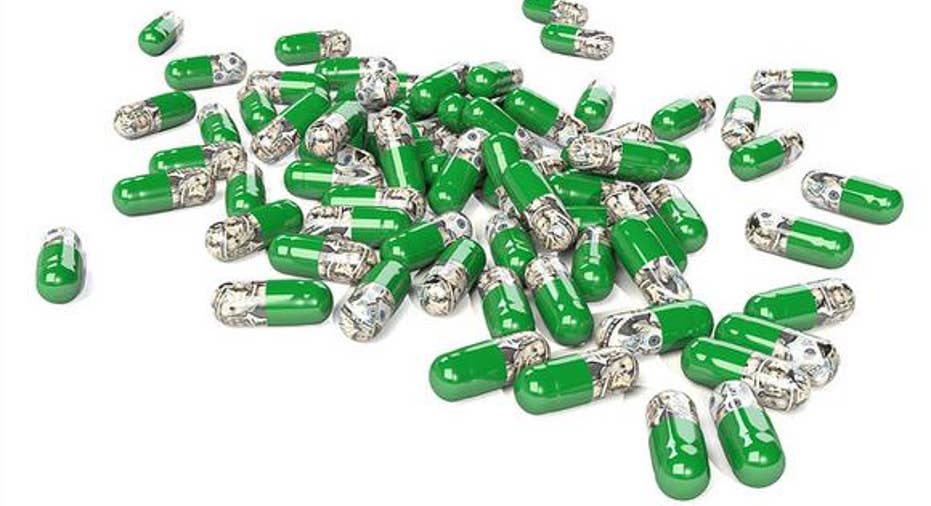 SOURCE: FLICKR USER STOCKMONKEYS.COM.
Competitors are always angling to dethrone established leaders, and that's no different in the world of biopharma. Research money often gets prioritized toward indications that offer blockbuster potential, and even slight advantages can shift the market share landscape significantly. Soon, the FDA will weigh in on drugs from three companies that could reshape existing markets. Let's learn more about them and what may be at stake.
Big pharma goes after an upstartThe FDA approval of Relypsa's hyperkalemia drug Veltassa last October means that it has a first-to-market advantage, but if AstraZeneca plc's competing hyperkalemia drug, ZS-9, gets the regulatory go-ahead in May, it could be the bigger seller of the two drugs.
AstraZeneca spent $2.7 billion on ZS Pharma last fall, and if the FDA opts for a more favorable prescribing label for ZS-9 than Veltassa, then it could prove to be money well spent. Veltassa's label includes a black-box warning of interactions with other oral drugs, and as a result, other oral drugs shouldn't be taken within six hours of Veltassa.
Because hyperkalemia, or abnormally high levels of potassium in the blood, often occurs in patients with significant medical needs, such as those with chronic kidney disease and heart failure, a cleaner label for ZS-9 could be a big advantage.
Overall, industry watchers think this market could eventually be worth $1 billion or more, and that means these companies are likely to fight tooth-and-nail to be the market share leader.
SOURCE: SYNERGY PHARMACEUTICALS.
No. 2: An upstart challenges a fast growerOn Jan. 29, small-cap biotechSynergy Pharmaceuticals filed for FDA approval of plecanatide, a drug for the treatment of chronic idiopathic constipation (CIC).
If approved, plecanatide will face off against Ironwood Pharmaceuticals and Allegan plc's fast-growing CIC drug, Linzess. U.S. sales of Linzess, which won FDA approval in 2012, clocked in at $455 million last year, up 53% from 2014.
Plecanatide could mount a solid challenge to Ironwood and Allergan's Linzess, because in trials, the rate of occurrence of diarrhea was arguably lower for plecanatide than it was for Linzess. Allergan and Ironwood hope to launch a lower-dose version of Linzess that could decrease the risk of diarrhea and insulate it more from a plecanatide threat, so it's not clear who will eventually be the winner in this indication. Given that Ironwood pegs Linzess' peak annual sales at $2 billion, this is one battle worth watching.
No. 3: Two biggies prepare to duke it outIncyte Corporation and Eli Lilly & Co. have filed for FDA approval of a new JAK-inhibiting therapy, baricitinib, that could win away business from AbbVie Inc.'s top-selling Humira in rheumatoid arthritis.
Humira has a 22% market share in the $18 billion RA drug market, and baricitinib delivered arguably best-in-class results in clinical trials. Specifically,baricitinib outpaced the commonly useddisease-modifying antirheumatic drug (DMARD) methotrexate in early RA patients, and it improved symptoms in patients who failed to respond to anti-TNF drugs such as Humira. Importantly, baricitinib also outpaced Humira in a head-to-head study involving patients who fail to improve on DMARD therapy, suggesting that it, rather than Humira, could be used first in that patient population.
Adding confidence to that possibility is that, unlike Humira, baricitinib is dosed orally, rather than via injection.
Humira has been a mainstay in this indication for years, and doctors are comfortable with its use, so it may take some time for baricitinib's market share to build, but nonetheless, this could be the biggest battle over market-share turf in this indication in years, and that means investors need to be paying attention to it.
The article 3 Big Battles Brewing in Biotech originally appeared on Fool.com.
Todd Campbell has no position in any stocks mentioned. Todd owns E.B. Capital Markets, LLC. E.B. Capital's clients may have positions in the companies mentioned. The Motley Fool has no position in any of the stocks mentioned. Try any of our Foolish newsletter services free for 30 days. We Fools may not all hold the same opinions, but we all believe that considering a diverse range of insights makes us better investors. The Motley Fool has a disclosure policy.
Copyright 1995 - 2016 The Motley Fool, LLC. All rights reserved. The Motley Fool has a disclosure policy.