3 Beaten-Up Virtual Reality Stocks: Are They Bargains?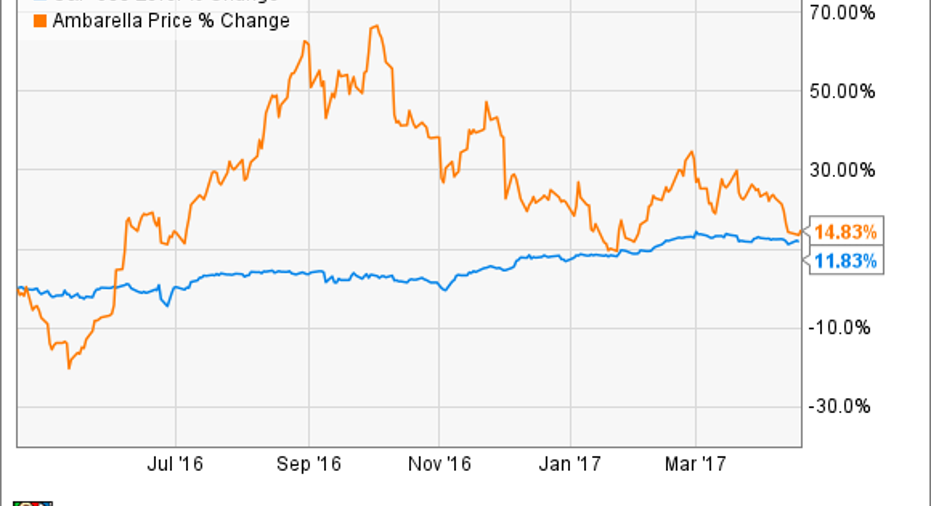 The market size for virtual reality is expected to reach $33.9 billion by 2022, and hit nearly 100 million headsets shipped worldwide by 2021for both augmented-reality and virtual-reality (VR) devices. But not everyone is benefiting from all of that potential just yet.
GoPro (NASDAQ: GPRO), Intel (NASDAQ: INTC) and Ambarella (NASDAQ: AMBA)are three companies that have all made plays in the VR space, but their share prices aren't booming along with other VR players like NVIDIA, AMD, and others. So let's take a look at what these companies are doing to expand their virtual-reality offerings, and whether or not they look like bargains in the space.
Image source: Intel.
GoPro
There was a lot of chatter last year surrounding GoPro's move into the virtual-reality market with its Omni rig. The cube-shaped device holds six HERO cameras to capture video from nearly every angle, and is used in combination with the company'sKolor software -- a VR software company GoPro purchased -- tostitch the video together for VR and 360-degree viewing.
Image source: GoPro.
I was skeptical that GoPro's rig would have much of a splash in the broader VR market, mainly because of its high cost. The rig itself is $1,500 and the full system (with six cameras) totals $5,000. That's clearly too high for most consumers, and only appeals to those who want to create VR content, not those who want to consume it.
Rigs aside, GoPro doesn't appear to be doing much else in the VR space at the moment, perhaps because it's busy trying to put out the fires from its botched release of its Karma drone and dealing with its less-than-stellar earnings reports. The Karma drone, along with some production problems with its HERO5 camera, have caused the company's share price to tumble. Take a look:
Source: YCharts.
Considering that GoPro's only foray into virtual reality involves a rig that holds six cameras and some software that most people have never heard of, I think betting on GoPro as a VR investment is a bad idea. Additionally, until the company can get back on its feet with camera production and prove that it can find new revenue streams, the stock has a lot to prove before investors should give it a look.
Intel
Intel is constantly looking to new markets to spur sales of its chips as PC sales continue to slow. One such opportunity is in selling faster -- and more expensive -- processors into PCs, which can handle the requirements of high-end VR headsets.
Fellow Fool Ashraf Eassa pointed out recently that Intel mentioned at its recent investor meeting that it's hoping that the growth of VR headsets will be a catalyst for future chip sales. Intel appears to be already focusing on this for some of its chips, and on its website, it describes its Core i7 chip as having a "great VR experience" and has "the power to deliver amazing game physics, rich 360 degree 3D visuals, precise controls, and immersive 3D sound."
The company also has its own VR headset, called Project Alloy, which comes with an Intel chip embedded inside the device. That's a huge differentiating feature from other high-end headsets, which have to be tethered to a computer. The device is only offered as a developer kit right now, but it shows that Intel is thinking of new ways to convince device makers that its chips should be at the forefront of the VR market.
Source: YCHARTS.
Intel isn't exactly the most obvious beaten-up stock, considering that it's gained more than 13% over the past year. But compared to the nearly 12% gains the S&P 500has made over the past 12 months, there's certainly room for improvement.
It's still very early in Intel's VR push, but the company is making some smart moves in the space that could eventually help boost its chip sales. Considering Intel'smassive reach in the semiconductor space, its low price-to-earnings (P/E) ratio of under 17, and its ongoing push into new markets like VR, I think the company looks like a bargain compared to the other players right now.
Ambarella
Another chipmaker that's moving further into the VR space is Ambarella. The company is best known for supplying chips for GoPro's action cameras, but earlier this year, it released its new H3 system-on-a-chip (SoC), which it believes is an ideal chip for virtual-reality cameras. The SoC is capable of delivering 8K Ultra HD at 30 frames per second and 4K Ultra HD at 120 frames per second.
Ambarella says that it's expecting increasing, but slow, growth from the VR market.The company's CEO, Fermi Wang, said on the fiscal Q4 2017 earnings call in February:
Over the past year, Ambarella's stock has been on a wild ride, and recent price changes have been moving in the wrong direction. Ambarella's stock-price gains over the past 12 months have just barely beaten the S&P 500. But compared to other VR processor plays, like AMD (up 376%) and NVIDIA (up 172%), it's also not that impressive.
Source: YCharts.
Ambarella certainly has some prospects in the VR market, but I'm still concerned with the company's strong reliance on selling chips to GoPro. The chipmaker is diversifying its sales so that it can wean itself off its GoPro dependence, but that hasn't fully happened yet, and its virtual reality chip won't do much to accelerate it. For those reasons, I don't think Ambarella is a bargain VR stock right now.
Investors looking to get started in VR certainly have their pick of stocks. Tech companies both small and large are betting on this burgeoning market, and investors needing a primer on how to get started should consider following this quick five-point checklistfor investing in VR.
10 stocks we like better than AmbarellaWhen investing geniuses David and Tom Gardner have a stock tip, it can pay to listen. After all, the newsletter they have run for over a decade, Motley Fool Stock Advisor, has tripled the market.*
David and Tom just revealed what they believe are the 10 best stocks for investors to buy right now... and Ambarella wasn't one of them! That's right -- they think these 10 stocks are even better buys.
Click here to learn about these picks!
*Stock Advisor returns as of April 3, 2017
Chris Neiger has no position in any stocks mentioned. The Motley Fool owns shares of and recommends Ambarella, GoPro, and Nvidia. The Motley Fool has the following options: short January 2019 $12 calls on GoPro and long January 2019 $12 puts on GoPro. The Motley Fool recommends Intel. The Motley Fool has a disclosure policy.