$3.2 Billion in Bomb Contracts for Boeing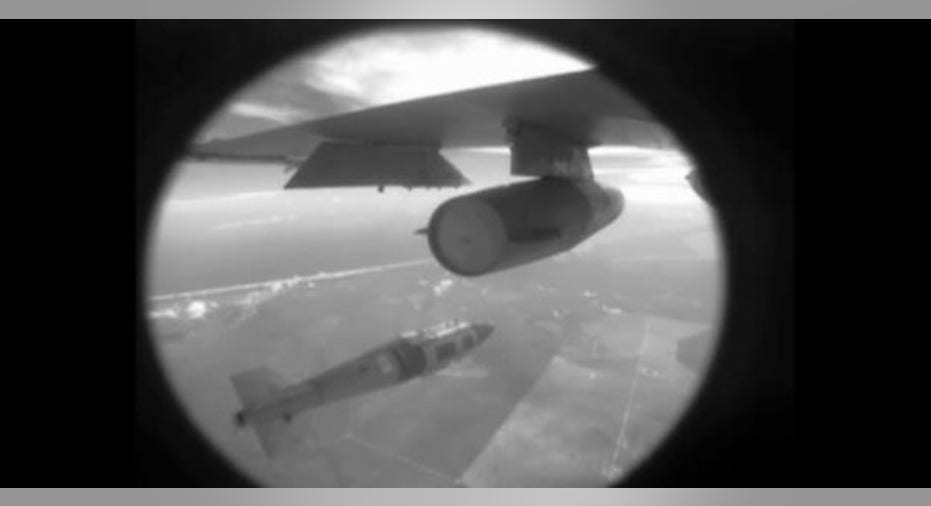 Saudi Arabia made headlines last year with a blockbuster contract to buy nearly 22,000 bombs, plus a whole host of sophisticated guidance and fuze systems, for use in its war against Houthi rebels in Yemen. Collectively, the 8,020 BLU-111/MK-82 500 lb. "general purpose" bombs, 4,020 GBU-12 Paveway II Laser Guided Bombs, 1,500 BLU-109 2,000 lb. Penetrator Warheads, and other weapons comprising the contract would generate $1.3 billion in revenue for the companies providing the munitions.
Now, Boeing has scored a contract win that makes the Saudi Arabian blockbuster look like a firecracker.
JDAM released! Image source: Boeing.
Bombs for you, and bombs for U.S.
Late last month, in an announcement that appeared on the Defense Department's daily digest of contract awards, it was confirmed that the U.S. Air Force has placed an order for $3.2 billion worth of Joint Direct Attack Munition (JDAM) tail kits -- the same kits that Saudi Arabia is using to convert its "dumb bomb" purchases into "smart bombs."
Technically a contract "definitization," the award takes an October contract initially valued at $1.75 billion in value, and tops it up with an additional $1.46 billion in bomb purchases -- resulting in a total of $3.2 billion worth of bomb sales for Boeing.
So what does this mean for Boeing shareholders?
You win some (bomb contracts), you lose some (fighter contracts)
We're all aware of the struggles that Boeing's defense business has endured these past few years, as its vaunted F-15 and F/A-18 fighter lines have suffered loss after contract loss in international sales competitions to rivals ranging from Lockheed Martin's F-35 stealth fighter to Sweden's Gripen. Slowly but surely, Boeing is getting pushed out of the warplanes business, as Lockheed locks up the fighter jets market, and Northrop Grumman secures its hold on the business of building bombers.
But if Boeing has been having problems with selling fighter jets, it's had no trouble at all selling the bombs that turn those fighter jets into killing machines. And that's not necessarily a disaster for the stock.
Boeing Stock

Market capitalization

$84.1 billion

Revenue

$96.6 billion

Net profit

$5.1 billion
DATA SOURCE: YAHOO! FINANCE.
Consider this: Despite the name, Boeing's "Military Aircraft" division is also responsible for building Boeing weapons systems such as the JDAM. Within that division, Boeing earns pre-tax profits of 9.8% on its revenues -- margins that, according to data from S&P Global Market Intelligence, are superior to the company's overall 7.4% pre-tax profit margin.
It doesn't make much difference to Boeing -- and it shouldn't make much difference to Boeing shareholders -- whether it's earning those 9.8% profit margins selling $3.2 billion worth of F/A-18s, or $3.2 billion worth of bombs to load onto them. Either way, it works out to $314 million in profit, or about $0.49 per share.
Should you buy Boeing stock?
Within the big bucket of $5.1 billion that is Boeing's annual profit ($7.40 per share), an extra $314 million won't make much of a splash. Big as it is, this contract is not in and of itself a reason to buy Boeing. First, you need to take a look at the valuation of Boeing stock as a whole.
Boeing Stock

Price-to-earnings ratio

17.8

Price-to-free cash flow

10.6

Price-to-sales

0.9

Projected 5-year growth rate

15%

Dividend yield

3.3%
DATA SOURCES: YAHOO! FINANCE, S&P GLOBAL MARKET INTELLIGENCE.
Valued on its price-to-earnings (P/E) divided by growth, Boeing boasts a PEG ratio of 1.2. Factor in the 3.3% dividend yield, and the stock sells for a total-return ratio of less than 1.0. Either way, that suggests the stock is priced pretty fairly today.
Valued on its free cash flow, on the other hand -- the actual cash profit Boeing collects in a year -- Boeing stock looks downright cheap. Its price-to-free-cash-flow ratio works out to just 0.7. A modified total-return ratio, substituting FCF for net income, shows the stock to be even cheaper.
Long story short? Boeing's big-bomb contract isn't a reason in and of itself to buy Boeing stock, but it doesn't hurt. And with the stock selling this cheaply today, there's really no reason not to buy Boeing.
The article $3.2 Billion in Bomb Contracts for Boeing originally appeared on Fool.com.
Fool contributorRich Smithdoes not own shares of, nor is he short, any company named above. You can find him onMotley Fool CAPS, publicly pontificating under the handleTMFDitty, where he's currently ranked No. 288 out of more than 75,000 rated members.The Motley Fool has no position in any of the stocks mentioned. Try any of our Foolish newsletter services free for 30 days. We Fools may not all hold the same opinions, but we all believe that considering a diverse range of insights makes us better investors. The Motley Fool has a disclosure policy.
Copyright 1995 - 2016 The Motley Fool, LLC. All rights reserved. The Motley Fool has a disclosure policy.