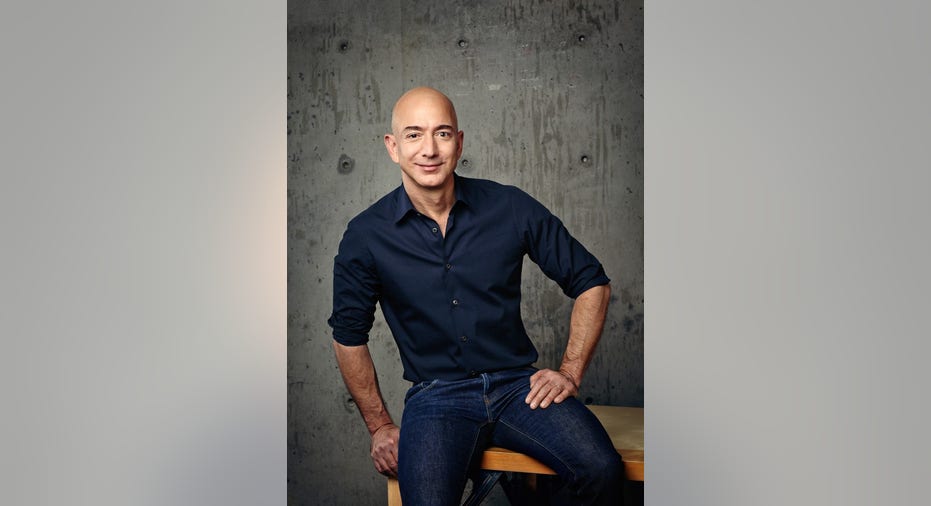 Image source: Getty Images.
The best chief executive officers are an often-underrated source of competitive advantage. A strong leader with the vision to steer a company safely through rapidly changing business conditions can many times be the difference between a business' success and failure. The three CEOs who follow positioned their companies and investors to win in 2016 and are some of the strongest business leaders in the world today. They are 2016's best CEOs.
Jeff Bezos. Image source: Amazon.
Jeff Bezos, Amazon.com
In the world of retail, there's Amazon (NASDAQ: AMZN), and then there's everyone else. The e-commerce behemoth is arguably the most dominant business on the planet, and the architect of that supremacy is Amazon's founder and CEO, Jeff Bezos.
In 2016, Bezos continued to do what he does best: strengthen Amazon's competitive position. In the past year, the percentage of consumers who begin their search on the retail juggernaut's website when shopping online rose to 55%, up from 44% in 2015, according to a recentreport(link opens PDF) by BloomReach. Even more impressive, 90% of consumers check Amazon even if they've found their product elsewhere.
Fueling those gains are the massive sums Amazon is spending to bolster the benefits of itsfast-growing Prime membership service and strengthen its global distribution system. Together, these investments provide more value to Amazon's customers through increased Prime service offerings and reduced shipping times. In turn, they help to further ingrain Amazon into the lives of its customers, and solidify its position as the first -- and often last -- place people shop online. That's an incredibly valuable position to be in with more consumer spending shifting to the internet every year. As such, Jeff Bezos has positioned Amazon -- and its shareholders -- to win for years, and possibly even decades, to come.
Tobi Lutke. Image source: Shopify.
Tobi Lutke, Shopify
One of the few companies that's been able to withstand Amazon's onslaught is multichannel commerce platformShopify (NYSE: SHOP). In fact, after originally competing with Shopify, Amazon decided last year to close down its Amazon Webstore service and recommend that its merchants migrate to Shopify's platform.
Since that time, Shopify has grown at a torrid pace, with revenue surging 92% year over year, to $259 million, in the first three quarters of 2016.
Co-founder and CEO Tobi Lutke has positioned the company as an invaluable provider of cloud-based commerce solutions to small and medium-sized businesses, along with a growing number of larger enterprises such as Tesla and Google. From its humble beginnings in 2006 as a five-person start-up operating out of a coffee shop, Shopify has grown into a global enterprise that serves 325,000 merchant partners who have collectively sold more than $24 billion worth of goods on its platform. And with Shopify continuing to enjoy booming demand for its services, those figures -- as well as its shareholders' profits -- appear poised to grow exponentially in the years ahead.
J. Patrick Doyle. Image source: Sec.gov.
J. Patrick Doyle, Domino's Pizza
While many of its competitors struggle to adapt to a changing retail landscape that has seen in-store traffic increasingly give way to online shopping, CEO J. Patrick Doyle has ledDomino's Pizza (NYSE: DPZ) to become one of the biggest beneficiaries of the trend toward greater home-based consumption.
The pizza chain is the No. 1 pizza delivery company in the United States, and it's widely considered to have some of the best technology and digital strategies in the restaurant industry. Domino's gives customers the ability to order online in as little as 30 seconds, as well as via its "zero click" app. Additional options include sending texts and using Facebook Messenger to place orders, along with a host of other devices. Together, these capabilities help Domino's generate more than 50% of its sales from digital orders, compared to about 20% for the industry as a whole. That's a powerful competitive advantage, as the data collected from online orders allows for more targeted advertising and customer communications that encourage repeat business.
All told, Doyle and his team's focus on convenience and digital technology have helped Domino's enjoy a streak of 22 consecutive quarters of rising same-store sales here in the U.S. -- and 91 straight quarters of positive international store comps. That strong and steady performance is a testament to Doyle's leadership, particularly his ability to identify emerging trends and position Domino's to profit from them. That's served Domino's investors well, and it should continue to do so in the coming years.
10 stocks we like better than Amazon.com When investing geniuses David and Tom Gardner have a stock tip, it can pay to listen. After all, the newsletter they have run for over a decade, Motley Fool Stock Advisor, has tripled the market.*
David and Tom just revealed what they believe are the 10 best stocks for investors to buy right now...and Amazon.com wasn't one of them! That's right -- they think these 10 stocks are even better buys.
Click here to learn about these picks!
*Stock Advisor returns as of Nov. 7, 2016.
Joe Tenebruso has no position in any stocks mentioned. The Motley Fool owns shares of and recommends Amazon.com, Facebook, Shopify, and Tesla Motors. The Motley Fool is short Domino's Pizza. Try any of our Foolish newsletter services free for 30 days. We Fools may not all hold the same opinions, but we all believe that considering a diverse range of insights makes us better investors. The Motley Fool has a disclosure policy.