2016 Chevy Silverado and Ram Truck Prices Chopped (Has Detroit Gone Crazy?)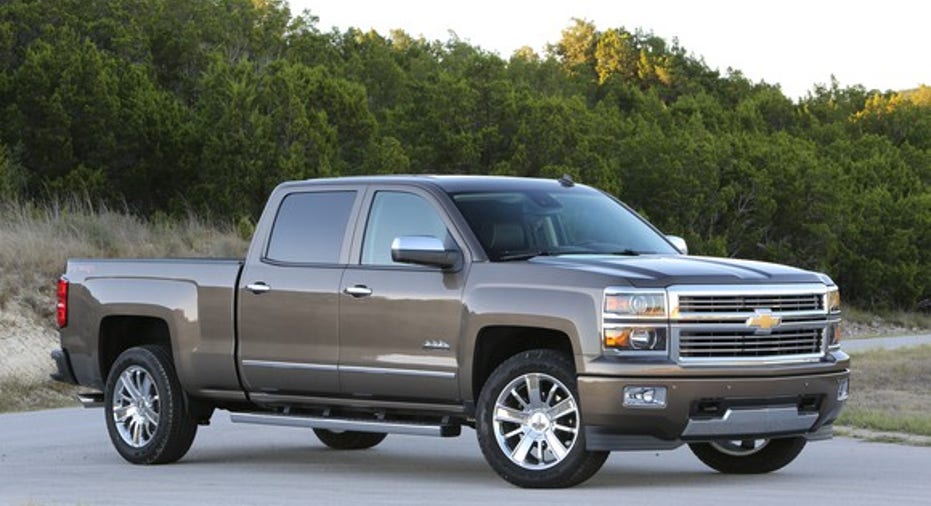 As sales growth in the pickup market has slowed, General Motors (NYSE: GM) and Fiat Chrysler (NYSE: FCAU) have turned to big discounts to help sell Chevy Silverado and Ram trucks. Both Chevy and Ram are offering incentives of more than $10,000 on some models.
Some Chevy Silverado trucks qualify for big discounts this month. Image source: General Motors.
At first glance, it may seem that GM and Fiat Chrysler are returning to the destructive discount policies that drove them into bankruptcy less than a decade ago. However, the deals they are offering aren't as outrageous as they seem on paper.
Ram rolls out big discounts -- Chevy follows
Last month, Fiat Chrysler increased the incentives it offered on Ram pickups by 29%, to an average of more than $7,000 per unit. GM responded by boosting Chevy Silverado incentives by 21%, but its discounts remained much less aggressive at an average of $5,647 per unit.
The discounts worked for Fiat Chrysler. In September, Ram brand pickups outsold the Chevy Silverado, defying the usual industry pecking order.
GM is looking to reverse that in October. The company is advertising discounts of about $11,000 on a variety of Chevy Silverado configurations. As some pundits have noted, this is about double the company's average incentive on Silverado trucks from September.
Meanwhile, Ram is continuing its promotion, which offers 20% off certain pickups. That has led to discounts of as much as $15,000 off MSRP, according to The Wall Street Journal.
Buyer beware
Chevy and Ram may be advertising huge incentives that can take more than $10,000 off the price of a new pickup, but truck buyers shouldn't expect to find many vehicles that qualify for these discounts.
First, the deals only apply to 2016 model year vehicles. Second, the biggest discounts are reserved for the priciest trucks. A pickup with a $45,000 MSRP might be available for $10,000 off, but the same can't be said for cheaper versions with MSRPs of $30,000 or less.
The vast majority of trucks sitting on Chevy and Ram dealers' lots right now carry relatively modest markdowns. That's why it's a fallacy to compare the average incentives from previous months to the maximum incentives available now. In all likelihood, October incentive spending for Chevy Silverado and Ram trucks won't be much different from September's levels.
Out with the old, in with the new
It's important to note that virtually all of the price competition seen in the pickup market lately applies only to 2016 models. The fall season is when automakers and dealers look to clear out the current year models while bringing in vehicles for the new model year.
It's time to clear out 2016 truck models to make way for the 2017 versions. Image source: The Motley Fool.
The elevated discounts available on some models this fall have done their job. For example, most Chevy dealers are more than halfway through clearing their inventory of 2016 Chevy Silverados, with two months left to go in the calendar year. In all likelihood, when the 2016 models go away, so will the massive incentives that Chevy and Ram have been touting.
No biggie
Based on the stellar Q3 results posted by General Motors and Fiat Chrysler last week, investors have no reason to worry about a return to destructive price competition. GM reported an 11.2% operating margin in North America for Q3, well above its long-term target of 10%. Meanwhile, Fiat Chrysler's operating margin in the NAFTA region rose to 7.6% from 6.7% a year earlier.
Indeed, even with big discounts, selling pickup trucks is an extremely lucrative business these days. The average transaction price of a full-size pickup (like a Ram or Chevy Silverado) has soared by about 50% since 2005, far outpacing inflation.
Some of that increase has gone toward adding extra features. But a good chunk has been used to pad automakers' bottom lines. As a result, when GM or Fiat Chrysler takes $10,000 off the price of a $45,000 truck, you can be sure that it is still making a healthy profit on the sale. So far, there's no reason to believe that an irrational price war will threaten the profitability of the lucrative pickup business.
A secret billion-dollar stock opportunity The world's biggest tech company forgot to show you something, but a few Wall Street analysts and the Fool didn't miss a beat: There's a small company that's powering their brand-new gadgets and the coming revolution in technology. And we think its stock price has nearly unlimited room to run for early in-the-know investors! To be one of them, just click here.
Adam Levine-Weinberg owns shares of General Motors. The Motley Fool recommends General Motors. Try any of our Foolish newsletter services free for 30 days. We Fools may not all hold the same opinions, but we all believe that considering a diverse range of insights makes us better investors. The Motley Fool has a disclosure policy.