2015 Social Media Stocks: 1 Winner and 2 Losers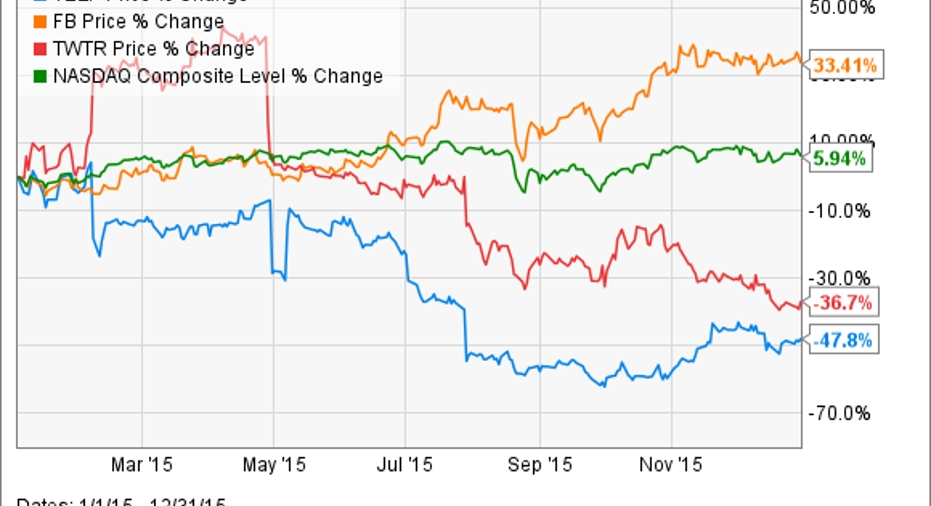 Although the greater Nasdaq Index ended 2015 with a rather uneventful 6% gain, its worst performance since 2011, the small gain obscures wide variances of social-media stocks this year. For these online businesses, it seems the market is now valuing these companies on current performance instead of future potential. As a result, many social-media companies soared or crashed compared with the greater Nasdaq. For perhaps the three biggest examples of this trend, look no further than Facebook , Twitter and Yelp .
For Facebook investors, a 33% increase in value further added to the company's tremendous run. After a botched IPO that eventually saw the stock languish in the sub-$20 stock price in 2012, shares are up nearly 400%. The big impetus for Facebook's gains was tremendous growth from the company's new native-video hosting service --in the first quarter, CEO Mark Zuckerberg reported 4 billion daily video views. By the third quarter, that figure doubled to more than 8 billion daily video views.
Led by the aforementioned video gains and shrewd ad placement, Facebook has grown its top line 40% on a year-on-year basis through the first three quarters of 2015 (the fourth quarter has not been reported yet). Facebook shareholders enjoyed a great 2015, and it was entirely due to the company's actual performance.
Shockingly, revenue growth hasn't been the reason for Twitter's poor yearInterestingly enough, revenue growth wasn't really the reason for Twitter's poor 2015. Throughout the first three quarters, the company has reported robust growth of 63% on a year-on-year basis. Instead, the company has continued to struggle to grow its user base as its monthly active users (ex-SMS fast followers) stood at 307 million as of the last quarter, growing only 8% over last-year's corresponding period. This tepid growth has scared investors worried about Twitter's total-addressable market. Further hurting Twitter is Facebook-owned Instagram, which has rapidly grown in terms of user base and is now bigger than Twitter.
In addition, and whether true or not, Twitter developed a reputation as an operationally deficient company. Last year's CEO search seemed to be the culmination of ineptitude, as the company's board seemed to explicitly exclude interim CEO Jack Dorsey at the search's beginning, drag its feet for over 100 days, then turn around and give the permanent CEO title to Dorsey in the end. In the absence of a unified, cohesive voice and plan, major shareholders such as Chris Sacca and Saudi Prince Alwaleed bin Talal voiced displeasure with the company's plans.
More recently, Twitter's stock price has settled below its IPO price in spite of Dorsey's new product focus, including the new Moments feature, and cutting 8% of its workforce in an attempt to control expenses. If the company can turn around its sluggish user growth, it's possible this stock is a screaming deal like Facebook was at its sub-$20 price in 2012. Unfortunately, that's a pretty big "if" judging by 2015's execution.
Yelp seems to be suffering from changing market dynamicsFor social review site Yelp, the issue seems to be a total reinvention of its business model as goliaths like Alphabet andFacebook are now starting to intensely compete for local ad dollars. Alphabet is a particularly tough competitor, as Yelp depends upon Google search results for Web traffic. For the year, Yelp sold off to the tune of 48% as investors questioned Yelp's ability to compete against these deep-pocketed and skilled social-media and retail sites.
Earlier this year, the former mutually beneficial relationship hit a particularly low point, as Yelp partnered with net-neutrality advocate Tim Wu to publish a study about Google's supposedly biased search results. According to the study, Google is reducing "social welfare" by biasing the best search results in favor of those that are best for the company. Obviously this hurts Yelp, as it competes against Google for local ad-based dollars.
As these large companies continue to look locally for revenue growth, Yelp could continue to struggle. Yelp's response seems to be offer expanded services, as it purchased food-delivery start-up Eat24 last year, but the company will continue to need strong performance from its core business to enrich investors.
For both Twitter and Yelp, it's safe to say investors are hoping a calendar change will bring a change in stock trajectory, while Facebook investors hope for more of the same.
The article 2015 Social Media Stocks: 1 Winner and 2 Losers originally appeared on Fool.com.
Jamal Carnette has no position in any stocks mentioned. The Motley Fool owns shares of and recommends Facebook and Twitter. The Motley Fool recommends Yelp. Try any of our Foolish newsletter services free for 30 days. We Fools may not all hold the same opinions, but we all believe that considering a diverse range of insights makes us better investors. The Motley Fool has a disclosure policy.
Copyright 1995 - 2016 The Motley Fool, LLC. All rights reserved. The Motley Fool has a disclosure policy.