20 Reasons to Buy Amgen and Never Sell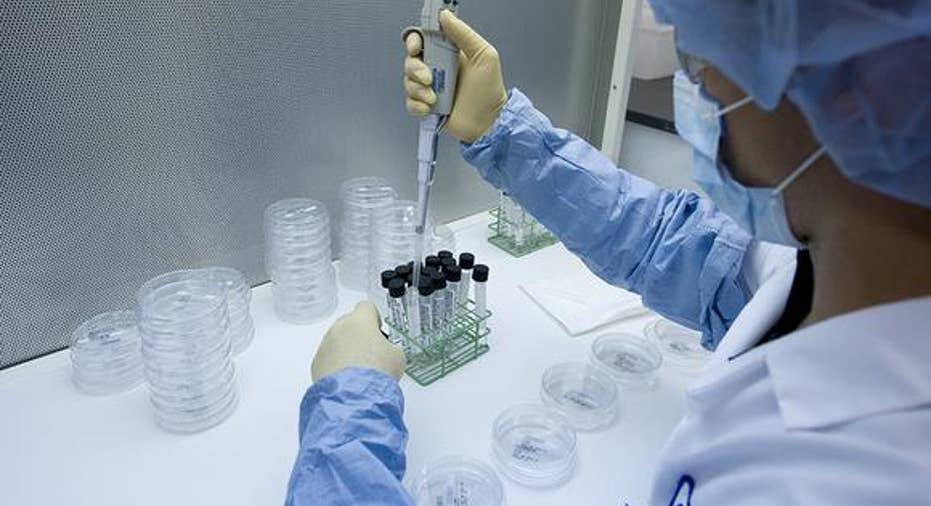 Image source: Amgen via Flickr.
The stock market may have its ups and downs, but historical data has shown time and again that the smartest move for investors is to buy high-quality stocks and hold them for long periods of time. Doing so allows investors to take advantage of compound growth, especially if they hold stocks that pay dividends that can be reinvested into more shares.
Unfortunately, finding high-quality stocks isn't as easy as throwing a dart at the business section of your local newspaper and buying whatever it lands on. It requires diligence on the part of investors to seek out great companies.
20 reasons to buy Amgen and never sell One company investors might want to consider buying and simply never selling is the original biotech blue-chip stock: Amgen . Why might investors fall for Amgen and never let go? I'd surmise because of these 20 reasons.
1. History: To begin with, buying a drug developer like Amgen means owning a company founded 36 years ago. The last time it lost money for a full year was 2002, and that was only based on a one-time $3 billion acquisition write-off. Long story short, Amgen is going to be there when you wake up in the morning.
2. CEO tenure: Since its founding in 1980, Amgen has only had four CEOs -- its current being Robert Bradway, who has held the job since 2012. Long-tenured CEOs often mean companies with strong focus and clear growth strategies, which is great news for investors.
3. Diversified product portfolio: Buying into Amgen gives investors access to a company with six therapeutic areas of focus: oncology, neurosciences, nephrology, inflammation, bone health, and cardiovascular. It's uncommon for industry giants to enter new areas of focus, but that's just what Amgen did with cardiovascular drugs Corlanor and Repatha in 2015.
4. Growing pipeline: Currently, Amgen sports a broad pipeline of more than 30 clinical-stage products, and it's expected to report midstage or late-stage data, or reach regulatory milestones, for nine of its clinical candidates in 2016 (some of which have already occurred). A deep pipeline means plenty of potential growth catalysts.
Image source: Amgen.
5. Product inelasticity: An oft-overlooked aspect of brand-name drugs is that they're usually in constant demand. We as consumers don't have any control over when we get sick or what ailments we get, meaning Amgen's products remain in constant demand, and the company's pricing power remains relatively strong.
6. Biosimilars: In addition to its product portfolio and traditional research and development, Amgen also has nine biosimilars (biologic drugs that act as copycats to brand-name therapies) in its pipeline. Combined, these molecules are set to go after addressable markets of $54 billion if all are approved.
7. Enbrel: Looking at specific therapies, the anti-inflammatory Enbrel is arguably Amgen's anchor with approximately $5 billion in annual sales. Strong pricing power has propelled Enbrel higher in recent quarters, and Amgen fully intends to continuing to support the drug, which currently supplies around a quarter of its annual sales.
8. Kyprolis: Multiple myeloma drug Kyprolis is also destined to be a big component to Amgen's future success. It received a label expansion from the Food and Drug Administration in 2015 that allowed it to be prescribed to treat second-line patients, instead of third-line and up, meaning its prospective patient pool is growing.
9. Repatha: Arguably the most exciting new product for Amgen is PCSK9 inhibitor Repatha, which is designed to dramatically reduce LDL-cholesterol levels (the bad kind). If the long-term cardiovascular studies due out in the second half of this year show that Repatha is superior to current standards of care, use of PCSK9 inhibitors could skyrocket.
Image source: Amgen.
10. Cost-cutting levers: Aside from its product portfolio, Amgen also has levers it can pull to reduce its expenses. In 2014, Amgen announced two rounds of layoffs totaling about 4,000 workers, intended to save $1.5 billion annually. These savings helped Amgen offset the higher costs of phase 3 studies and recent drug launches.
11. Operating margin: Because Amgen has tightened its belt, its operating margin has been soaring. It finished 2015 with an operating margin of 39% and plans to breach the 50% mark as soon as 2018. This means it's becoming more efficient with each dollar of revenue being generated by its products.
12. Dividend yield: Biotech stocks aren't known for their dividends, but Amgen's 2.5% dividend yield is modestly higher than the average yield of the S&P 500. Solid dividends can help hedge against moves lower in the stock market, and more importantly can be reinvested back into more shares of stock.
13. Dividend growth: Amgen only began paying a quarterly dividend five years ago, but it's raised its payout five times since its debut, with an average jump of around 30% each time. After receiving $0.28 per share in the summer quarter of 2011, shareholders this year will receive $1 per quarter thanks to Amgen's phenomenal shareholder return policy.
14. Share buyback program: Speaking of phenomenal shareholder return policy, Amgen has also been rewarding its shareholders by repurchasing its own common stock. Doing so lowers the number of outstanding shares, which can have a positive impact on EPS, making Amgen stock look more attractive. Between buybacks and dividends, Amgen aims to return around 60% of its profits to shareholders.
15. Free cash flow: What makes these rewards possible is Amgen's free cash flow, which over the past decade has never been lower than $4.1 billion in a given year. In fact, Amgen set new record for FCF generation in 2015 with $8.4 billion. The more FCF, the more flexibility Amgen has.
Image source: Pictures of Money via Flickr.
16. International opportunities: In 2015, Amgen netted 79% of its product sales from the U.S., which isn't a bad strategy considering the demand for drugs is higher in the U.S. than anywhere else in the world. But because it's only making 21% of its sales internationally, there's plenty of room for it togrow in developed and emerging foreign markets in the years and decades ahead.
17. Collaborations: Understanding that it can't be everywhere at once, Amgen is also an active collaborator. In early 2015, Amgen formed a collaboration with Kite Pharma to develop CAR T-cell cancer therapies. Under the deal, Kite received $60 million up front, and could receive up to $525 million in regulatory and sales milestones. In turn, Amgen is eligible to receive milestone payments and tiered single-digit sales royalties.
18. Inorganic growth: Having more than $31 billion in cash on hand sometimes means growing through acquisitions, such as Amgen's 2013 deal to buy Onyx Pharmaceuticals for $10.4 billion, which allowed it to get its hands on Kyprolis, as well as other cancer pipeline products.
19. Institutional ownership: I'm not one for hanging on Wall Street's word, but it just so happens that 82% of Amgen's outstanding shares are held by institutions. In plainer terms, big money investors expect Amgen's value to increase.
20. Valuation: Finally, Amgen is valued at just over 13 times next year's projected profits. Comparatively, the S&P 500's forward P/E is a tad over 17. Given that Amgen is also in a higher growth industry, the implication is that it's valued inexpensively.
What factor above makes you want to buy Amgen stock and never sell?
The article 20 Reasons to Buy Amgen and Never Sell originally appeared on Fool.com.
Sean Williamshas no material interest in any companies mentioned in this article. You can follow him on CAPS under the screen nameTMFUltraLong, track every pick he makes under the screen name TrackUltraLong, and check him out on Twitter, where he goes by the handle@TMFUltraLong.The Motley Fool has no position in any of the stocks mentioned. Try any of our Foolish newsletter servicesfree for 30 days. We Fools may not all hold the same opinions, but we all believe thatconsidering a diverse range of insightsmakes us better investors. The Motley Fool has adisclosure policy.
Copyright 1995 - 2016 The Motley Fool, LLC. All rights reserved. The Motley Fool has a disclosure policy.