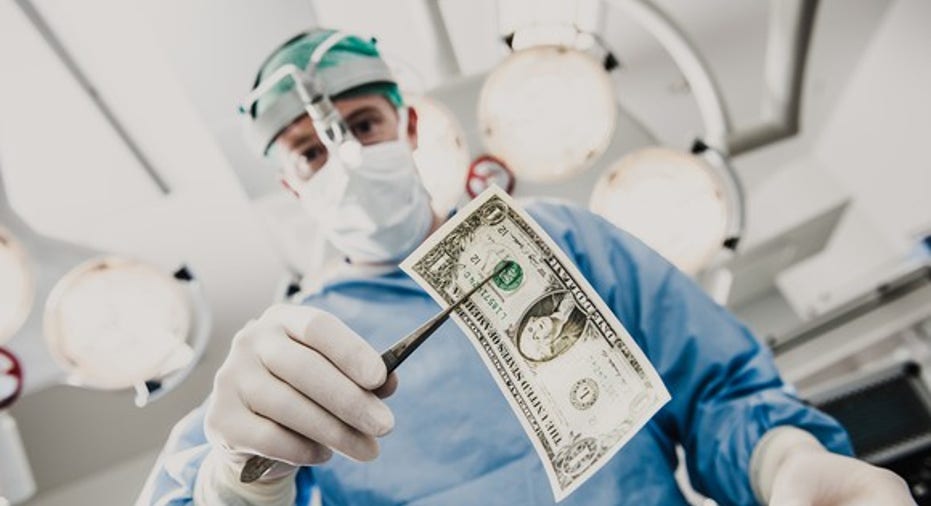 In 2016, the FDA approved less than half as many new drugs as the previous year. An increasingly strict regulatory environment might not be great for investing in the broad-based, industry tracking iShares Nasdaq Biotechnology ETF (NASDAQ: IBB), but it has made shares of Portola Pharmaceuticals (NASDAQ: PTLA), and Regeneron Pharmaceuticals (NASDAQ: REGN) more attractive from a value perspective.
Image source: Getty Images.
The FDA rarely denies new drug or biologic applications outright. Instead, it generally issues complete response letters (CLR) that outline concerns applicants must address before submitting again. There's no such thing as a "good" CRL, but some issues are more easily resolved than others. Let's look at how market reactions to Agency letters make these two of the top stocks in biotech you can buy right now.
1. Portola Pharmaceuticals: waiting for an antidote
This small-cap biotech began 2016 awaiting an FDA decision regarding AndexXa that would have made it the first available reversal agent for the increasingly popular new class of anticoagulants known as factor Xa inhibitors. Unlike age-old warfarin, Eliquis and Xarelto are pills that patients can take at home after an operation to reduce the risk of dangerous blood clots. This reduces hospitalization time, but it also increases the risk of uncontrolled bleeding events, and occasional emergency surgery delays.
Healthcare providers and big pharmas that would like to see their blockbuster factor Xa inhibitors become even more popular are clamoring for a solution like AndexXa. Successful pivotal trials had most investors expecting an approval, and the CRL the FDA sent to Portola in August was an unpleasant surprise. While the complete contents of these letters aren't subject to full disclosure, Portola said the Agency hesitated because of manufacturing concerns and a lack of data concerning AndexXa's ability to reverse an older, injected factor Xa inhibitor from Sanofi (NYSE: SNY).
Image source: Getty Images.
Eliquis partners Bristol-Myers Squibband Pfizer cast a vote of confidence for Portola's ability to gain approval for AndexXa the next time around with an unsecured $50 million loan to support its development. If Portola Pharmaceuticals receives a green light from the FDA, a successful launch on the back of built-in demand from some of biopharma's biggest players seems like a slam-dunk.
Beyond its antidote, the company could launch its own factor Xa inhibitor, betrixaban, near the end of the first half of the year. Just ahead of the holidays, Portola stock regained some ground when the FDA accepted the candidate's application and awarded it speedy review with a decision expected near the end of June.
Despite the betrixaban surge, the summer's CRL snafu has kept Portola's current market cap subdued at just $1.28 billion. With betrixaban and AndexXa approaching the finish line, I'd say the market is underestimating this biotech, which makes it one of the top stocks in its industry at the moment.
2. Regeneron Pharmaceuticals: triple threat
At recent prices, this biotech's price of about 56 times trailing earnings hardly suggests value. Like Portola, a CRL Regeneron received in 2016 continues to weigh on its price, which seems fairly conservative considering the firepower in its late-stage lineup. Three drugs developed in partnership with Sanofi have a solid chance of reaching blockbuster sales levels in the years ahead.
An FDA delay for sarilumab might delay the drug's potential launch by about a year while Sanofi addresses the Agency's manufacturing concerns and re-submits. This rheumatoid arthritis drug outperformed AbbVie's Humira in a head-to-head clinical trial. The competitor happens to be the world's best-selling drug, which suggests $2 billion annual peak sales estimates for sarilumab are entirely reasonable.
Image source: Getty Images.
Another drug with blockbuster potential from the Sanofi partnership is next-generation cholesterol-reducer Praluent. It earned approval in 2015, but its launch has been disappointing so far. An ongoing study to determine whether or not the cholesterol drug offers a long-term cardiovascular benefit that justifies its $14,000 per year list price could help it finally achieve the lofty peak sales estimates that top out around $4 billion per year.
In the meantime, another major catalyst could lift the stock before the end of the present quarter. The FDA is currently reviewing Dupixent (formerly dupilumab) for treatment of the large and under-served eczema population. Peak annual sales for this promising candidate could climb to $3 billion and provide a great deal of lift to Regeneron's stock price in the process. Behind these three potential blockbusters, the company has a stable of clinical-stage candidates, although I'd say the Sanofi-partnered assets alone make this a top biotech stock right now.
10 stocks we like better than Regeneron Pharmaceuticals When investing geniuses David and Tom Gardner have a stock tip, it can pay to listen. After all, the newsletter they have run for over a decade, Motley Fool Stock Advisor, has tripled the market.*
David and Tom just revealed what they believe are the 10 best stocks for investors to buy right now...and Regeneron Pharmaceuticals wasn't one of them! That's right -- they think these 10 stocks are even better buys.
Click here to learn about these picks!
*Stock Advisor returns as of Nov. 7, 2016.
Cory Renauer has no position in any stocks mentioned. You can follow Cory on Twitter @coryrenauer or LinkedIn for more biopharma investing insight.
The Motley Fool has no position in any of the stocks mentioned. The Motley Fool has a disclosure policy.