2 Top Copper Stocks to Consider Buying in 2017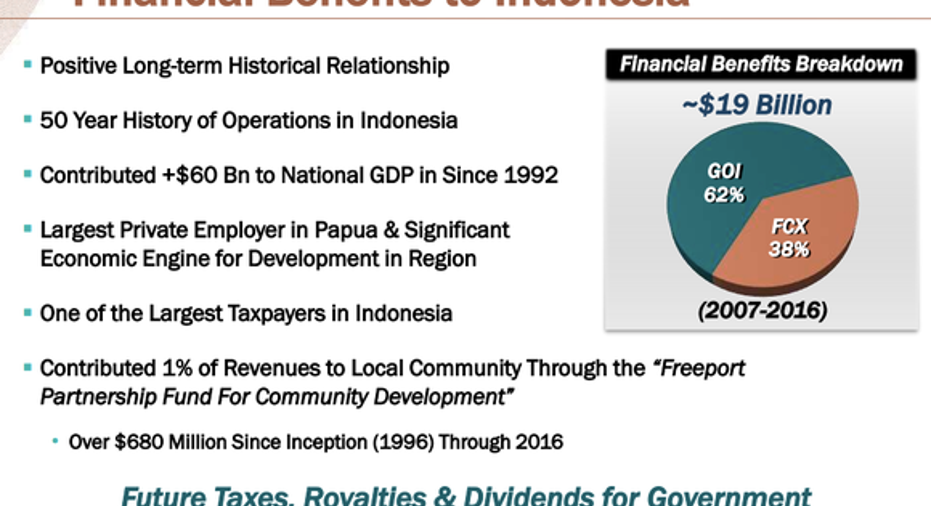 Like most commodities, copper has been on a roller coaster over the last few years. That hasn't changed this year, with copper prices rising early in the year and then slowly coming back down. That's exactly what's happened to Southern Copper's (NYSE: SCCO) stock price, too. As one of the largest copper miners, though, it should be on your short list for a number of fundamental reasons. Freeport-McMoRan (NYSE: FCX) shares, on the other hand, have followed a different, news-driven path and is a worthwhile copper industry play in 2017 for a completely different reason.
Getting stronger
Southern Copper is the largest copper miner in the world by reserves, but it is only the fifth largest by production. Copper, meanwhile, made up roughly 80% of the miner's revenues in 2016. Many of the other large copper miners are far more diversified, with copper representing a much smaller slice of the pie. So, if you're looking for direct copper exposure, Southern needs to be on your list.
Image source: Southern Copper.
But there's more to like here than just that. For example, between 2013 and 2016, Southern Copper trimmed its operating cash costs per pound of copper by nearly 25%. It is the lowest-cost producer in the industry, beating out diversified mining giants like BHP Billitonand Rio Tinto, among others. It also has the longest mine life among its peers. Effectively, it can keep mining for copper longer than its peers without having to find new material to dig up.
But Southern isn't sitting still; it has been investing in expanding production. Although 2017 production is expected to be flat with 2016, heavy investments this year are projected to increase production by 20% between now and 2020.
Copper prices will wax and wane with supply and demand, but Southern will likely remain one of the best-positioned and most focused copper miners. If you're looking at copper, Southern needs to be on top of your wish list this year and in the future.
Southern and Freeport are among the largest copper miners in the world. Image source: Southern Copper.
The fixer-upper
At the other end of the spectrum is Freeport-McMoRan. This company is one of the world's biggest copper producers (it expects to be No. 2 in 2017), and its reserves are among the largest as well (No. 3). It's been lowering its copper costs, too. That's all good stuff, but it isn't what's driving the stock, which is down around 10% so far this year compared to Southern Copper's roughly 8% advance.
The problem is news, though it hasn't been all bad. For example, Freeport made a poorly timed move into oil a few years ago that left it with a heavy debt load and an underperforming oil business. It's been working hard to get out from under that decision and finally made some good headway in 2016. Net debt, for example, fell roughly 40% last year. And it's been able to sell off most of its oil business. This is basically all good news, and it leaves copper as its core commodity focus, though it also produces gold and molybdenum.
Freeport and Indonesia benefit from Grasberg working at full steam. Image source: Freeport-McMoRan Inc.
The problem this year, though, is that Freeport is dealing with a rule change in Indonesia that has led to reduced production, higher costs, and the scaling back of investment in the giant Grasberg Mine. That single mine accounts for roughly 30% of the miner's copper reserves and almost all of its gold reserves. It's a complicated legal and political issue that's going to be tough to work through, so it's reasonable that investors would be worried.
That said, neither Indonesia nor Freeport benefit if the Grasberg mine stops operating. So a glass-half-full analysis suggests something will be worked out. And when that something does come to pass, aggressive investors who stepped in during the news-driven dip will stand to benefit. In other words, it could be a good time for those willing to take on a little uncertainty to buy one of the world's largest copper miners.
Two ways to play
Copper prices are going to change with supply and demand, there's nothing you can do about that. However, Southern Copper is a first stop for investors looking for a well-positioned and largely pure-play copper miner. Its fundamentals are strong, and it's set to expand production in the years ahead.
If you're a little more adventurous, though, Freeport-McMoRan's news-driven decline this year might have created a good opportunity to buy a world-class copper miner on the cheap. However, it's something of a special situation since you have to believe that the Indonesian issue will be worked out in a positive way -- the dynamics of the problem do suggest that's a highly likely outcome.
10 stocks we like better than Southern CopperWhen investing geniuses David and Tom Gardner have a stock tip, it can pay to listen. After all, the newsletter they have run for over a decade, Motley Fool Stock Advisor, has tripled the market.*
David and Tom just revealed what they believe are the 10 best stocks for investors to buy right now...and Southern Copper wasn't one of them! That's right -- they think these 10 stocks are even better buys.
Click here to learn about these picks!
*Stock Advisor returns as of May 1, 2017.
Reuben Brewer has no position in any stocks mentioned. The Motley Fool owns shares of Freeport-McMoRan Copper & Gold. The Motley Fool has a disclosure policy.