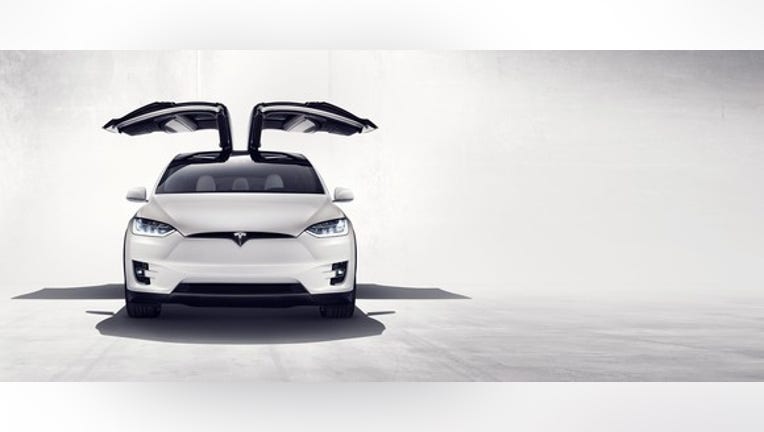 When Tesla Motors reported first-quarter vehicle deliveries, investors were concerned. Shares fell about 3% in after-hours trading as investors digested the implications of the electric-car maker's worse-than-expected deliveries, which came in 7% below management's own guidance for the quarter. Despite the misstep, Tesla management remained confident Model X was about to send sales soaring.
Model X. Image source: Tesla Motors.
"Because production is now on plan and Q1 orders exceeded Q1 deliveries by a wide margin, with Q1 Model S orders being 45% higher than Q1 last year, Tesla reaffirms its full-year delivery guidance," Tesla said in a press release.
As Tesla's second quarter is ending, investors will now turn their attention to the second half of 2016. During this critical period, Tesla must step up its execution and accelerate growth in order to live up to its own guidance. Can Tesla deliver?
To understand just how much growth Tesla is expecting in the second half of the year, consider these two telling charts.
The Model X catalyst
Asterisks represent author estimate based on quarterly and full-year guidance from Tesla management. Data source: SEC filings. Chart source: Author.
For the full year, Tesla projected it would deliver 80,000 to 90,000 vehicles -- up from about 50,600 deliveries in 2015. Not only does this period represent significant growth for Tesla, but it also commences a new multiproduct era for the company.
In the second half of 2016, in particular, Tesla will start transitioning into a company that produces and sells two vehicles in meaningful volumes. Until now, Tesla's sales have been concentrated largely to one vehicle: Model S. But with a few hundred Model X deliveries in Q4, about 2,400 in Q1, and another uptick expected in Q2, the company is finally poised to produce the late-2015-launched SUV in meaningful volumes.
For the first half of the year, supply shortages weighed on Model X production. But Tesla said in its first-quarter shareholder letter that these constraints are "resolved," positioning Tesla to wrap up Q2 "at a steady production rate of 2,000 vehicles per week," -- levels that set the foundation for huge growth during the second half of the year.
With Model X finally positioned to be a meaningful catalyst to Tesla's sales, deliveries should take off substantially during the second half of the year.
Accelerating growth
Asterisks represent author estimate based on quarterly and full-year guidance from Tesla management. Data source: SEC filings. Chart source: Author.
Impressively, for Tesla to achieve its full-year guidance, its year-over-year growth in vehicle sales will actually need to accelerate. Tesla was already growing trailing-12-month vehicle sales at rates beyond 50%. But this year-over-year growth is going to have move to rates above 60% for Tesla's full-year guidance to be achieved.
Q3, in particular, will likely be a quarter of massive growth for Tesla. Recently resolving supply chain issues for Model X will contribute significantly to third-quarter sales, helping Tesla achieve a year-over-year growth rate around 70% for the quarter.
Investors will get more insight into the automaker's plans for achieving full-year guidance when Tesla reports second-quarter results.
It's difficult to overstate how important it is for Tesla to execute on its production ramp-up plans. After recently doubling down on its longer-term growth plan, Tesla is now aiming to produce as many as 500,000 vehicles per year by 2018, two years ahead of schedule. Given the incredible growth implied in this vision, investors will have a tough time taking Tesla's targets seriously if the electric-car maker can't follow through on its near-term production and delivery targets.
The article 2 Telling Charts Highlight Tesla Motors, Inc.'s Huge Growth Ahead in 2016 originally appeared on Fool.com.
Daniel Sparks owns shares of Tesla Motors. The Motley Fool owns shares of and recommends Tesla Motors. Try any of our Foolish newsletter services free for 30 days. We Fools may not all hold the same opinions, but we all believe that considering a diverse range of insights makes us better investors. The Motley Fool has a disclosure policy.
Copyright 1995 - 2016 The Motley Fool, LLC. All rights reserved. The Motley Fool has a disclosure policy.