2 Suppliers That Are Too Exposed to Apple Inc.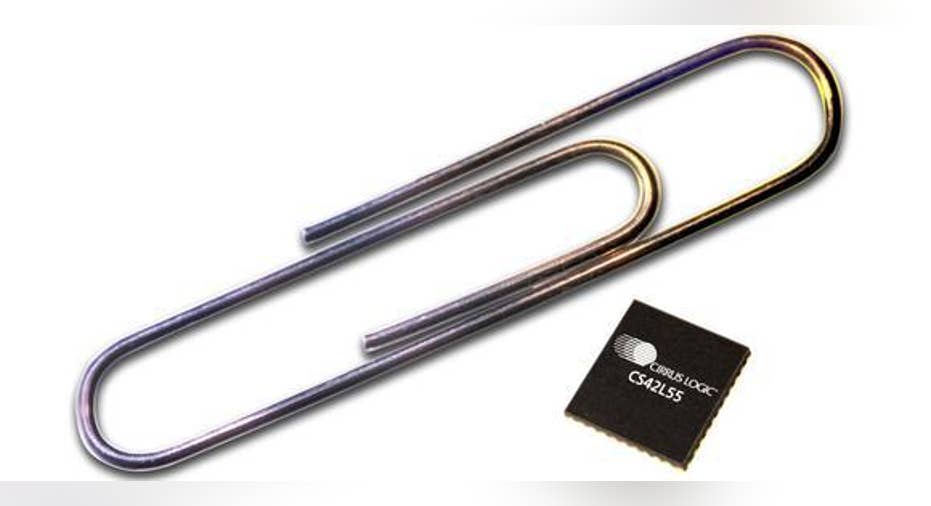 Apple recently disappointed investors with a 13% year-over-year sales decline during its second quarter. iPhone sales, which accounted for nearly two-thirds of its top line, fell 18% -- representing its first year-over-year decline since the device was introduced in 2007. iPad sales also fell 19%, marking its ninth consecutive quarter of declines, and Mac sales dipped 9%. Apple also expects revenue for the quarter to fall 13% to 17% annually, well below the consensus estimate for a 5% decline.
Image source: Apple.
That's all terrible news for Apple, but it's arguably worse news for top-heavy suppliers that rely too heavily on the iDevice maker's orders. Let's examine two such companies which are highly dependent on Apple's growth -- Cirrus Logic and Invensense -- to see how badly they could be affected by Apple's slowdown.
Cirrus LogicCirrus Logic makes audio chips for Apple devices. 67% of its revenue came from Apple duringthe first nine months of fiscal 2016 (which ended on March 28) according to its latest 10-Q filing. We won't know how much revenue Apple contributed for the full year until Cirrus files its 10-K, but we know that Apple accounted for 72% of its total sales in fiscal 2015.
Due to that exposure, Cirrus' sales growth has fallen sharply over the past few quarters. After six consecutive quarters of double-digit growth, Cirrus' revenue fell 9% annually to $232 million last quarter. Cirrus also expects its revenue for the current quarter to fall 12% to 22%, well below Street expectations for a 9% decline.
But despite that sales decline, shares of Cirrus have risen nearly 20% since the beginning of the year. This is mainly due to the belief that Cirrus will supply a smart codec IC for noise-cancelling earbuds in the iPhone 7, which will likely swap its 3.5mm headphone jack for a Lightning port. If that happens, Cirrus can generate more revenue per iPhone, even if overall shipments stall or decline. Cirrus' full-year sales forecast for 15% growthin 2017, which is higher than the consensus estimate for 14% growth, strongly suggests that could happen.
Image source: Cirrus Logic.
InvensenseInvensense makes motion sensors for Apple devices. 40% of Invensense's revenue came from Apple during the first nine months of fiscal 2016 (which ended on March 29), up from 30% in fiscal 2015. Like Cirrus, Invensense posted six consecutive quarters of double-digit sales growth before slowing down to 4% growth last quarter. Analysts currently expect Invensense's revenue to fall 20% when it reports its fourth quarter earnings on May 9, but potentially revenue could rise 13% for the full year on sales of chips for the iPhone 7 and other devices.
Unfortunately, Invensense doesn't have as much hope of growing content share within iPhones and iPads as Cirrus. Instead, Apple notably stepped away from Invensense by letting its rival STMicroelectronics supply the motion sensors for the Apple Watch. This means that Apple might ask STMicro, which suppliedmotion sensors for previous iPhones before Invensense, to supply its upcoming iDevices instead. STMicro has also been supplying more components to Samsung, which accounted for 18% of Invensense's revenue in the first nine months of 2016. That competitive pressure caused Invensense stock to slide 20% since the beginning of the year.
Invensense believes that it can diversify into new sensors for drones, security systems, connected cars, and other Internet of Things gadgets to reduce its dependence on Apple. However, STMicro and other chipmakers are already expanding into the same markets.
Invensense also hopes that its new "ultrasonic" fingerprint scanners, which can read fingerprints through glass, will convince companies to integrate fingerprint scanners directly intomobile displays.
Beware of investing in suppliersInvesting in supply chain players might seem like a good "backdoor" approach to profiting from successful and closely watched companies like Apple. However, investors should note that Apple has lots of clout in negotiating favorable prices, which forces suppliers to sell their components at lower margins. Apple also likes to rotate or split component production between suppliers, which means that orders from Apple shouldn't be considered a stable stream of long-term revenue.
Cirrus and Invensense aren't the only suppliers with double-digit exposure to Apple, but it's interesting to compare the two companies. Cirrus, which has supplied audio chips for multiple generations of iPhones, will likely remain reliable as it gains content share in future iPhones. Invensense, which only started supplying motion sensors to Apple with the iPhone 6, could lose that coveted spot to STMicro. That contrast reveals how quickly an Apple supplier's fortunes can turn, and why investors should exercise caution when investing in these companies.
The article 2 Suppliers That Are Too Exposed to Apple Inc. originally appeared on Fool.com.
Leo Sun has no position in any stocks mentioned. The Motley Fool owns shares of and recommends Apple and InvenSense. The Motley Fool recommends Cirrus Logic. Try any of our Foolish newsletter services free for 30 days. We Fools may not all hold the same opinions, but we all believe that considering a diverse range of insights makes us better investors. The Motley Fool has a disclosure policy.
Copyright 1995 - 2016 The Motley Fool, LLC. All rights reserved. The Motley Fool has a disclosure policy.