2 Stocks to Profit From Rising Mortgage Rates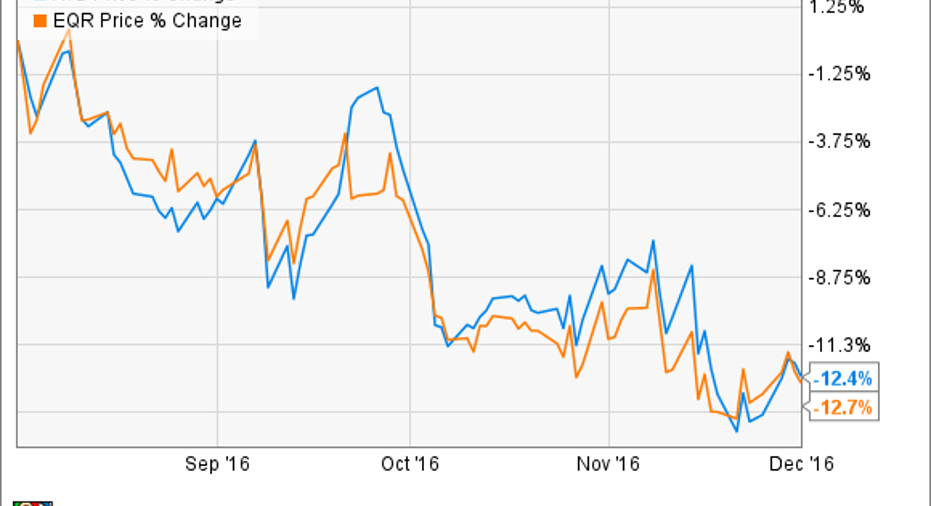 Image source: Getty Images.
Rising interest rates are generally bad for real estate stocks. In fact, over the past four months or so, the REIT sector has dropped by about 14%, mainly on fears that interest rates will rise over the coming months and years. While this can create bargains across the entire sector, one area that could do particularly well as interest rates rise are apartment REITs, especially leaders like Equity Residential (NYSE: EQR) and AvalonBay Communities (NYSE: AVB).
Why rising rates are generally bad for REITs
There are a couple of reasons rising rates are generally bad for REITs. Most obviously, it makes it more expensive to borrow money. Therefore, if a REIT borrows to finance the acquisition of a new property, it can expect a smaller profit margin when interest rates are higher, all other factors being equal.
In addition, rising rates create selling (downward) pressure on REIT stocks because they make less-risky income investments more attractive. As a simplified example, if a certain REIT pays a 5% dividend while a Treasury bond pays 3%, the REIT looks more attractive to income investors. However, if both investments are paying 5%, an income-seeker may be more inclined to choose the safer option.
However, rising mortgage rates can be good for apartment REITs
The other side of rising interest rates that can be good for apartment REITs is that mortgage rates go up, making home ownership less affordable for many people. Now, I'm not saying less-affordable homes are a good thing by any means, but it does have the effect of keeping people in rental housing such as apartments.
Let's say, for example, in your city, a nice three-bedroom home costs $1,500 per month to rent, or $220,000 to buy. At a mortgage rate of 4%, the home's payment (including average taxes and insurance) would cost about $1,125, assuming a 30-year term and 20% down, which is significantly cheaper than the cost of renting. However, if mortgage rates rise to 7%, which is more in line with the historical average, the monthly cost of homeownership jumps to $1,460. Suddenly, buying a home isn't such an attractive option, especially when you consider the added expense of maintenance.
Increasing costs of ownership will encourage people to rent, and they will also give apartment REITs increased pricing power. For example, if the cost of homeownership increases by 20%, the cost of rent can climb by say, 10%, and renters will still be coming out ahead from an affordability perspective.
Why Equity and AvalonBay?
In a nutshell, I like Equity Residential and AvalonBay Communities as the best plays on rising mortgage rates because of their size, where their properties are located, and the type of properties they develop.
Both Equity and AvalonBay's portfolios are concentrated in six core, coastal markets including New York, Washington, D.C., and Southern California. These markets have high barriers to entry, a limited supply of apartments, and strong demand for rentals.
Image source: AvalonBay Communities investor presentation.
These markets are already relatively unaffordable for would-be homebuyers. For example, in the San Francisco market, the median income is $82,000, while the median home price is $917,000, which makes it difficult for many people to qualify for mortgages. In fact, the median home price among all of the companies' core markets is about 2.5 times the national average. Equity and AvalonBay's markets also have higher-than-average wage growth, low apartment vacancy rates, and lots of new households being formed.
Image source: Equity Residential investor presentation.
In addition, these are two of the largest REITs of any kind, which leads to cost advantages. In fact, Equity Residential's overhead as a percentage of its revenue has grown at a 5.3% annualized rate over the past decade, while its peer group's average expense growth was 6.6% annually.
Both companies have delivered strong performance over the years. Equity and AvalonBay have delivered total returns of 11.8% and 11.7%, respectively, over the past 10 years, outperforming their peer group's average of 11.3%. Both companies have done a great job of growing funds from operations and, as a result, their dividend payments.
You can buy at a discount
Mainly because of the anticipation of rising interest rates, both REITs have fallen by more than 12% over the last few months.
In my opinion, the market is only considering the negative effects rising rates could have on apartment REITs like this, and not the effect of higher homeownership costs on the renter population. Because of this recent decline, now could be a great chance to get into these apartment REIT giants at a discount.
10 stocks we like better than Equity Residential When investing geniuses David and Tom Gardner have a stock tip, it can pay to listen. After all, the newsletter they have run for over a decade, Motley Fool Stock Advisor, has tripled the market.*
David and Tom just revealed what they believe are the 10 best stocks for investors to buy right now...and Equity Residential wasn't one of them! That's right -- they think these 10 stocks are even better buys.
Click here to learn about these picks!
*Stock Advisor returns as of November 7, 2016.
Matthew Frankel has no position in any stocks mentioned. The Motley Fool has no position in any of the stocks mentioned. Try any of our Foolish newsletter services free for 30 days. We Fools may not all hold the same opinions, but we all believe that considering a diverse range of insights makes us better investors. The Motley Fool has a disclosure policy.