2 Stocks That Could Burn Investors in 2017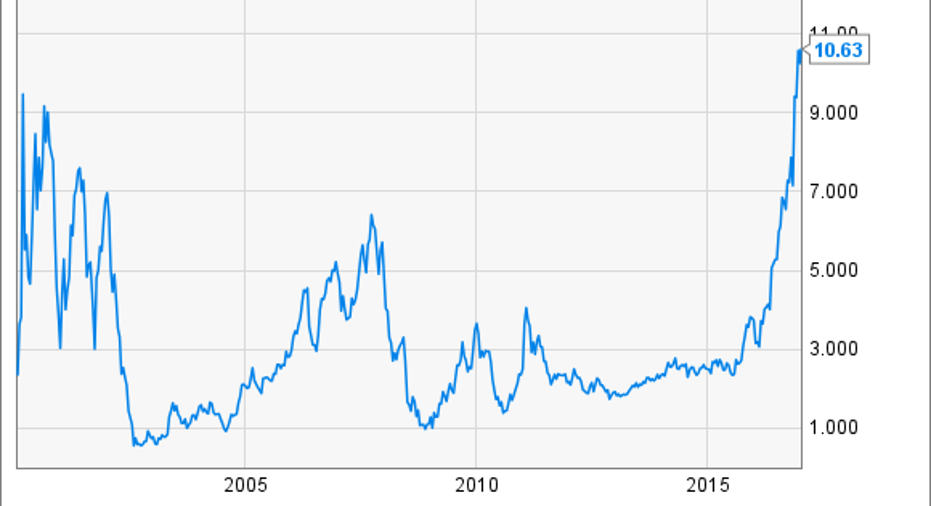 Image source: Getty Images.
Avoiding major mistakes, where a significant chunk of capital is permanently lost, is one of the keys to successful investing. Mistakes are one reason why the average individual investor typically underperforms the overall market by a wide margin. Buying stocks with inflated valuations during times of market euphoria or selling beaten-down stocks when everyone else is doing the same are recipes for disappointing long-term performance.
The stock market is expensive going into 2017, with the S&P 500 trading for 26 times earnings compared to a historical average of around 15. With bargains few and far between, valuations of some top-notch companies have been pushed up to levels that introduce far more risk than investors seem to realize. Both NVIDIA (NASDAQ: NVDA) and Costco (NASDAQ: COST) are fantastic companies, but their stocks could burn investors in 2017.
Massive expectations
Shares of graphics chip company NVIDIA more than tripled in 2016, driven by strong performance in all of its major businesses. NVIDIA's core gaming business is booming, with strong demand for its GeForce graphics cards leading to 63% year-over-year revenue growth during the third quarter. Data center sales tripled year over year, with NVIDIA's intense focus on deep learning paying off. Also, the automotive segment is gaining momentum, with various auto companies working with NVIDIA's automotive platforms.
NVIDIA's market capitalization has surged to around $57 billion, more than nine times trailing-12-month sales and 47 times earnings. NVIDIA's price-to-sales ratio has never been higher, surpassing the elevated levels during the dot-com boom. To say that investors are pricing in some incredible growth going forward is an understatement.
NVDA P/S ratio (TTM) data by YCharts.
NVIDIA does indeed have some major growth opportunities ahead of it, but investors may be counting their chickens before they hatch. The market for PC gaming hardware isn't growing nearly as fast as NVIDIA's gaming business, which means that the impressive growth rates of 2016 are unlikely to be sustainable. Advanced Micro Devices will be launching new high-end graphics cards during the first half of 2017, introducing competition to a portion of the market that NVIDIA has dominated for the past few years.
Data center and automotive represent big, but difficult to quantify, growth opportunities. GPUs are increasingly being used to accelerate workloads, but specialized chips like Google's Tensor Processor and increased competition from AMD and Intel could put an end to NVIDIA's undisputed dominance. In the automotive market, it's impossible to predict what technology ultimately powers the self-driving car of the future. NVIDIA is in a great position with its self-driving car platform, but its long-term success is far from certain.
NVIDIA stock has never been more expensive relative to sales. If the company can't keep impressing investors with its growth during 2017, the bottom could fall out, burning those betting that an already expensive stock will go even higher.
More risk than you think
One of my favorite investing quotes comes from Howard Marks, chairman of Oaktree Capital. "The riskiest thing in the world is the widespread belief that there's no risk," Marks said in a memo to clients last year. When nearly everyone believes that a company is so wonderful that the price of its stock doesn't matter, it's usually a good idea to stay away.
Warehouse club Costco is generally viewed as a great company, and for good reason. Costco has been steadily growing for years, with its low prices and quality customer service giving its tens of millions of members little reason to jump ship. The company has so far been largely immune to the rise of e-commerce, continuing to churn out solid sales results quarter after quarter, year after year.
This widespread belief that Costco is a great company has pushed the stock up over the past few years. Shares have doubled since the start of 2012, despite earnings growth slowing way down in the past couple of years. Earnings per share actually declined in fiscal 2016 even as revenue continued to grow.
Costco stock now trades for nearly 30 times trailing-12-month earnings, up from the low 20s five years ago. The market doesn't seem to care that growth is slowing, awarding the stock an even higher multiple. In an expensive market, investors are drawn to Costco because of the quality of the company. But an elevated valuation could spell trouble in 2017.
10 stocks we like better than Nvidia When investing geniuses David and Tom Gardner have a stock tip, it can pay to listen. After all, the newsletter they have run for over a decade, Motley Fool Stock Advisor, has tripled the market.*
David and Tom just revealed what they believe are the 10 best stocks for investors to buy right now... and Nvidia wasn't one of them! That's right -- they think these 10 stocks are even better buys.
Click here to learn about these picks!
*Stock Advisor returns as of January 4, 2017
Suzanne Frey, an executive at Alphabet, is a member of The Motley Fool's board of directors. Timothy Green owns shares of Oaktree Capital. The Motley Fool owns shares of and recommends Alphabet (A shares), Alphabet (C shares), Costco Wholesale, and Nvidia. The Motley Fool recommends Intel and Oaktree Capital. The Motley Fool has a disclosure policy.