2 Signs Lululemon Athletica's Growth Story Is Not Over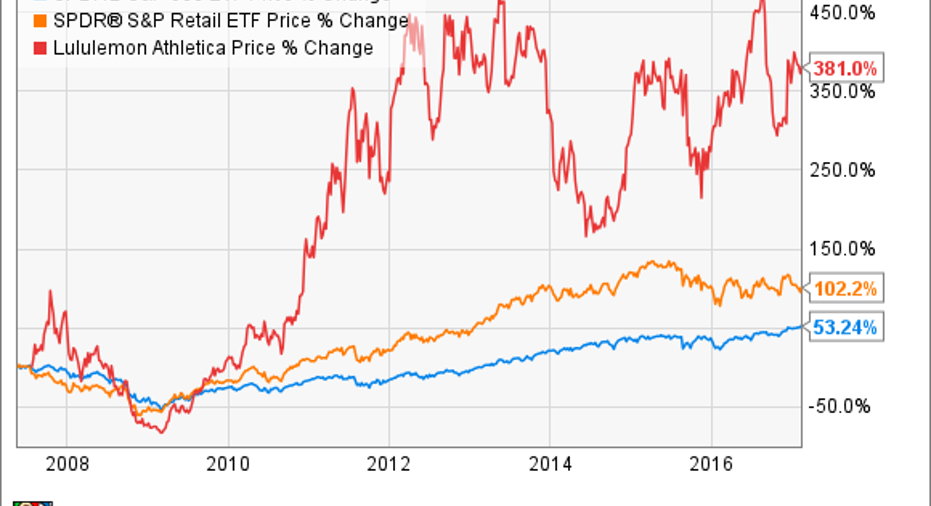 Lululemon's brand allows it to charge higher prices than competitors. Image source: Lululemon Athletica.
In the last few years, retailers have fallen into a rut with lower-than-expected sales performance and faltering stock prices.
But as the industry was taking a breather, Lululemon Athletica (NASDAQ: LULU) was gaining its second wind, and it looks poised to outperform going forward.
Lululemon stands out in a crowded market
Lululemon is known as a premium brand that sells quality merchandise for yoga and running enthusiasts. The average top costs around $50 to $60, and a typical pair of pants costs $100 or more. The company has been quietly growing its business while charging these premium prices for years, despite many cheaper alternatives on the market from major brands like Nike andUnder Armour.
The growth of athletic apparel has attracted too many players to the market, as several retailers in this crowded space have recently declared bankruptcy. Even larger stores like Targetand Wal-Mart have entered the athletic apparel market, gradually chipping away at smaller competitors. And the latest major retailer to enter the space is Amazon.com, which recently announced its own activewear line.
These larger companies are more of a threat to retailers at the lower end of the price spectrum than Lululemon. However, there are several small, privately-owned athletic apparel stores that cater to the needs of yoga enthusiasts in major urban centers.
Two in particular are Alo Yoga based in Los Angeles and Sweaty Betty from the U.K. While these stores don't have the scale or access to public financial markets to be a real threat to Lululemon, they do serve as validation of the athletic apparel trend.
Pricing power
A clear sign of competition is an erosion in gross margin over time. As one company lowers its prices, other competitors have to follow suit in order to attract customers. But cheaper alternatives are clearly not hurting Lululemon, which has improved its gross margin to over 50% in recent quarters.
Lululemon annual revenue is expected to reach $2.3 billion when the company reports results from its fiscal 2017 fourth quarter, which ended in January.This would be an increase of 13.5% over the prior year, and management has guided for at least 50% gross margin for the near future.
As the athleisure trend has grown in popularity, the flood of many entrants into the market has driven average selling prices down. According to Quad Analytic, the average price of leggings declined in 2016, but Lululemon's prices increased by an average of $5.A business that can maintain strong sales growth while raising prices is a business I want to invest in.
As promotional activity picks up among retailers at the low end of the market, Lululemon's brand will stand out even more as a destination for customers who seek quality with less regard for price. Lululemon's ability to grow and maintain firm margins while charging higher prices than competitors points to a strong brand.
Data by YCharts.
Looking further out, management is targeting $4 billion in revenue by 2020, or annual growth of 18%.Morgan Stanleyexpects the activewear, or athleisure market to reach $83 billion by 2020.This would nearly double the market's current estimated size of $44 billion. With only a few billion in annual revenue, Lululemon has a small share of the fastest-growing market in apparel, giving the business plenty of room to grow in the future. Over time, investors should continually monitor Lululemon's gross margin for signs of brand strength or weakness.
10 stocks we like better than Lululemon AthleticaWhen investing geniuses David and Tom Gardner have a stock tip, it can pay to listen. After all, the newsletter they have run for over a decade, Motley Fool Stock Advisor, has tripled the market.*
David and Tom just revealed what they believe are the 10 best stocks for investors to buy right now...and Lululemon Athletica wasn't one of them! That's right -- they think these 10 stocks are even better buys.
Click here to learn about these picks!
*Stock Advisor returns as of February 6, 2017.
John Ballard has no position in any stocks mentioned. The Motley Fool owns shares of and recommends Amazon, Lululemon Athletica, Nike, Under Armour (A Shares), and Under Armour (C Shares). The Motley Fool has a disclosure policy.