2 Robotics Stocks for 2016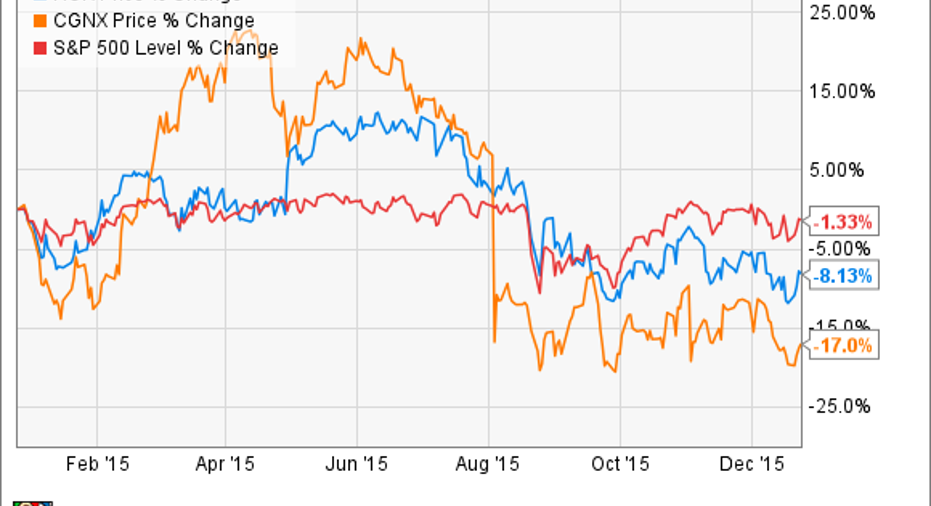 Growth in U.S. industrial production disappointed in 2015 and enters 2016 in negative territory, but that doesn't mean investors should run away from the sector. On the contrary, it's a good idea to look at stocks with strong long-term thematic trends behind them, such as robotics and industrial automation. That said, let's take a look at and .
The machine vision company's technology helps companies monitor and control automated processes. Cognex started 2015 in good shape and investors were anticipating more sizable deals with its ID products to the consumer electronics and logistics sectors.
It didn't happen. Rather, it didn't happen as much as investors and management had hoped it would. By the second quarter, management was guiding expectations toward "fewer large orders" in the second half. Come the third-quarter results, Cognex's management was talking about taking a cautious approach to near-term guidance.Its Asian growth slowed down in the second half,adding to the weakness in the Americas since the start of the year. You can see the results in the stock price chart.
Looking ahead to 2016, the bearish case for Cognex highlights weakening industrial production trends (first chart) and management's caution on near-term guidance, particularly in Asia. On the other hand, the bullish case argues that Cognex's valuation (see chart below) is cheaper than it has been in recent years. In addition, all it will take for sentiment to turn around is the signing of a few large deals or even some more orders from Apple,Cognex's largest customer and oneviewed asbeing part of along-term relationship.
The company's sensors, software and control systems help manufacturers optimize industrial automation. As you can see in this chart of enterprise value (market cap plus net debt) over free cash flow -- a useful way to compare companies with differing debt profiles and cash-generating properties -- Rockwell is cheap compared to its peer group.
ROK EV to Free Cash Flow (TTM) data by YCharts.
While Rockwell looks cheap, its exposure to industrial capital spending trends will create headwinds in 2016. Indeed, company guidance is for organic revenue growth of flat to negative 4%, and full-year 2016 adjusted earnings per share to be $5.90 to $6.40 compared to this year's $6.40. Accepting the low end of the EPS range of $5.90 and management's assumption that income translates into free cash flow at 100% would have Rockwell on an EV/FCF multiple of 17 times.
In addition, Rockwell is a highly productive and cash-generating business. Its return on invested capital, or ROIC, has been above 30% for the last five years, and free cash flow conversion from net income has averaged more than 100% in the last five years. Despite assuming falling earnings, the forward EV/FCF multiple of 17 times mentioned above would still make Rockwell look like a good value compared to its peers, as the chart above shows.
All told, the bullish case cites valuation limiting the downside, and the opportunity to buy into a good long-term story while gaining a 2.8% dividend yield. In addition, its market cap of less than $14 billion and strong ROIC makes it an attractive takeover candidate for a larger company looking to buy growth in a slow economy. Alternatively, the bearish case sees the risk in further deterioration in industrial production.
Both stocks are subject to trends in industrial production, and the weakness in the first chart above suggests they could disappoint with near-term earnings and guidance. However, both have good long-term prospects and trade on reasonable valuations. Increasing automation is a feature of the industrial economy, and Rockwell's sensors and controls also play a key role in the Internet of Things.
Cognex is expanding the industry verticals it serves, and it's no secret that e-commerce is creating the need for more technology in logistics -- all good news. However, its near- to mid-term prospects are likely to be more volatile, as it's more reliant on a smaller number of deals and customers. All told, both stocks are worth holding given any bounce in industrial conditions, but look out for near-term volatility.
The article 2 Robotics Stocks for 2016 originally appeared on Fool.com.
Lee Samaha has no position in any stocks mentioned. The Motley Fool owns shares of and recommends Apple and Cognex. Try any of our Foolish newsletter services free for 30 days. We Fools may not all hold the same opinions, but we all believe that considering a diverse range of insights makes us better investors. The Motley Fool has a disclosure policy.
Copyright 1995 - 2016 The Motley Fool, LLC. All rights reserved. The Motley Fool has a disclosure policy.