2 Retailers Fending Off Amazon.com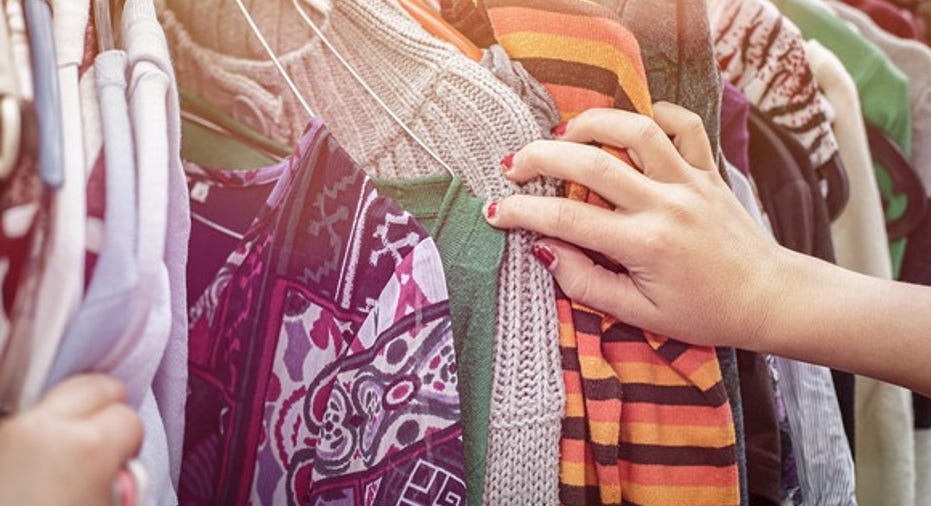 Image source: Getty Images.
The first quarter was tough for most retailers as Amazon.com continued to grab share of consumers' wallets. Not every brick-and-mortar retailer suffered from poor sales performance, however, as TJX beat analysts estimates last quarter with $7.5 billion in sales, compared with the $7.3 billion the Street was looking for.
TJX's off-price counterpart, Ross Stores , didn't fare as well, missing analysts' estimates, but sales still climbed more than 5%. Those are growth numbers Amazon's direct competitors, such as Wal-Mart or Target , would love to have. Wal-Mart and Target saw sales growth of 0.9% and -5.4%, respectively.
TJX and Ross are succeeding where other retailers are failing, and it doesn't seem online retailers like Amazon could ever have an impact on the off-price retailers.
What about Amazon's efforts in apparel?
One of the biggest growth stories in Amazon's retail operations is the growth of apparel sales. Cowen & Co. released a note last month stating its belief that Amazon will become "the No. 1 U.S. apparel retailer by 2017." Amazon apparel purchasing was up 19% year over year in the first quarter, while Wal-Mart and Target saw purchases fall 1% and 5%, respectively.
Earlier this year, Amazon started launching its own fashion brands, with products ranging from men's shoes to women's bags to children's clothing. It sells at least 1,800 products under its house fashion brands.
But Amazon's growth in apparel hasn't come from undercutting the competition as it has with other lower-margin categories. In fact, many fashion brands refused to do business with Amazon for the longest time because of their perception of Amazon as downscale. To get around that impression, Amazon is promising to sell items at full price -- the same prices you'll find in department stores.
That means shoppers looking for a bargain will still have to search through the racks at stores like T.J. Maxx or Ross.
Not just a bargain -- a shopping experience
Not only do Ross and TJX have pricing working in their favor, but they also offer an experience that Amazon can't duplicate. Each of their locations has a unique product selection, and shoppers go through racks of clothing to find the two or three items they may actually want to purchase. These kind of unique finds are what separate the "Maxxinistas" from the rest of us. TJX stores include T.J. Maxx, Marshalls, HomeGoods, and Sierra Trading Post.
While Amazon is reportedly considering opening brick-and-mortar storefronts, it's not going to compete with Ross and TJX. The storefronts are designed as bookstores and to showcase Amazon's devices. Developing storefronts to sell clothing would cut drastically into Amazon's margins on the business.
As such, the experience of shopping in a store like Marshall's will remain unparalleled by Amazon or any other online retailer.
Is either one worth buying right now?
With Amazon trading near its all-time high, investors interested in retail may be looking at Ross Stores and TJX to see if there's an opportunity in the strong cash flow industry.
Ross Stores is currently priced around 20 times forward earnings, while TJX is at 22 times earnings. Additionally, Ross is trading near a five-year-low price-to-free cash flow ratio, at 20.8, and TJX is trading at 26.7 times cash flow.
Ross also has strong potential for earnings growth going forward by improving its margins and optimizing its inventories. It's also a domestic-only play, insulating it from foreign currency fluctuations. As such, analysts expect it to grow earnings faster than TJX over the next five years -- 11.3% per year versus 9.9% per year.
Both retailers' valuations are awfully lofty compared with the rest of the industry. Target and Wal-Mart, for example, have P/E ratios of 13.2 and 16.6, respectively. They each trade around 13 times free cash flow as well. But that's the price to pay for a company with strong growth in sales and earnings compared with the competition.
Ross is certainly a more conservative investment, and it's priced that way. For investors who expect a turnaround in the international markets, which will allow for big margin expansion for T.J. Maxx, that company's stock may look enticing despite its higher price.
The article 2 Retailers Fending Off Amazon.com originally appeared on Fool.com.
Adam Levy owns shares of Amazon.com. The Motley Fool owns shares of and recommends Amazon.com. Try any of our Foolish newsletter services free for 30 days. We Fools may not all hold the same opinions, but we all believe that considering a diverse range of insights makes us better investors. The Motley Fool has a disclosure policy.
Copyright 1995 - 2016 The Motley Fool, LLC. All rights reserved. The Motley Fool has a disclosure policy.