2 Reasons Why Whole Foods 365 Will Be a Hit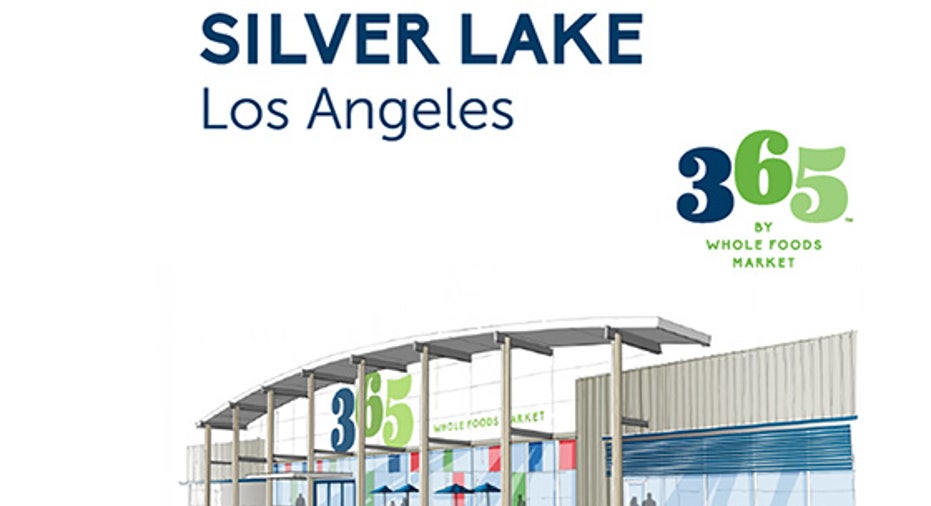 Whole Foods Market has set the date.
The company that pioneered the organic grocery space will open its first budget-priced 365 store next month. The new supermarket concept will be unveiled on May 25th in Los Angeles's Silver Lake neighborhood. Whole Foods describes the store as bringing "fresh, healthy food to a broader audience with a streamlined quality-meets-value shopping experience."
Image source: Whole Foods.
Investors initially dismissed the idea when it was introduced a year ago, sending the stock tumbling as analysts saw the move as capitulation to new competition in the organic space. Whole Foods can't keep growing through its traditional format, they argued, so it's developing a cheaper option, but fragmentation is a typical strategy for targeting different demographics and income levels. Rivals like Kroger, which has several brands ranging from high-end chains like Harris Teeter to more mainstream banners like King Sooper's, have long employed such a strategy.
Beyond the need to reach out to a new demographic, there are several other reasons the new 365 concept should be a hit. Let's take a look at a couple of the big ones:
1. Following a successful footprintMore than any other supermarket chain, the new 365 seems to resemble Trader Joe's, the alternative grocer that has grown to nearly 500 stores nationwide. The company is privately held so hard numbers on its financial performance are unavailable but its annual revenue is estimated at about $10 billion. Over the years, Trader Joe's has developed a cult-like following and its sales per square foot, the best indicator of how efficiently a company uses its real estate, are the tops in the industry at around $1,750.That's nearly double Whole Foods at $930 and close to triple Kroger at $672.Wal-Mart, the country's No. 1 grocer is even further back at just over $400 per square foot.
Clearly, Trader Joe's is doing something right. Customers seem to like its combination of low prices, convenient packaging, and wide variety and selection of organic and natural foods. In many ways, 365 seems like a combination of Whole Foods' full-line stores and Trader Joe's. The new stores will take up less space than a typical Whole Foods, mirroring Trader Joe's smaller footprint, and carry a more limited selection of items. It will also rely more heavily on its private-label brand 365, much in the way Trader Joe's products are almost entirely private label. Finally, 365 will reduce labor costs by nixing butchers and cheesemongers and having such items prepackaged, much like Trader Joe's.Mixing the Whole Foods brand with the Trader Joe's operational model should be a winning combination.
2. Attracting trendy partnersWhen Whole Foods first announced its Friends of 365 program, it was mocked for suggesting the idea of tattoo parlors in its stores, but its plans for the first store make it clear that the company will include mostly food and beverage concepts in the new stores, which seems to be the most logical addition.
Whole Foods named the popular vegan restaurant By Chloe as its first Friend of 365. By Chloe will have its own dedicated space inside the Silver Lake store, where it will serve core items from its menu such as pesto meatballs and burgers. Other Friends of 365 at the new location include Allegro Coffee Company and TeaBot. Allegro already has a fancy outpost in Whole Foods' Brooklyn store , and the Silver Lake location will include a craft brew bar as well as cold beer. TeaBot, Whole Foods says, is a Toronto-based start-up that provides self-serve custom tea kiosks that prepare tea in under 30 seconds.
Whole Foods has yet to name any Friends of 365 at other upcoming stores, but based on submissions, potential partners could be a shea butter skincare line, a Mexican restaurant, small-batch jewelry, and bone-broth beverages.
Despite its recent struggles, Whole Foods is still an excellent business. With a profit margin of 3.4%, it outperforms virtually all of its major rivals, including Kroger at just 1.8%. The company has also maintained its goal of opening 1,200 stores nationwide, a number that will only increase with the addition of 365.
The new chain won't have an immediate effect on the bottom line as only three 365 stores are expected to open this year with 10 more slated for next year. However, a successful launch last month should provide a much-needed boost for the stock as investor optimism returns.
The article 2 Reasons Why Whole Foods 365 Will Be a Hit originally appeared on Fool.com.
John Mackey, co-CEO of Whole Foods Market, is a member of The Motley Fool's board of directors. Jeremy Bowman has no position in any stocks mentioned. The Motley Fool owns shares of and recommends Whole Foods Market. Try any of our Foolish newsletter services free for 30 days. We Fools may not all hold the same opinions, but we all believe that considering a diverse range of insights makes us better investors. The Motley Fool has a disclosure policy.
Copyright 1995 - 2016 The Motley Fool, LLC. All rights reserved. The Motley Fool has a disclosure policy.