2 Reasons to Love Solar Stocks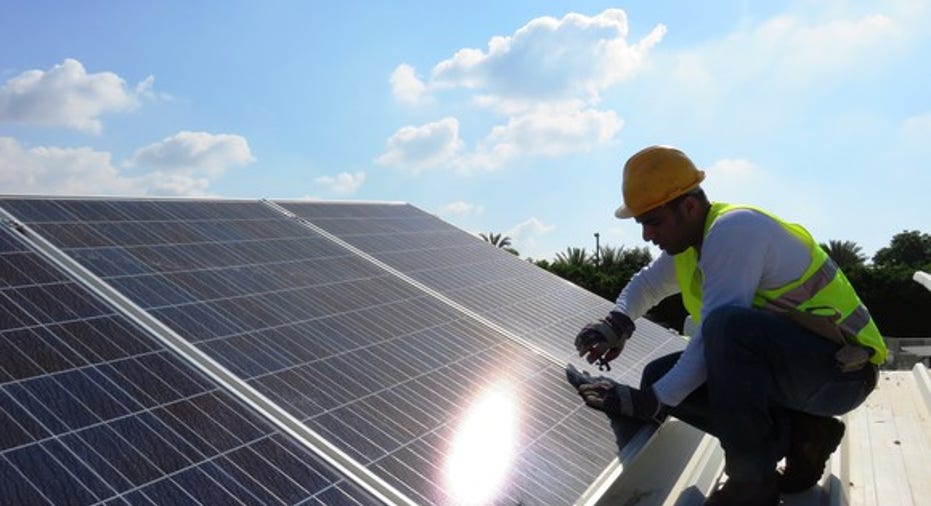 Image source: Getty Images.
Solar stockshave been absolutely crushed in 2016 as investors fret about interest rates, oil prices, and the financial trouble of some of the industry's biggest players. Short term, there are definitely questions about solar energy, but long term there are a lot of reasons to love solar stocks. Not only that, but two in particular stand out above the rest.
Growth potential is enormous
Over the last five years, global consumption of oil, natural gas, and coal has slowed to a crawl, as illustrated in the chart below. But growth in the solar industry has just started to hit its stride.
World Oil Consumption data by YCharts
Sunlight is the most abundant energy resource on earth, with enough energy hitting the surface of our planet every hour to meet all of our energy needs for an entire year. And we're just beginning to exploit that resource. Solar has gone from almost non-existent usage in 2005 to approaching 500 GW of installed capacity today, enough to power 82 million homes worldwide. And the industry's growth period is far from over.
Image source: SunPower. Data from IEA and SunPower estimates.
Solar panels generate barely 1% of the electricity used in the U.S. today and even less globally, but that percentage is on the rise. That leaves a long runway for solar industry growth.
Image source: Getty Images.
The cost of solar is crushing fossil fuels
From a cost perspective, it's hard to see why solar energy wouldn't continue to grow. In the U.S., solar energy contracts between developers and utilitiesare going for $0.05 per kWh, which according to investment bank Lazard is already lower than fossil fuels, and the cost to build plants is coming down. In extremely sunny locations like Dubai, solar priceshave dropped as low as $0.03per kWh. This compares to the $0.13 per kWh the average American pays for electricity. And as costs come down, the market grows, which leads to more cost reductions, and so on. The future of the solar industry is bright .
Looking at the cost of construction (which is measured in cost per watt, not cost per kWh like energy is), we can see the cost trajectory. Canadian Solar is one of the world's largest panel makers, and its management projects that solar panel costs will fall from $0.41 per watt in Q1 2016 to $0.29 per watt by the end of 2017, on top of a reduction in soft costs, like labor, permitting, and inverters. By the end of the decade, a solar project will cost as little as $1 per watt, less than a solar panel cost less than five years ago.
Buyer beware
While solar stocks have a lot of potential long term, that doesn't mean that all companies will provide investors with big returns. In fact, more companies will likely go out of business in the next five years, continuing a trend of recent bankruptcies in the industry.
Investors investing in solar over the long haul should look for a rock solid balance sheet and technical differentiation that will set a company apart in the future. First Solar and SunPower are really the only two companies that fit that bill on U.S. exchanges, with billions of dollars in projects in their backlogs . First Solar is expecting $500 million to $700 million in operating cash flow this year and SunPower expects $450 million to $500 million in EBITDA, a measure of cash flow before financing and taxes. Despite solid financials, even those two stocks have been on a roller coaster ride over the past decade, and that trend will likely continue.
The solar industry is definitely high potential with a lot of upside for investors, but it also presents significant business risk for companies who take on too much leverage or don't have a differentiation in the market. Investors should keep an eye on the premium players and not take on too much risk as this high potential market plays out.
The article 2 Reasons to Love Solar Stocks originally appeared on Fool.com.
Travis Hoium owns shares of First Solar and SunPower. The Motley Fool has no position in any of the stocks mentioned. Try any of our Foolish newsletter services free for 30 days. We Fools may not all hold the same opinions, but we all believe that considering a diverse range of insights makes us better investors. The Motley Fool has a disclosure policy.
Copyright 1995 - 2016 The Motley Fool, LLC. All rights reserved. The Motley Fool has a disclosure policy.