2 Reasons General Motors Is a Top Stock to Buy Now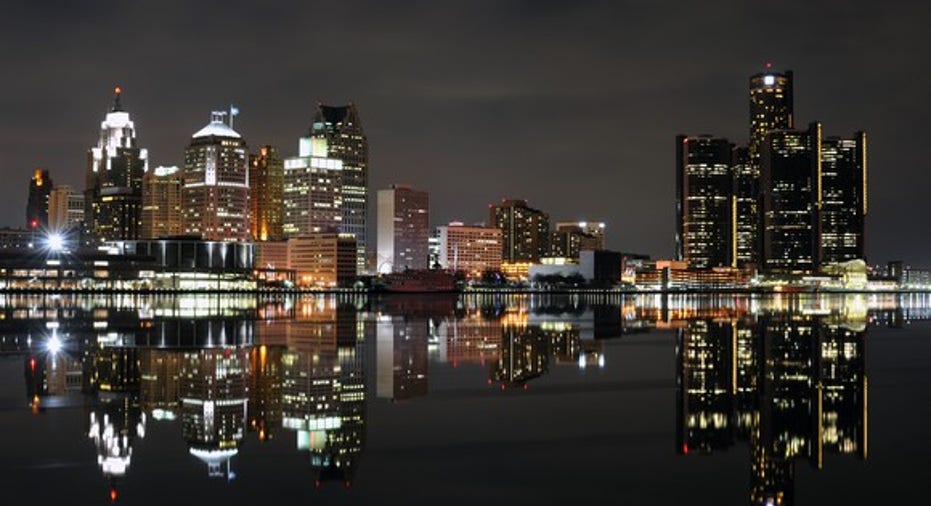 There's been a wave of recent negativity regarding owning shares of major automakers such as General Motors (NYSE: GM). GM is an entirely different automaker than it was a decade ago and has posted record profits in recent years. There are fears, however, of a high point for the North American market and a crisis in subprime loans that have made investors shy away from the stock.
It seems the subprime-loan scare looks overblown, and GM's portfolio is about to get a breath of fresh air. Let's look at both of these factors.
Subprime fears are overblown
At the end of 2015, 60% of GM's retail loans went to consumers with a 620 or lower FICO score. That exposure to subprime credit has caused some investor concern, but it shouldn't.
Detroit skyline. Image source: Getty Images.
First of all, General Motors Financial is a relatively new entity, as the automaker was forced to divest its former finance arm during its bailout. GM started a new finance division by acquiring AmeriCredit in 2010 and then creating GM Financial, a wholly owned subsidiary. AmeriCredit brought a majority of the subprime loans into the fold, but GM has since decreased its focus in that area and instead dished out more prime loans. By the end of 2016,just 48% of GM's retail loans were subprime, and that downward trend is likely to continue. Net charge-offs in North America have been declining between those two time periods, reflecting a more prime-filled portfolio
Image source: GM Financial Q4 2016 earnings presentation, Feb. 7, 2017.
Second, the subprime situation for GM is not as dire as the subprime housing crisis we saw during the Great Recession because it's much easier to repossess or sell a vehicle than it is a house, making cars a more liquid asset. Also, as we saw during the recession, people were more resistant to giving up their cars because it was necessary to keep a job.
Finally, while GM will probably continue to focus less on subprime loans as it expands GM Financial, investors also have to consider the quality of loan writing. We don't have much insight into that, but we have to assume that GM Finance, or AmeriCredit at the time, was writing loans with higher rates to offset the increased risks of lending to subprime consumers.
So don't let the subprime loans on GM Financial's books keep you from owning shares of General Motors. The fears of a subprime crisis are overblown.
GM is keeping its portfolio fresh
Two critical factors facing major automakers in the near term are balancing supply and demand and balancing incentive spending. These two factors are pretty intertwined because if automakers have too much supply at dealerships, more incentive spending is required to spur retail sales. You can call it good luck, smart planning, or a secret weapon, but one way for automakers to help spur sales without increasing incentives is by having a fresh portfolio of vehicles.
It's no secret that higher price tags sell better when they're attached to newer vehicles, which require fewer incentives. Thus, a refreshed portfolio will help General Motors with those two critical factors. Here's alook at its launch cadence.
Image source: Deutsche Bank Global Auto Industry Conference, Jan. 10, 2017.
Furthermore, not only will GM's launch cadence keep its portfolio fresh, but the percentage of newer vehicles will also increasingly be higher-margin trucks, SUVs, and crossovers. For context, between 2011 and 2016, 38% of GM's global new or refreshed vehicle sales were trucks, SUVs, and crossovers, while 62% were cars. GM expects that mix to become 52% trucks, SUVs, and crossovers and only 48% cars between 2017 and 2020.
What we've covered here only scratches the surface of reasons to purchase shares of General Motors. The company offers a solid 4.4% dividend yield, it hasaccelerated its share-repurchase program with the sale of its profit-eroding European operations, it's developing driverless technology, and it's creating a smart-mobility brand named Maven to explore new revenue-generating strategies. This isn't the same GM investors remember from the Great Recession, and eventually Wall Street will reward the company with a much higher multiple than the modest 5.75 times trailing-12-month earnings at which it currently trades.
10 stocks we like better than General MotorsWhen investing geniuses David and Tom Gardner have a stock tip, it can pay to listen. After all, the newsletter they have run for over a decade, Motley Fool Stock Advisor, has tripled the market.*
David and Tom just revealed what they believe are the 10 best stocks for investors to buy right now... and General Motors wasn't one of them! That's right -- they think these 10 stocks are even better buys.
Click here to learn about these picks!
*Stock Advisor returns as of February 6, 2017
Daniel Miller owns shares of General Motors. The Motley Fool has no position in any of the stocks mentioned. The Motley Fool has a disclosure policy.