2 Reasons Fitbit is Falling -- 1 Reason it Will Bounce Back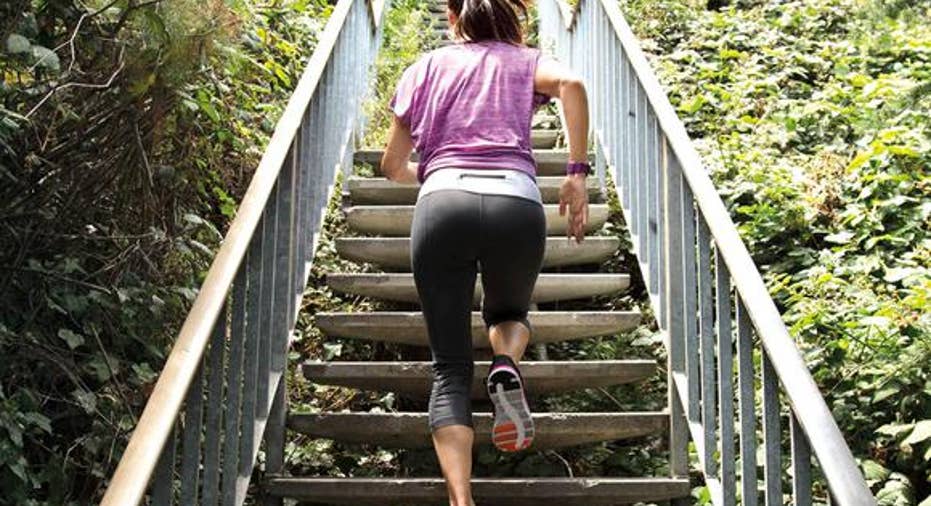 Image source: Fitbit.
Fitbithas been climbing the wall of worry all year, and this morning it finally slipped. The leading maker of fitness trackers stumbled after posting quarterly results.
The numbers are solid. Revenue clocked in at $505.4 million for the first quarter, 50% ahead of where it was a year earlier. Margins and earnings contracted as a result of new product lines and the costs involved in launching them, but its adjusted profit of $0.10 a share was more than three times the $0.03 a share in earnings that analysts were expecting. The bottom-line beat isn't new: Fitbit has landed ahead of Wall Street pros in every quarter during its brief tenure as a public company.
The stock still opened sharply lower on Thursday morning, following Wednesday afternoon's report. Let's go over a few of the reasons why this is happening.
1. Guidance is weakFitbit's outlook for the current quarter isn't very comforting. It sees revenue of $565 million to $585 million, which at the midpoint represents a healthy 44% year-over-year advance. That's well ahead of where the pros were perched, a good indicator that its new products are selling well.
However, Fitbit is also forecasting an adjusted profit between $0.08 a share and $0.11 a share, and that's less than half the $0.26 a share that analysts were targeting. That's also perhaps an indicator that its new Blaze smartwatch and Alta fitness tracker are selling too well relative to Fitbit's higher-margin legacy bracelets.
The guidance is mixed, but now that initial fears of Fitbit stumbling in its foray into the cutthroat smartwatch realm seem to be unfounded the focus is on the bottom line. Fitbit is falling short on that front.
2. There's a lot of helium in the stockFitbit's stock has taken a beating since peaking at $51.90 last summer, but it was rallying in recent months. Fitbit stock's close yesterday was 44% above its all-time high.
Analysts were also starting to warm up to the stock. There was a magical week last month that found analysts either upgrading the stock, boosting their price targets, or issuing bullish updates in four of the five trading days.
There's a lot of hype in a stock when it's rolling ahead of a report, and that's where Fitbit failed to live up to the lofty expectations on all fronts.
Let's go back up that wallAs bad as today's carnage may seem with the stock opening 13% lower -- falling to a 17% slide minutes into the trading day -- it's also easy to feel optimistic. Fitbit had a strong quarter, selling 4.8 million connected health and fitness devices. Its home market, comprising more than two-thirds of its sales, rose a hearty 33%. All of the three other international territories grew substantially faster.
However, let's focus on some more color that Fitbit provided on its Blaze and Alta gadgetry. Each one sold more than a million devices, and they combined to account for nearly half of Fitbit's revenue for the quarter.
Fitbit points out that 40% of Blaze and Alta user activations came from owners of prior Fitbit devices, and 90% it was folks trading up from less expensive Fitbit trackers. A fifth of those reactivations were folks that had been inactive for at least three months, suggesting that the new products sparked renewed interest in the brand. That's a pretty big deal, especially if we flip that around to find that 60% of Blaze and Alta buyers this year are new to the brand.
Investors have been concerned about decelerating growth and the margins hit resulting from the rollout of new products and the development of a digital health strategy. Revenue is holding up to its end of the bargain, and the factors weighing on earnings appear to be long-term investments in the brand expanding its audience. Fitbit is on the right track, even if the stock is taking several steps back today.
The article 2 Reasons Fitbit is Falling -- 1 Reason it Will Bounce Back originally appeared on Fool.com.
Rick Munarriz has no position in any stocks mentioned. The Motley Fool has no position in any of the stocks mentioned. Try any of our Foolish newsletter services free for 30 days. We Fools may not all hold the same opinions, but we all believe that considering a diverse range of insights makes us better investors. The Motley Fool has a disclosure policy.
Copyright 1995 - 2016 The Motley Fool, LLC. All rights reserved. The Motley Fool has a disclosure policy.