2 Reasons Disney World Fears Volcano Bay, 1 Reason Why It Shouldn't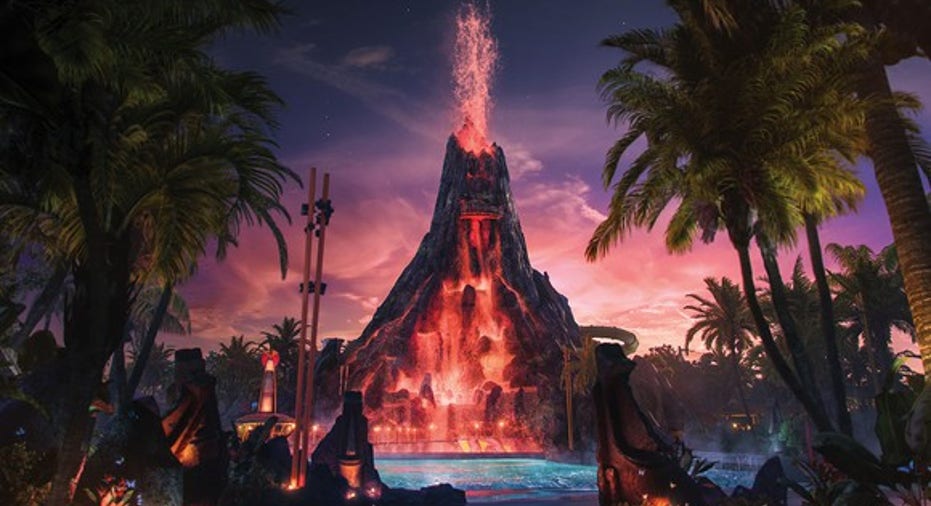 Thewaterpark battlebetweenDisney(NYSE: DIS) andComcast's(NASDAQ: CMCSA)Universal Orlando kicks off in Florida tomorrow. The first shot will be a quiet one. Miss Adventure Falls -- a four-person raft ride -- opens at Disney World's Typhoon Lagoon on Sunday morning.
Disney hasn't been spending a lot of marketing muscle promoting the new attraction. Thursday was spent wedging promos for itsAvatar-themed Animal Kingdom expansioninto four ABC shows. The world's largest theme-park operator knows that it will be Pandora -- The World of Avatar, and not a new waterpark ride that will woo guests this summer. However, adding something new to the country's most visited theme park is important as it tries to combat the inevitable media blitz that Comcast will counter with as we approach Volcano Bay's May 25 opening date.
There's a backstory to Miss Adventure Falls for those who appreciate Disney's attention to theming. There will also be an animatronic talking parrot in the raft attraction, the first time that Disney incorporates an audio-animatronic in a waterpark ride.
However, Disney knows Miss Adventure Falls will be no match for the attention that its rival will be drawing a few miles away. Let's go over the reasons why Disney is right to be scared of the opening of Volcano Bay, and then wrap things up by seeing why it ultimately doesn't have to matter.
Image source: Universal Orlando's Volcano Bay.
1. Volcano Bay is raising the bar in waterpark tech
In terms of real estate, Volcano Bay will be half the size of Disney World's Typhoon Lagoon, or Blizzard Beach. Universal Orlando is packing a lot of watery attractions into the compact space, and it's introducing waterproof bands that will allow guests to reserve ride times at Volcano Bay's more popular attractions.
Wearable tech isn't new for Disney World, as guests have been using MagicBand bracelets to enter theme parks and access FastPass queues at its dry parks for a couple of years. However, TapuTapu wristbands will be able to alert riders when it's time for them to ride, something that the current generation of MagicBands can't do.
Summer guests at Disney World's Typhoon Lagoon and Blizzard Beach will be facing long lines on hot days for body slides and raft rides. Volcano Bay guests will be able to spend that time circling around in the lazy river, enjoying the pool areas, or cooling off with drinks and snacks. TapuTapu makes it all possible, and for now, Disney World's waterparks will seem dated in comparison
2. Universal's third gate will make it more all-inclusive
Comcast is billing Volcano Bay as its third park, and like its two dry parks, it will funnel guests in through its massive parking garages for off-site guests and the growing number of on-site accommodations for those staying at the resort. Universal Orlando has been adding hotels at a feverish pace, justified by the booming attendance growth at Universal Studios Florida and Islands of Adventure.
Volcano Bay will be challenging for guests not staying at a Universal Orlando resort. The plan -- for now -- appears to be to charge guests for parking, and then have them board shuttle buses to and from Volcano Bay, since there's no space for a large dedicated parking lot at the waterpark. This is a sharp contrast to the popular waterparks at Disney and SeaWorld's (NYSE: SEAS) Aquatica, which offer complimentary parking, and guests can take a short walk to the entrance.
Comcast acquired the nearby Wet 'n Wild waterpark to give its guests a watery oasis, but it closed the park down three months ago in anticipation of Volcano Bay's debut. Now that it has an on-site waterpark with as many high-tech upgrades as its two theme parks, Comcast will give people staying at a Universal Orlando resort less reason to visit a rival waterpark.
Universal Orlando was a good place to stay for a weekend, but now it may be able to command tourists for an entire week. Disney knows this game all too well as it has spent the past few years ramping up its resort offerings, and now Universal Orlando has the park lineup to steal away Disney World resort guests as a one-stop destination.
A big reason not to worry
Image source: Disney World's Miss Adventure Falls at Typhoon Lagoon.
Volcano Bay makes Universal Orlando a complete resort, and it makes Disney World's waterparks seem like relics, but we also can't forget that a shiny new attraction that draws visitors to Central Florida is often good for most area attractions. If SeaWorld Orlando and Universal Orlando stand to benefit from the spike in tourists that Pandora -- The World of Avatar will bring to the area, the same can be said about Volcano Bay.
Folks mesmerized by Volcano Bay's bar-raising features will be drawn to the area, and that should ultimately improve the chances for Disney and SeaWorld to grab some of those guests as they travel to the area. It can also be argued that, whenever Universal Orlando pushes expectations higher, guests benefit as rivals try to keep up.
Pandora -- The World of Avatar is a response to Universal Orlando's game-changing Wizarding World of Harry Potter. If Volcano Bay is a hit, you can be sure that Disney's waterpark offerings will be dramatically improved in the coming years.
10 stocks we like better than Walt DisneyWhen investing geniuses David and Tom Gardner have a stock tip, it can pay to listen. After all, the newsletter they have run for over a decade, Motley Fool Stock Advisor, has tripled the market.*
David and Tom just revealed what they believe are the 10 best stocks for investors to buy right now... and Walt Disney wasn't one of them! That's right -- they think these 10 stocks are even better buys.
Click here to learn about these picks!
*Stock Advisor returns as of February 6, 2017
Rick Munarriz owns shares of SeaWorld Entertainment and Walt Disney. The Motley Fool owns shares of and recommends Walt Disney. The Motley Fool has a disclosure policy.