2 Reasons Behind Novavax, Inc.'s 18% Move Higher in March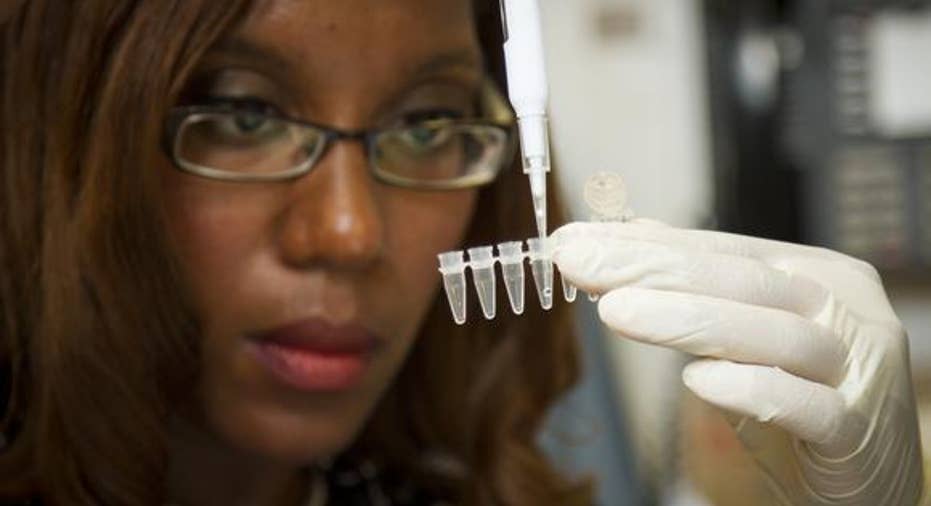 Image source: National Cancer Institute.
What: Shares of Novavax , a clinical-stage biopharmaceutical company focused on developing vaccines to treat a variety of global infectious diseases, rose by 18% in March based on data from S&P Global Market Intelligence. Some kind words from Wedbush Securities and global infectious disease concerns appear to be the main catalysts behind the move.
So what: The biggest boost for Novavax came early in March when Barron's published research from Wedbush suggesting that Novavax could triple in price to $14 per share. The report was suggestive that the company's respiratory syncytial virus F-protein nanoparticle vaccine (RSV-F vaccine) for older adults, infants, and pediatrics, as well as its influenza program which is aiming to develop a quadrivalent seasonal vaccine and a pandemic-type vaccine targeted at H7N9, could carry Novavax to a higher valuation. Shareholders certainly liked what they read and bid Novavax shares up throughout the month.
Image source: Pixabay.
The other factor working in Novavax's favor is simply the fear of an infectious disease spreading around the globe. At the beginning of March, Novavax announced that it would begin looking at animal studies in an effort to advance a Zika virus vaccine. Adverse effects from the Zika virus are still being explored, but its spread to North and Central America is cause for concern. A vaccine to treat the virus could prove quite profitable for the developing company.
Now what: What investors need to keep in mind is that the economics behind vaccine development are extremely challenging. Vaccine developers have to count on infectious diseases not mutating, and they also must rely on governments and organizations around the world to buy enough vaccine to make production and research worthwhile. This doesn't always happen, which is why there's a real possibility that a Zika virus cure may prove unprofitable.
The real growth drivers for Novavax are likely going to be its RSV-F vaccine and its influenza vaccine. For example, in September, Novavax reported promising data on its RSV-F vaccine in an effort to protect infants via maternal immunization. The company's press release notes the potential of the vaccine to protect infants when they are most at risk. If approved, RSV-F could grow into a blockbuster drug capable of $1 billion in sales after 2020.
In my opinion, with a current valuation of $1.5 billion Novavax's success in RSV-F in midstage studies appears to be fairly priced in. However, if Novavax succeeds in late-stage studies, I could certainly view Novavax trading substantially higher than where it is now. We should hopefully have the answers we want in the coming quarters.
The article 2 Reasons Behind Novavax, Inc.'s 18% Move Higher in March originally appeared on Fool.com.
Sean Williamshas no material interest in any companies mentioned in this article. You can follow him on CAPS under the screen nameTMFUltraLong, track every pick he makes under the screen name TrackUltraLong, and check him out on Twitter, where he goes by the handle@TMFUltraLong.The Motley Fool has no position in any of the stocks mentioned. Try any of our Foolish newsletter servicesfree for 30 days. We Fools may not all hold the same opinions, but we all believe thatconsidering a diverse range of insightsmakes us better investors. The Motley Fool has adisclosure policy.
Copyright 1995 - 2016 The Motley Fool, LLC. All rights reserved. The Motley Fool has a disclosure policy.