2 Reasons Behind MannKind Corporation's Implosion in 2015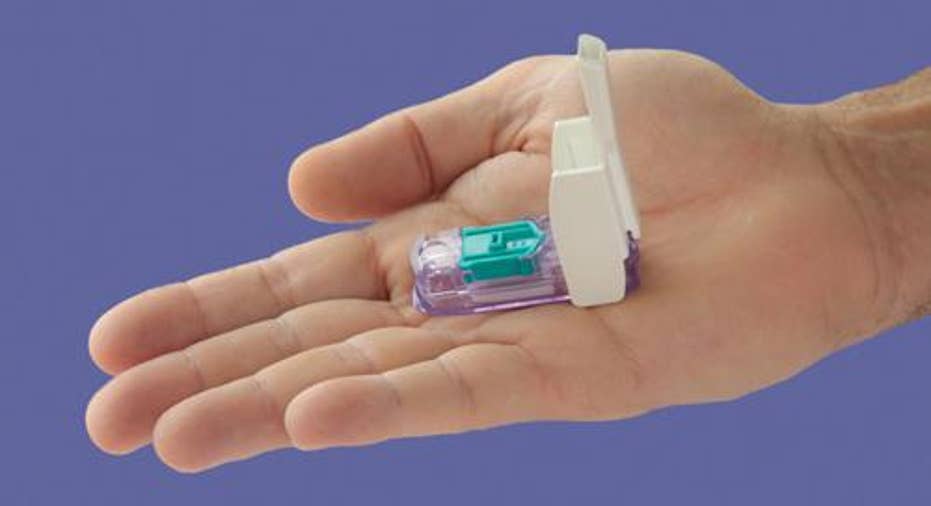 Shares of MannKind , a biotechnology company primarily focused on the development of therapies to treat diabetes, imploded in 2015. According to data from S&P Capital IQ, MannKind stock tumbled roughly 72% for the year -- and this was before the further plunge the stock took early in 2016. The culprit? Look no further than weak sales of MannKind's lead drug, as well as its potentially dicey cash situation.
The bigger issue by far was the disappointing sales launch of Afrezza, an inhaled diabetes product. Afrezza, which was licensed by Sanofi , had a lot of promise as it headed to pharmacy shelves. It was convenient (no more needle pricks), it was fast-acting, which gave the patient more freedom, and it metabolized through the body faster than prior standards of care, which meant less of a chance of a hypoglycemic event. But what looked good on paper hasn't translated well in the real world.
Afrezza has been a megaflop thus far, with cumulative sales barely cresting $5 million through its first two full quarters and one partial quarter, on pharmacy shelves. Mind you, this was a drug that was believed to have a peak annual sales potential of $2 billion. MannKind and Sanofi suggested that beefed up marketing should eventually do the trick, but their efforts to enlighten physicians regarding their new option don't appear to have worked all too well.
Making matters worse, the deal MannKind and Sanofi have struck allowed Sanofi to walk away (sans its upfront investment and collaboration expenses already given to MannKind) if Afrezza proved not to be "economically viable." This is precisely what happened today, causing MannKind's stock to plunge in excess of 50% at one point. Sanofi will give up the money it's already given MannKind to walk away from its non-financially viable deal, but it leaves MannKind in a precarious position as its own expenses to market Afrezza could rise significantly.
Image source: MannKind.
The other issue here is MannKind's increasingly ugly cash situation. Following its upfront payment from Sanofi, and collaboration expense advance, the expectation was that MannKind had a pretty substantial cash runway. This has proven not to be the case.
As of the end of the third quarter, MannKind had $32.9 million in cash and cash equivalents, $30.1 million in available borrowing capacity based on an arrangement with The Mann Group, and $37.5 million in common stock it could sell. This is problematic because the company's operating cash flow over the trailing 12-month period was negative $70 million. MannKind attempted to supplement its cash with a listing on the Tel Aviv Stock Exchange, but managed to only sell 13.85 million shares when it originally planned to sell 50 million. The $36.2 million in proceeds before fees and commissions could give the company a few extra quarters of solvency, but it doesn't stem what's currently a mammoth quarterly loss. As icing on the cake, MannKind is also borrowing money from Sanofi for its share of net losses from Afrezza.
Could things get better for MannKind in 2016? It's always possible Afrezza sales pick up with more effective marketing efforts, but I just don't see this happening with Sanofi walking away and MannKind's financial situation looking as dismal as it is. 2016 could be another nightmare of a year for MannKind shareholders.
The article 2 Reasons Behind MannKind Corporation's Implosion in 2015 originally appeared on Fool.com.
Sean Williamshas no material interest in any companies mentioned in this article. You can follow him on CAPS under the screen nameTMFUltraLong, track every pick he makes under the screen nameTrackUltraLong, and check him out on Twitter, where he goes by the handle@TMFUltraLong.The Motley Fool has no position in any of the stocks mentioned. Try any of our Foolish newsletter servicesfree for 30 days. We Fools may not all hold the same opinions, but we all believe thatconsidering a diverse range of insightsmakes us better investors. The Motley Fool has adisclosure policy.
Copyright 1995 - 2016 The Motley Fool, LLC. All rights reserved. The Motley Fool has a disclosure policy.