2 Dirt-Cheap Dividend Stocks to Buy in April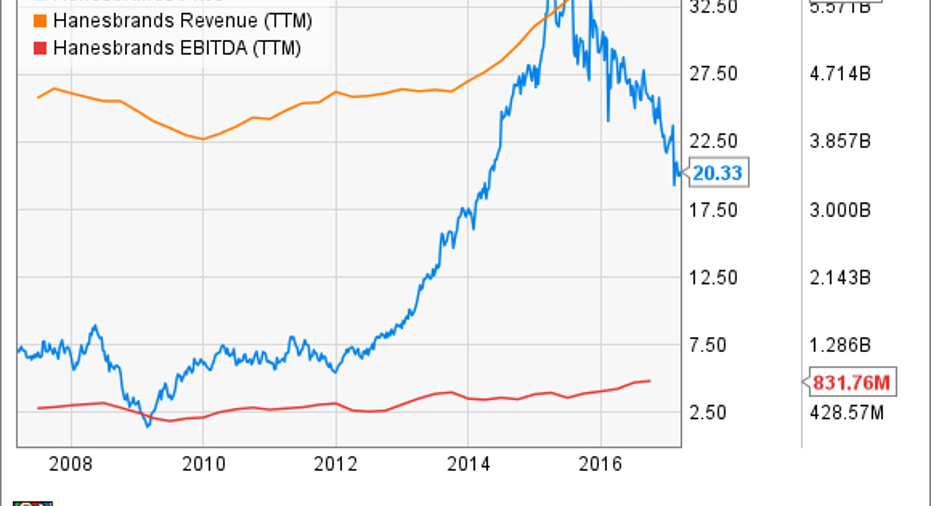 That Rockefeller guy might have been on to something, and many people invest in dividend-paying stocks to take advantage of the steady payments with the opportunity to reinvest in additional shares of the company. The best scenario is when you can find a solid dividend stock with a cheap valuation and potential upside. The following automaker and apparel manufacturer have fallen out of love with Wall Street, but they could be great chocies for savvy and patient investors.
Get your hands on this dividend
Just about every consumer has purchased something from one of Hanesbrands'(NYSE: HBI) well-established brands, which include anything from its namesake Hanes brand to Platex, Leggs, and Champion, among many others. Last year was a rough one for the company as it continued to shed value, and that was compounded last month with a downgrade from Morgan Stanley, but don't count this apparel manufacturer out just yet.
Image source: Getty Images.
There are a few factors that bode well for a Hanesbrands rebound. The company operates its own large-scale supply chain with production balanced across the globe, enabling it to produce its goods at a lower cost point. Owning roughly 52 facilities enables the company to go out and find bolt-on acquisitions to create significant cost synergies, which management has proven it can accomplish; Hanesbrands has focused on acquisitions within its core categories that are accretive to earnings in the first year, excluding integration costs.
And investors can't forget about its quarterly dividend, which was recently increased by 36% to $0.15 per share. It was the fourth consecutive double-digit annual increase since establishing the dividend, and it has tripled from its $0.05 per share level in 2013 to $0.15 per share in 2017. In total, $500 million in cash dividends have been dished back to investors since 2013, and its current yield sits right at 3%.
Sure, brick-and-mortar retailers are having a rough time and will continue to face headwinds in the near term, but as a manufacturer that ships its brands to multiple retail chains, Hanesbrands can wade through industry weakness better than most retail chains themselves. With a solid dividend and trailing-12-month price-to-earnings ratio of 14.5, Hanesbrands could be a top dividend stock poised for a rebound.
Unloved automaker
Despite Ford Motor Company (NYSE: F) being a night-and-day difference from the automaker it was before former CEO Alan Mulally took control, Wall Street isn't giving automotive stocks a chance as the North American new-vehicle market plateaus. But despite the slowing North American market, it's still poised to sell at near-record levels for the foreseeable future, which makes it a very healthy industry.
In addition to healthy sales levels remaining, Ford has continued to build a track record since the great recession by building cars people want to own, rather than building cars people will purchase solely because of large discounts -- and that has enabled Ford to produce strong profits over the past couple of years.
But the real upside for owning stock in a major automaker these days comes from smart mobility projects that resemble upstart companies such as Uber, and the march toward driverless vehicles. Those two tech-heavy business strategies open the doors for massive increases in Ford's top and bottom lines over the next two decades. Remember, seemingly overnight, Uber's ride-hailing technology generated a company valuation that topped $60 billion -- more than Ford's current $52 billion valuation.
What if Ford develops the next breakthrough in smart mobility business, or beats the competition to developing key driverless vehicle technology? And while investors wait on that potential to develop, Ford offers a solid dividend and a cheap PE ratio (TTM) of 10.
Ford's current quarterly dividend pays $0.15 per share for a yield of 4.7%. That alone is a solid yield, and subject to the approval of the Board of Directors, Ford will dish back about $2.8 billion to investors through dividends through 2017, which would total $15.4 billion since the company restored its regular dividend in 2012.
What's even better for investors who don't follow Ford closely enough to know is that Ford also dishes out a supplemental dividend that varies depending on profitability. In 2016, Ford's one-time supplemental dividend was worth $1 billion, or an additional $0.25 per share. Just last month, Ford announced another supplemental dividend of about $200 million, or $0.05 per share.
These two unloved stocks offer savvy investors a solid dividend as things currently stand, as well as a potential rebound in stock price if management can execute on their respective long-term strategies -- these are definitely two stocks to keep in mind while shopping for value in March.
10 stocks we like better than FordWhen investing geniuses David and Tom Gardner have a stock tip, it can pay to listen. After all, the newsletter they have run for over a decade, Motley Fool Stock Advisor, has tripled the market.*
David and Tom just revealed what they believe are the 10 best stocks for investors to buy right now...and Ford wasn't one of them! That's right -- they think these 10 stocks are even better buys.
Click here to learn about these picks!
*Stock Advisor returns as of February 6, 2017.
Daniel Miller owns shares of Ford. The Motley Fool owns shares of and recommends Ford. The Motley Fool has a disclosure policy.