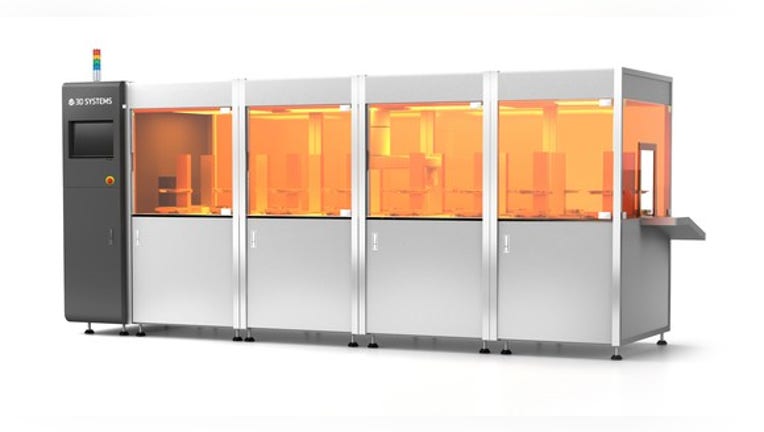 3D SystemsCorporation(NYSE: DDD) reported its first-quarter 2017 resultson Wednesday, May 3. The diversified 3D printing company's year-over-year revenue increased 2.5%, and its adjusted earnings per share grew 20%.
Investors were initially disappointed with adjusted EPS that came in lower than Wall Street was expecting -- $0.06 versus $0.11 -- and sent shares plummeting before they mostly recovered, closing down just over 3% on Thursday. After digesting the news a bit more, investors apparently decided there were reasons to like the results, sending shares to a closing gain of nearly 6% on Friday. The net effect was a 2.5% gain during the two-day period following the earnings release. Shares are up 28% in 2017, through Friday.
Earnings releases generally don't provide much information beyond the numbers, but a wealth of color about a company's performance and future prospects is usually shared during the analyst conference calls. Here are two key topics you should know about from 3D Systems' Q1 call.
Image source: 3D Systems.
1. Digging into 3D printer sales
From CFO John McMullen's remarks:
The $31 million generated from sales of 3D printers accounts for 19.8% of the 3D Systems' total quarterly revenue of $156.4 million. Sales of 3D printers, however, are even more important than this percentage figure suggests. In 3D Systems' razor-and-blade-like business model, sales of printers, or "razors," drive sales of printing materials, the "blades," over the life of the printer. Stratasys employs a similar strategy, which is why both companies are focused on growing their total installed based.
Management didn't specify on the call how much revenue from sales of production 3D printers increased year over year, nor the growth in the number of units sold. (3D Systems considers its "production printers" to include its SLA, selective laser sintering (SLS), and direct metal printers, as well as its newly launched Figure 4 printing system.) While we'd naturally like to see total printer revenue increase, it's a notable positive that revenue generated from sales of production printers increased year over year. Customers generally use production 3D printers "significantly more" -- to use CEO Vyomesh Joshi's words -- than they use professional printers, which means sales of these printers have an outsize effect on sales of printing materials.
Figure 4. Image source: 3D Systems.
2. Status of next-generation 3D printing tech, Figure 4
Joshi spent more than half of his nearly 900-word opening remarks talking about 3D Systems' newly launched Figure 4. Moreover, seven of the 10 Wall Street analysts who asked questions on the call asked about this next-gen tech.These numbers should give investors an indication of how important Figure 4 is to the company's success.
Figure 4 is a robotic, scalable, stereolithography (SLA) 3D printing system designed for the production of plastic parts. The tech is a significantly sped up and automated twist on the company's conventional SLA technology.Figure 4 is targeted at producing small parts -- specifically parts with dimensions of 2 by 4 by 13 inches or less, according to Joshi.
From Joshi's remarks:
As to the one shipment Joshi mentioned: In March, 3D Systems announced it had shipped the first Figure 4 system toan unnamed "Fortune 50 industrial customer." Given that the company hasn't yet generated any revenue from Figure 4 sales, we can assume that this unit is "in beta," which means it's being tested by the "customer," without 3D Systems being paid. This is a very common setup, especially with respect to new technologies.
The good news is that 3D Systems expects to start generating revenue from sales of Figure 4 in the fourth quarter. Moreover, Joshi said elsewhere on the call that the company expects Figure 4 to be a "significant" catalyst for growth in 2018. He alsoexpanded on the positive feedback received:
Joshi also referenced the following presentation slide, which compares the total cost of operation (TCO) over five years of producing 1 million units per year of the same polymer part using a 16-engine Figure 4 system vs. using conventional SLA printers.
Image source: 3D Systems.
When all the factors are considered, the TCO over five years using Figure 4 in this specific example is only 30% of the TCO of using conventional SLA printers.An important takeaway here is that with this type of savings in TCO, Figure 4 should open up new applications that didn't make economic sense for conventional SLA. So Figure 4 shouldn't just cannibalize sales of 3D Systems' conventional SLA printers; it should also provide incremental growth opportunities.
Granted, 3D Systems probably chose an example that would make the comparison quite favorable, which we'd expect from any company. Nonetheless, the 30% figure is low enough that it indicates Figure 4 should provide some solid growth opportunities. The savings in the TCO will naturally vary depending upon factors related to the part (such as size and type of material used), the quantity being produced, and the time period chosen.
While Figure 4 has a lot of promise, investors should remain cautiously optimistic until 3D Systems begins booking revenue from sales of these systems.
10 stocks we like better than 3D SystemsWhen investing geniuses David and Tom Gardner have a stock tip, it can pay to listen. After all, the newsletter they have run for over a decade, Motley Fool Stock Advisor, has tripled the market.*
David and Tom just revealed what they believe are the 10 best stocks for investors to buy right now... and 3D Systems wasn't one of them! That's right -- they think these 10 stocks are even better buys.
Click here to learn about these picks!
*Stock Advisor returns as of May 1, 2017
Beth McKenna has no position in any stocks mentioned. The Motley Fool recommends 3D Systems and Stratasys. The Motley Fool has a disclosure policy.