2 Companies That Doubled in 2015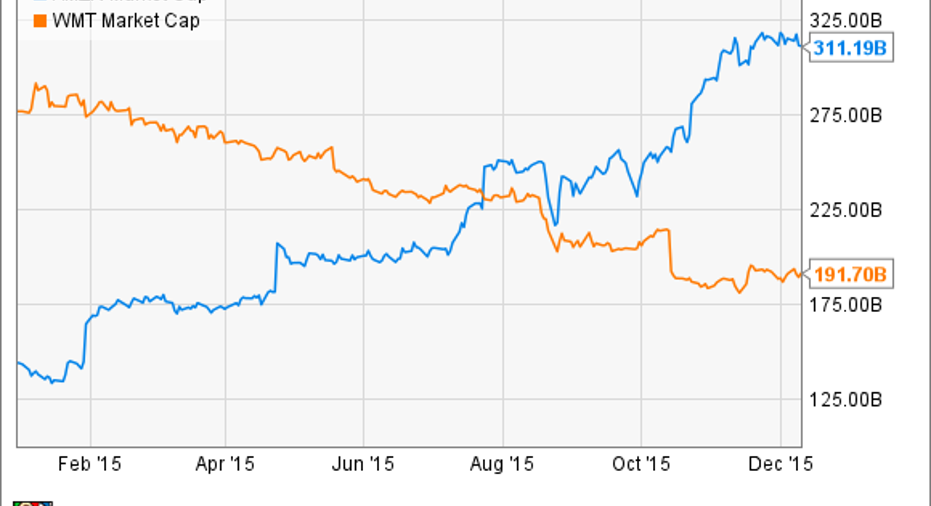 Overall, 2015 hasn't been a great year for stocks so far. The S&P 500, which is made up of 500 large companies traded on the NYSE or NASDAQ, is down about 1% for the year at the time of writing. But some stocks "escaped" from the stock market's underperformance this year. Indeed, these companies didn't just outperform the S&P 500 during 2015 -- they absolutely crushed it.
Of course, we're talking about this year's Wall Street darlings: Amazon (NASDAQ: AMZN) and Netflix (NASDAQ: NFLX).
Amazon
For 2015, one of the most compelling moments representative of Amazon's continued success was when around midyear, the e-commerce giant's market capitalization exceeded Wal-Mart's. And as Amazon soared throughout 2015 as Wal-Mart underwent a sell-off, Amazon's lead over Wal-Mart, measured by market cap, continued to increase.
AMZN Market Cap data by YCharts.
Key to the greater confidence for Amazon stock during 2015 was the company's feat of achieving record trailing-12-month operating income. While the company's gross profit has continued to soar, its relentless spending on operating expenses has kept operating income suppressed.
Investors may be seeing the beginning of a new period for Amazon -- a period where the company has scaled meaningfully enough that profitability could swell even as the company spends aggressively to expand its business.
Netflix
Netflix's rise in 2015 has been nothing short of astounding. The company's market cap soared from around $20 billion to around $54 billion at the time of writing.
Image source: Netflix.
A key concern among investors in both companies is their inability to report consistent and meaningful profits. But a failure to grow profits in the near term doesn't reflect the fact Netflix, like Amazon, has been aggressively expanding its business to support fatter profits in the future. As fellow Fool Adam Levine-Weinberg explained in a recent look at the company's valuation, "Netflix's profitability is currently being held back by its heavy investments in new international markets. This sets it up for a big jump in earnings over the next few years."
These two stocks' excellent performances during 2015 provide a few lessons. Here are two:
First, even companies already worth billions of dollars can serve up market-crushing returns for investors.
Second, the market is a forward-looking mechanism. With Amazon and Netflix, investors are displaying their appetite for both future earnings potential and enduring businesses. Ignoring a company's present actions and execution that improve the outlook for the future could mean never fully realizing the future earnings potential of the most enduring and disruptive companies in the stock market.
And a final but important note: Investors should keep in mind that a single year's market outperformance doesn't automatically mean the underlying businesses deserved the bullish moves of their stocks. Further, the unfortunate consequence of huge climbs during such a short period is that the valuations for these companies are probably not as attractive as they were a year ago -- even if the prospects for business growth have improved.
The article 2 Companies That Doubled in 2015 originally appeared on Fool.com.
Daniel Sparks has no position in any stocks mentioned. The Motley Fool owns shares of and recommends Amazon.com and Netflix. Try any of our Foolish newsletter services free for 30 days. We Fools may not all hold the same opinions, but we all believe that considering a diverse range of insights makes us better investors. The Motley Fool has a disclosure policy.
Copyright 1995 - 2015 The Motley Fool, LLC. All rights reserved. The Motley Fool has a disclosure policy.