2 Causes for Concern Ahead of Apple's Earnings Report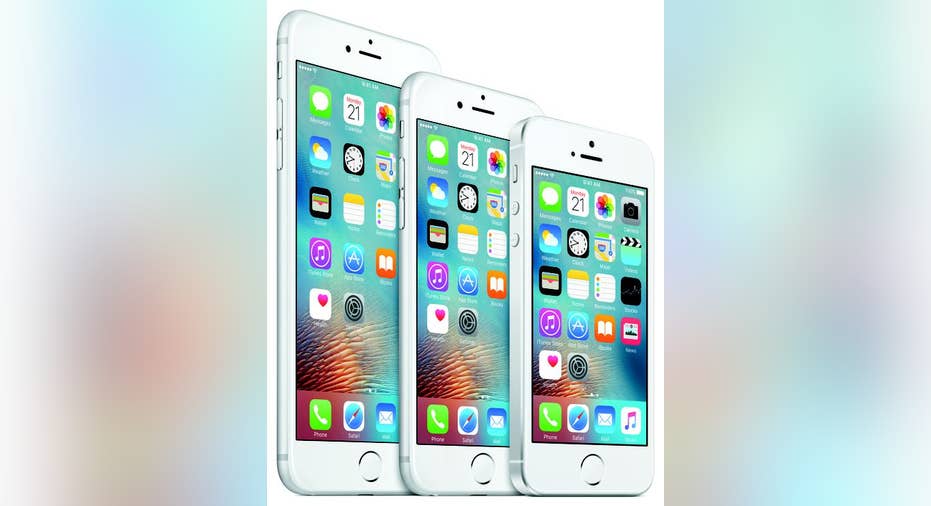 Source: Apple
Apple's earnings report on Monday figures to be a historic one, though for all the wrong reasons.
Amid a slowing market for smartphones and tablets, the world's largest publicly traded company is expected to report its first year-over-year revenue contraction in more than a decade. Worse yet, a number of recent data points from within Apple's supplier ecosystem have indicated that the weakening demand for its wares may be more severe than was previously thought.
Suppliers troubleLast week, Apple supplier Taiwan Semiconductor forecast second-quarter sales well below analysts' expectations. The culprit? Falling sales in the smartphone and personal computer markets, which will crimp demand for the chips the firm produces. All told, Taiwan Semiconductor believes its sales in the current quarter will be between $6.6 billion and $6.7 billion, roughly 5% below the $7.0 billion analysts had previously forecast.
For those unfamiliar with Taiwan Semiconductor, it's the world's largest third-party semiconductor manufacturer. Along with smartphone rival Samsung, it partners with Apple to help produce the A-series chips that power its various mobile devices. (Intel chips power Apple's Mac lineup.)
Though Taiwan Semiconductor doesn't publicly disclose precisely how much it sells to whom, analysts estimate Apple accounts for roughly 16% of its revenue, so the soft sales forecast predictably led to speculation that the cause was slowing demand for iPhones, which could mean more trouble in Apple's current quarter.
And Taiwan Semiconductor isn't the only Apple supplier about which reports of softening demand have been made recently.
Late last week, Japanese news outlet Nikkei Asian Review published an article claiming that weakening demand for the current iPhone lineup has led Apple to slash orders from a host of its suppliers. Specifically, the article asserted that Apple decreased its component orders from Japan Display, Sharp, Toshiba, and Sony by as much as 30% in its fiscal second quarter, for which Apple will report earnings on Monday. Worse yet, Nikkei Asian Review also claims that demand for Apple's smartphones has remained depressed into its current quarter. So just how concerning should Apple investors find this news?
The bigger picture Reading these reports, it's hard not to find the situation at least somewhat alarming. The iPhone accounted for 66% of Apple's fiscal 2015 revenue, and likely a higher percentage of the Mac maker's profits. Given that, Apple's guidanceon Monday could well disappoint the market, a result that can weigh heavily on any stock. However, it's also important to remember that the weakening demand could also prove to be a symptom of iPhone demand shifting from one quarter to another, rather than disappearing altogether.
Apple will all but assuredly refresh the iPhone's form factor with the iPhone 7, which is expected to be released this fall. At this point, the iPhone product cycle has become so well-established that consumers shopping for new smartphones could rationally wait to upgrade their handsets until the new design reaches the market. Unfortunately, it isn't clear that customers postponing their purchases until the iPhone 7's release are the driving force behind the decline in iPhone sales.
For example, rival devices like Samsung's Galaxy S7 and S7 Edge are apparently being generally well-received by the market. What's more, evidence of a broader slowing of growth among premium handsets could point to a maturing market or longer upgrade cycles becoming increasingly common in the market in general. It isn't clear how robust any of these trends are or to what degree they could impact Apple specifically. Either way, they certainly deserve consideration ahead of Apple's upcoming earnings release after the market closes Monday.
The article 2 Causes for Concern Ahead of Apple's Earnings Report originally appeared on Fool.com.
Andrew Tonner owns shares of Apple. The Motley Fool owns shares of and recommends Apple. The Motley Fool recommends Intel. Try any of our Foolish newsletter services free for 30 days. We Fools may not all hold the same opinions, but we all believe that considering a diverse range of insights makes us better investors. The Motley Fool has a disclosure policy.
Copyright 1995 - 2016 The Motley Fool, LLC. All rights reserved. The Motley Fool has a disclosure policy.