2 Biotech Stocks That Could Raise Their Dividends -- and 1 That Won't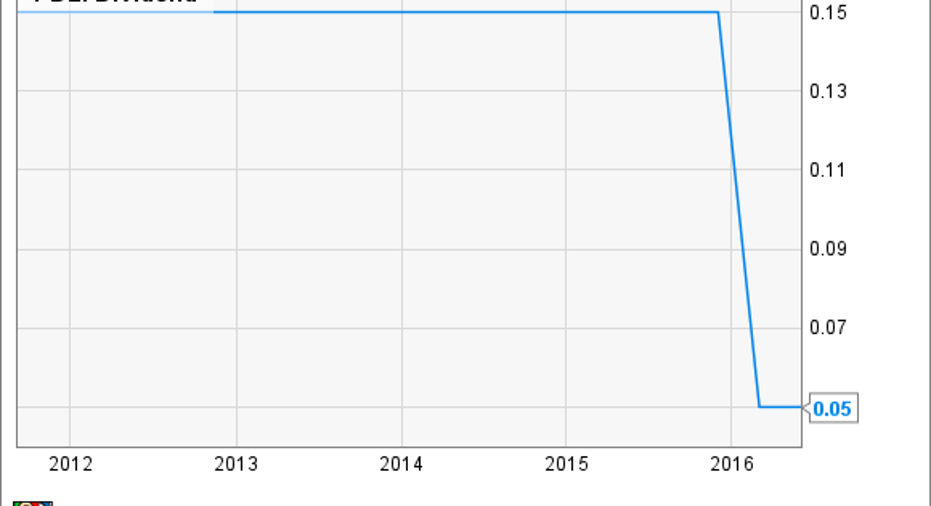 Image source: Getty Images.
You can almost count the number of biotech stocks that pay out dividends on one hand.But while the quantity might be low, the quality isn't (at least for the most part). Here are a couple of biotech dividend stocks that appear to be in great shape to raise their dividends -- and one that isn't.
Going antiviral
Gilead Sciences ruled the HIV therapy market for years. The big biotech still maintains a dominant position with its HIV franchise, but these days Gilead is known even more for its hugely successful hepatitis C drugs Harvoni and Sovaldi. Thanks in large part to these two drugs, Gilead began paying a dividend to shareholders last year.
In February of this year, Gilead raised its dividend payment by 9.3% to bring it to a current yield of 2.23%. I expect that bump will just be the start of more increases in the future. Why? There are two main reasons.
First, Gilead pays out less than 15% of earnings in the form of dividends even with the most recent increase. That's a really low payout ratio compared to most dividend-paying stocks. Gilead could easily afford to double its dividend at current earning levels.
Second, the biotech is sitting on a massive cash stockpile. Gilead reported a whopping $21.3 billion in cash, cash equivalents, and marketable securities as of the end of March. The company could use this cash to buy back shares, make strategic acquisitions, or increase dividends. Gilead will probably continue to do all three.
Could Gilead's earnings falter and prevent the company from raising dividends in the future? It's possible, but not very likely. Even though the go-go growth days for Harvoni and Sovaldi are gone, Gilead should continue to rake in solid profits from both drugs as well as its HIV lineup. The biotech also has a solid pipeline with several potential winners.
Granddaddy of biotech
Amgen , which was founded in 1980, stands as one of the granddaddies of the biotech world. The company also has a history of consistently increasing its dividend payments over the last several years.Can Amgen keep the streak going? I think so.
In December, Amgen announced an impressive 27% increase to its dividend. The dividend yield now stands at 2.58%. Even with that big jump, Amgen's payout ratio is less than 36%. The company's earnings could easily support higher dividend payments.
Like Gilead, Amgen's cash position looks great. The biotech reported cash and investments of $34.7 billion as of the end of the first quarter.
Amgen also boasts several drugs that are experiencing strong sales growth. Sales for the company's top-selling drug, Enbrel, jumped 24% year over year in the first quarter. Kyprolis was even more impressive, with first-quarter sales increasing 43% from the prior-year period. Amgen had nine drugs overall that saw double-digit percentage year-over-year growth in the first quarter.
The biggest challenge for Amgen comes from loss of patent exclusivity for several drugs. Sales for Neupogen and Epogen held up relatively well after both drugs lost U.S. patent protection in 2013, but competition from a biosimilar for Neupogen and a generic version of Epogen is now inflicting damage. Cancer drug Neulasta's U.S. patent expired last year. Amgen reported a 4% year-over-year sales increase for Neulasta in the first quarter. However, a rival biosimilar will soon begin eating into Neulasta's market share.
Despite these patent expiration headwinds, Amgen's dividend doesn't appear to be in any trouble. The biotech has a dozen phase 3 clinical studies under way. Pipeline successes combined with sustained strength for Enbrel should help Amgen offset much of the declining sales for Neupogen, Epogen, and Neulasta.
Lost crown jewel
While Gilead and Amgen seem to be well-positioned to keep raising their dividends, one biotech stock's dividend could be in trouble. On the surface, PDL BioPharma's dividend yield of 6.35% and payout ratio of less than 27% look appealing. But appearances can be deceiving.
PDL's crown jewel for quite a while has been its Queen et al. patents for a bevy of profitable drugs, including Avastin, Herceptin, Lucentis, Xolair, and Tysabri. But the Queen patents expired in late 2014. While the biotech managed to keep a nice stream of money flowing in for a while, things are about to change in a bad way.
Revenue for PDL BioPharma is expected to plunge 68% in 2016. And that's just the beginning; 2017 revenue is expected to drop another 64%. If you think this kind of outlook can't be good for dividend-seeking investors, you're right. Here's how PDL's dividend has been affected so far.
PDLI Dividend data by YCharts.
PDL is trying to replace the Queen revenue, but doing so won't be easy. Don't expect this biotech's dividend to be going up any time soon. And don't be surprised if PDL has to cut it yet again.
The article 2 Biotech Stocks That Could Raise Their Dividends -- and 1 That Won't originally appeared on Fool.com.
Keith Speights owns shares of Gilead Sciences. The Motley Fool owns shares of and recommends Gilead Sciences. Try any of our Foolish newsletter services free for 30 days. We Fools may not all hold the same opinions, but we all believe that considering a diverse range of insights makes us better investors. The Motley Fool has a disclosure policy.
Copyright 1995 - 2016 The Motley Fool, LLC. All rights reserved. The Motley Fool has a disclosure policy.