2 Big Reasons Merck & Co., Inc. Stock Surged 11% in 2016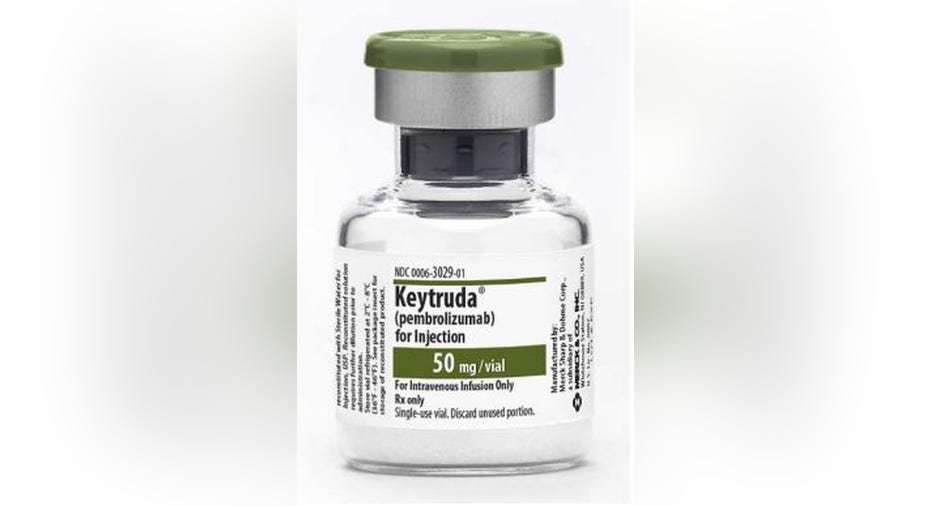 Image source: Getty Images.
What happened
Shares of Merck & Co., Inc.(NYSE: MRK), a U.S.-based global drug behemoth, climbed 11% higher in 2016, according to data from S&P Global Market Intelligence, slightly outpacing the 9.5% return of the S&P 500, and putting the SPDR S&P Pharmaceuticals ETF in the rearview mirror with an outperformance of 35 percentage points.
So what
While Merck benefited from modest sales and profit growth in 2016, there were two considerably larger catalysts that pushed its valuation up by a double-digit percentage.
The biggest bump came in August when rival Bristol-Myers Squibb (NYSE: BMY) announced that its CheckMate-026 study involving cancer immunotherapy Opdivo had flopped as a first-line treatment in advanced non-small cell lung cancer (NSCLC) for patients whose tumors had PD-L1 expression of at least 5%. Just a few short weeks after announcing the failure of Opdivo in first-line advanced NSCLC, Bristol-Myers' trial data showed that progression-free survival actually favored the platinum-based chemotherapy arm instead of Opdivo, which was truly shocking (and disappointing for Bristol-Myers and its shareholders).
Image source: Merck.
At nearly the same time, Merck announced positive results from its KEYNOTE-024 trial involving cancer immunotherapy Keytruda for advanced NSCLC patients whose tumors had PD-L1 expression of at least 50%. Keytruda wound up cutting the risk of disease progression or death by 50%, while also providing a progression-free survival improvement of better than 70% to 10.3 months compared to six months for the placebo. There was also a clear-cut improvement in response rate in the Keytruda arm (45%) relative to the chemotherapy arm (28%). And most important of all, 80.2% of all patients were still alive at the six-month mark in the Keytruda arm compared to 72.4% in the chemotherapy arm. These bifurcated results from Bristol-Myers and Merck opens the door for Keytruda to snag the lion's share of first-line advanced NSCLC market share.
The other major catalyst for Merck came on Election Day when Donald Trump won the presidency. Hillary Clinton had taken a very hard-line stance on prescription drug reforms during her campaign, and it's possible that if she had won, drugmakers like Merck would have lost some of their precious pricing power.
Meanwhile, Trump has vowed to tackle drug pricing, too, but his agenda is so full at the moment that there's a real possibility he simply doesn't get around to it. Additionally, with Republicans remaining in control of Congress, and with the their party preferring free-market economics when it comes to pharmaceutical pricing, it's unlikely that drug reforms pass anytime soon. That's good news for drugmakers like Merck.
Now what
As we head into 2017, what investors should really be paying close attention to is the ascent of Keytruda and the expected slow decline of type 2 diabetes blockbuster Januvia.
Based on the data above, Keytruda's sales should continue ramping up nicely. With $356 million in sales in the third quarter, it's possible Keytruda pulls in closer to $2 billion (if not more) in fiscal 2017.
Image source: Getty Images.
However, the type 2 diabetes space is witnessing an upheaval with SGLT-2 inhibitors threatening DPP-4 inhibitors like Januvia. In clinical studies, DPP-4's demonstrated no superiority over the placebo in reducing cardiovascular death. By comparison, SGLT-2 inhibitors have demonstrated weight-loss and lowered systolic blood pressure in type 2 diabetes patients (Januvia is weight-neutral). The only SGLT-2 developers to have completed their long-term cardiovascular study --Eli Lilly (NYSE: LLY) and Boehringer Ingelheim -- reported in 2015 that their drug, Jardiance, reduced the risk of cardiovascular death by 38%. In other words, SGLT-2-inhibiting drugs have made a strong case to replace Januvia.
The saving graces here are that Merck has a deep pipeline, it maintains its pricing power, and it has a delectable 3%-plus dividend yield. But, I will say that Merck no longer looks like a bargain based on its 2016 gains. Even at 16 times forward earnings, which is below the average of S&P 500, Merck could be priced richly considering the decline in sales expected from Januvia as SGLT-2 inhibitor use expands.
My suggestion for the time being? Patiently wait for a pullback.
10 stocks we like better than Merck and Co. When investing geniuses David and Tom Gardner have a stock tip, it can pay to listen. After all, the newsletter they have run for over a decade, Motley Fool Stock Advisor, has tripled the market.*
David and Tom just revealed what they believe are the 10 best stocks for investors to buy right now... and Merck and Co. wasn't one of them! That's right -- they think these 10 stocks are even better buys.
Click here to learn about these picks!
*Stock Advisor returns as of January 4, 2017
Sean Williamshas no material interest in any companies mentioned in this article. You can follow him on CAPS under the screen nameTMFUltraLong, and check him out on Twitter, where he goes by the handle@TMFUltraLong.The Motley Fool has no position in any of the stocks mentioned. The Motley Fool has a disclosure policy.