11 Must-Read Quotes From FireEye Inc's Earnings Call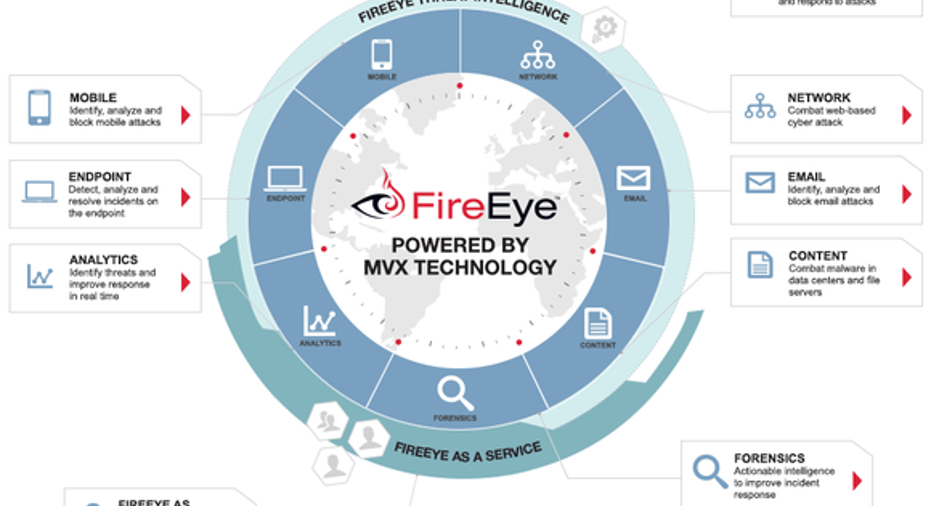 FireEye's business in a nutshell. Image source: FireEye
It's been a difficult year for FireEye . Shares of the cybersecurity company are down about 35% year-to-date and more than 20% just this month. Much of that loss was fueled by the company's first quarter earnings: FireEye turned in a disappointing report last week, sparking the sharp sell-off. FireEye's sales and outlook fell short of analyst expectations, and the company announced that its CEO, Dave DeWalt, would be stepping down.
During the company's subsequent earnings call, DeWalt, President Kevin Mandia, and CFO Mike Berry offered color on FireEye's recent performance and fielded questions from analysts about the company's future.
DeWalt is staying onDave DeWalt has been FireEye's CEO throughout its entire history as a publicly traded company, which makes his departure notable. On June 15th, he will step down, but he isn't leaving FireEye entirely. During the call, DeWalt clarified how he would serve FireEye going forward:
Transitioning to the cloudFireEye remains dependent on the sale of physical appliances -- they generated 20% of the company's revenue last quarter. However, this is down significantly from 2013, when they generated about half of the top line. FireEye's business is increasingly shifting to the cloud. During the call, DeWalt cited a specific deal as evidence of the company's changing revenue composition:
The iSIGHT acquisition is already contributing to the company's successIn January, FireEye acquired iSight Partners, shelling out about $200 million in the process. The money seems to have been well spent. During the call, Berry emphasized how iSight was already fueling FireEye's business:
Customer loyalty remains highFireEye's product revenue declined just over 16% on an annual basis last quarter. Although the company is enjoying strong service and subscription demand, falling product sales may suggest that some of its customers are losing interest. Not so, according to Berry:
A shift away from product took a toll on FireEye's revenueFireEye's revenue rose 34% on an annual basis last quarter but still came in at the low end of the company's outlook. During the call, Berry noted that the shift toward services contributed to the disappointment:
Subscription growth remains strongBerry sees that shift accelerating:
Product sales will continue to fallBerry also believes that product revenue will continue to decline in 2016:
It won't hire as many people as plannedFireEye isn't profitable, nor does it expect to be in the near future. Still, the company remains committed to achieving profitability. Berry noted that the company would curtail its hiring in an effort to reduce expenses:
FaaS is limiting the demand for FireEye's appliancesFireEye-as-a-Service (FaaS) may be the company's single most important product, as it has emerged as a key growth driver in recent quarters. Yet, demand for FaaS may be limiting FireEye's revenue. During the call, management was asked if the growth of FaaS was weighing on FireEye's product sales. DeWalt offered some color:
Did DeWalt fail to sell the company?FireEye has long been seen as a potential takeover target, given the company's attractive technology, rapid growth, and CEO. Before joining FireEye, DeWalt led other companies that were ultimately acquired (most notably McAfee), and many had assumed FireEye would eventually enjoy a similar fate.
During the call, DeWalt was asked if the end of his tenure signaled that FireEye was no longer for sale. He didn't answer the question directly but offered some comments on what he believed his goals were coming in, and how he viewed the change in management:
When will FireEye become profitable?FireEye's management has said that it would eventually achieve operating margins of around 15% to 20%, but it has declined to offer a firm timetable. Berry reiterated that guidance but acknowledged that he doesn't know when the company will hit that target:
The article 11 Must-Read Quotes From FireEye Inc's Earnings Call originally appeared on Fool.com.
Sam Mattera has no position in any stocks mentioned. The Motley Fool owns shares of and recommends FireEye. Try any of our Foolish newsletter services free for 30 days. We Fools may not all hold the same opinions, but we all believe that considering a diverse range of insights makes us better investors. The Motley Fool has a disclosure policy.
Copyright 1995 - 2016 The Motley Fool, LLC. All rights reserved. The Motley Fool has a disclosure policy.