11 Facts You May Not Have Known About Microsoft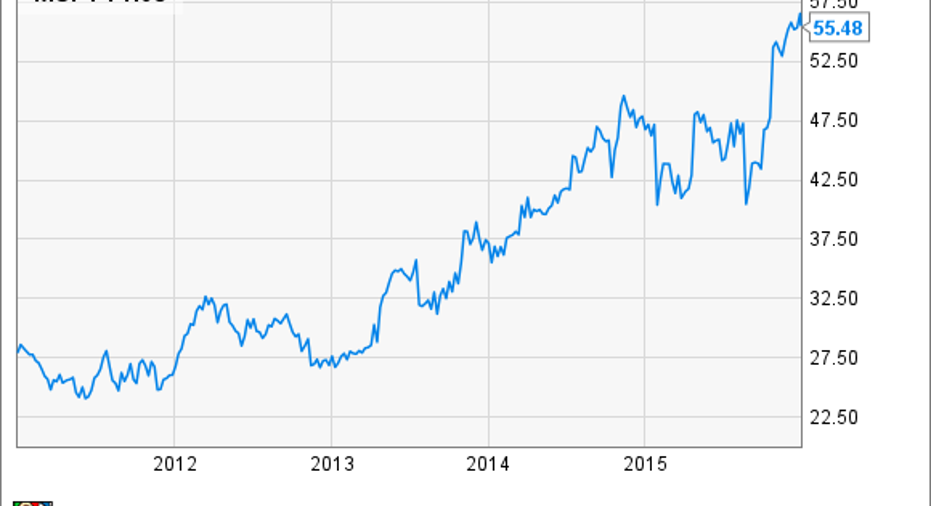 For a long time, Microsoft and personal computing were more or less synonyms.
The company, which was founded in 1975 by Bill Gates and Paul Allen, dominated the home and business market with machines running its Windows operating system. That has changed in recent years, with tablets running Alphabet's Android giving users one alternative and iPads and Macs being another.
Still. while Microsoft may not be the only game in town anymore, it's still a big player which, under new CEO Satya Nadella, has been moving in the right direction. The company's third boss, after founder Gates and longtime leader Steve Ballmer, has changed the company's culture, embraced the cloud, and just generally blown things up (figuratively speaking, of course!).
Microsoft stock has been climbing upward. Source: YCharts.com
And, while his predecessor now owns the Los Angeles Clippers of the National Basketball Association, Nadella's sports interests are a little more global with cricket being his "passion" in his youth, he said in a press release.
"I think playing cricket taught me more about working in teams and leadership that has stayed with me throughout my career." he said.
The fact that its CEO loves cricket is not the only thing you probably don't know about Microsoft. Here's a look at 11 more:
1. The company was not always called Microsoft. From 1975 through 1981 it was written Micro-soft. The change was made when Gates and Allen incorporated in 1981.
2. Ballmer isn't the only former Microsoft executive to own a professional sports team. Allen, one of the company's founders, owns the Seattle Seahawks of the National Football League, the NBA's Portland Trailblazers, and a piece of Major League Soccer's Seattle Sounders.
3. Though it was never launched, the company developed a mini-version of its Surface tablet/laptop hybrid. "It was like a Moleskine," Microsoft executive Panos Panay toldWired. "It was awesome."
4. In 1997 Microsoft bought $150 million in Apple shares as a sort of goodwill gesture helping its then-struggling rival. The stock was sold by 2003 and Microsoft no longer has any ownership interest in the Mac-maker.
5. Microsoft settled 18 patent lawsuits with Alphabet's Google in September 2015.
"Google and Microsofthave agreed to collaborate on certain patent mattersand anticipate working together in other areas in the future to benefit our customers," the companies said in a joint statement, Reuters reported. They did not disclose the financial terms of the deal.
6. Windows was originally called "Interface Manager," and according to the company's official history, that was considered as the final name, but "Windows prevails because it best describes the boxes or computing 'windows' that are fundamental to the new system."
7. Microsoft has a lot of patents. The company filed its 10,000th in 2009, CNET reported. The company, at that time, filed 2,500-3,000 new patents each year.
8. From the time it went public in 1986 until 2009 Microsoft didn't report a single quarterlydrop in revenue. Its first was for the first three months of 2009 and its then-CFO blamed it on the economy (we were neck-deep at the time in the worst financial crisis since the Great Depression).
"While we'd all like to think the economic recovery will be soon and painless, we unfortunately think it will be slow and painful," he said at the time, The Guardian reported.
9. Microsoft gives its employees a staggering array of free beverages. These include coffee, soda, various sparkling waters and juices, and regional favorites depending upon the location of the office. Every office around the world offers free beverages and many larger floors in the company's bigger office buildings have multiple free drink setups.
10. Well before the Xbox became on of the standard-bearers for game consoles, Microsoft considered buying then-industry leader Sega, a former Microsoft employee once told IGN.
"There was always talk maybe we buy SEGA or something like that; that never materialised, but we were actually able to license them what they call Windows CE, the younger brother of Windows, to run on their system and make that their platform," said Joachim Kempin, who worked at the software giant from 1983 to 2003. "But for Bill [Gates] this wasn't enough, he didn't think that SEGA had enough muscle to eventually stop Sony so we did our own Xbox thing.
11. Six months before Alphabet's Google bought YouTube for $1.65 billion, Microsoft could have purchased the video site for about half as much. At the time of the deal, Microsoft said that building its own video-sharing site was "a more cost-effective way to compete in this new space," the Seattle Post-Intelligencer reported.
That, of course, didn't work out, and the product "Soapbox," which some media called a poor man's YouTube, was killed in 2009 after an unsuccessful run.
The article 11 Facts You May Not Have Known About Microsoft originally appeared on Fool.com.
Suzanne Frey, an executive at Alphabet, is a member of The Motley Fool's board of directors. Daniel Kline owns shares of Apple and Microsoft. He misses the free soda and coffee from his days as a Microsoft vendor. The Motley Fool owns shares of and recommends Alphabet (A shares), Alphabet (C shares), and Apple. Try any of our Foolish newsletter services free for 30 days. We Fools may not all hold the same opinions, but we all believe that considering a diverse range of insights makes us better investors. The Motley Fool has a disclosure policy.
Copyright 1995 - 2016 The Motley Fool, LLC. All rights reserved. The Motley Fool has a disclosure policy.