100 Million Reasons Netflix Is Doubling Down on Adam Sandler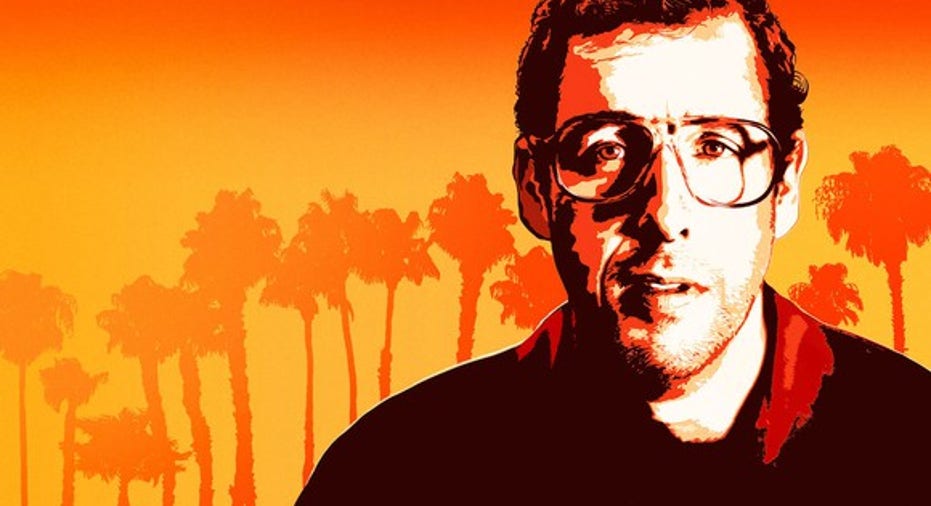 Netflix (NASDAQ: NFLX)revealed last week that it's extending its 2014 deal with Adam Sandler's Happy Madison Productions, calling for another four Sandler-helmed flicks that will premiere exclusively on the leading streaming service.
This is a surprising announcement at first glance.It's been three years since Netflix struck a deal with Sandlerforfour original movies. We already have the first two Netflix originals -- The Ridiculous 6 and The Do-Over -- and they were pretty terrible by most accounts. The third film in the deal, Sandy Wexler, makes its debut on April 14.
One would think that Netflix would just push out or bury the final two films and move on, but that's not the case at all. Instead of two more films for Netflix to apparently slog through, now it's on the hook for six more.
Netflix isn't out of its mind. The world's most popular premium digital platform knows exactly what it's doing. It has years of data-mining experience as it closes in on 100 million subscribers worldwide.The expanded deal with Happy Madison Productions may not make sense to you, but it does add up for a company that's in the best position to know if it's the right thing to do.
Sandy Wexler is Adam Sandler's next Netflix movie. Image source: Netflix.
There's more to life than critical acclaim
Saying that critics hated Sandler's first two Netflix films is an understatement. The Ridiculous 6 has a rock-bottom score of 0% on Rotten Tomato's Tomatometer, meaning that all 33 film critics have panned the movie. The Do-Over is only marginally better with a 5% score, swaying one of the 19 critics. The outlier is Entertainment Weekly'sChristian Holub, and his "B-" grade isn't exactly a ringing endorsement.
Of course, one can rightfully argue that Netflix didn't strike a deal with Sandler to please art snobs. Some of his biggest movies have been low-brow romps that resonate with mainstream audiences in lieu of critical praise. Unfortunately for Sandler, though, even Netflix users are having a hard time stomaching his first two entries. Both films are commanding unimpressive star ratings, and many of the written user reviews are pretty scathing.
The Ridiculous 6 has an average rating of 3.4 out of five stars, based on 992,889 ratings. The Do-Over has a slightly better score of 3.9 stars, based on847,756 ratings.
If you just focused on the star score instead of the sheer volume of the submitted ratings, you may be missing the point. Netflix doesn't publish streaming tallies, but having nearly a million subscribers take the time to peck out star ratings for either movie is impressive. Beasts of No Nation, the critically acclaimed film that validated Netflix's push into full-length features in 2015, has just a little more than half as many ratings.
Giving the people what they want
Sandler's first foray into streaming exclusives didn't win critics over, but the movies are being watched. Netflix pointed out early last year that The Ridiculous 6 broke the platform's movie record for most streams in a film's first month of availability.
Thankfully for Netflix and its shareholders, there are a lot of potential viewers out there. Back in January, Netflix's guidance was calling for 99 million streaming accounts by the end of the first quarter, which comes to a close later this week. We're now days or weeks away from seeing Netflix surpass 100 million subscribers, if it hasn't done so already.
Here's where math gets fun for Netflix investors. There were 53 million subscribers worldwide on Netflix when the first Sandler deal was announced. Its user base has nearly doubled since then, and you can be sure that it won't be paying Happy Madison Productions twice as much for the next four films. The cost per subscriber will be sharply lower.
Netflix has in-house data on engagement that it doesn't have to share with anybody else, but it's what it uses to determine the content it keeps and the shows and movies it lets go. The numbers obviously work for Netflix in doubling down on Sandler, as its audience has nearly doubled since the first deal was announced. Good luck arguing otherwise.
10 stocks we like better than NetflixWhen investing geniuses David and Tom Gardner have a stock tip, it can pay to listen. After all, the newsletter they have run for over a decade, Motley Fool Stock Advisor, has tripled the market.*
David and Tom just revealed what they believe are the 10 best stocks for investors to buy right now... and Netflix wasn't one of them! That's right -- they think these 10 stocks are even better buys.
Click here to learn about these picks!
*Stock Advisor returns as of February 6, 2017
Rick Munarriz owns shares of Netflix. The Motley Fool owns shares of and recommends Netflix. The Motley Fool has a disclosure policy.