10 Stats About Artificial Intelligence That Will Blow You Away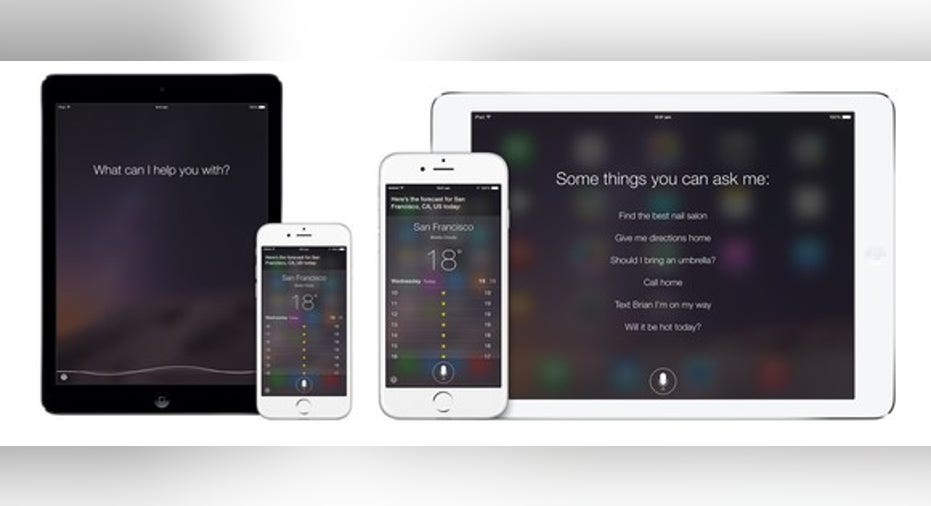 Microsoft co-founder Bill Gates recently called artificial intelligence "the holy grail that anyone in computer science has been thinking about" during Vox Media's Code Conference. Gates discussed the rapid progress of speech recognition and computer vision technologies over the past five years, and noted that "the dream is finally arriving."
If that dream arrives, tech investors should recognize the major trends and players in this market. To get started, let's examine 10 fascinating facts about the AI industry.
Image source: Getty Images.
1. $5.05 billion market by 2020
Research firm Markets and Markets estimates that the AI market will grow from $420 million in 2014 to $5.05 billion by2020, thanks to the rising adoption of machine learning and natural language processing technologies in the media, advertising, retail, finance, and healthcare industries.
Key players in machine learning include big cloud players like Amazon , Microsoft , and IBM. Nuance Communications is the top "pure play" in natural language processing.
2. 6 billion devices will request AI support
Gartnerestimatesthat 6 billion connected "things" will be actively requesting support from AI platforms by 2018. These devices will likely include many connected appliances, cars, wearables, and other gadgets included in the broader Internet of Things market.
3. $5.4 billion invested in AI start-ups
There are currently 1,031 AI start-ups listed onAngelList, with an average valuation of $5.2 million -- which equals nearly $5.4 billion in venture capital investments. The three most-followed companies on that list are robotics company Autonomous, team productivity software maker Crux, and AI social news aggregator Zero Slant.
4. 80% of executives believe AI boosts productivity
A recent study by AI language company Narrative Science found that 80% ofexecutives believed that AI solutions boosted worker performance and created new jobs. Thirty-two percent said voice recognition technologies were the most widely used AI technology in their businesses -- which is good news for companies like Nuance.
5. Most mobile users use voice assistants
Nuance developed the technology that powers Apple's Siri, which preceded other voice assistants like Alphabet's Google Now, Microsoft's Cortana, and Amazon's Alexa.
Apple's Siri. Image source: Apple.
The idea of speaking to your phone initially seemed awkward, but a recent study byCreative Strategies' Carolina Milanesi found that just 2% of iPhone users had never used Siri, while 4% had never used Google Now.
6. Virtual assistants will make decisions for you
Gartner believes that the data gathered from users in cloud-based neural networks will power 40% of mobile interactions between virtual personal assistants and people by 2020. This means that all the data you voluntarily feed to Facebook , Google, and Amazon will be used to create a complex cloud-based profile that cloud-based "smart agents" can use to predict your needs and desires.
7. Most enterprise relationships with customers won't require humans by 2020
Gartner also claims that 85% of allcustomer interactions won't require human customer service reps by the end of this decade. The firm believes that automated analysis of social media channels, CRM software, andpersonalized chatbots that recognize faces and voices will greatly reduce the need for traditional call centers. That bodes well for Facebook's recent integration of chatbots into Messenger for automated customer service.
8. AI will replace 16% of jobs over next decade
Research firm Forrester believes that AI workers will replace up to 16% of all U.S. jobs over the next decade. However, new jobs to maintain those AI platforms and machines will also be created, meaning that "just" 7% of all jobs will be lost.
It's not just customer service reps who should be worried. Medical assistant AIs could reduce the need forlower-level medical staff in hospitals, driverless vehicles could replace professional drivers, and robo-writers could pump out articles much faster and more accurately than humans.
9. Robots will probably outnumber humans at work
Gartner estimates that 45% of the fastest-growing companies in the world will "employ" more smart machines and virtual assistants than people by 2018. That's because hiring fewer humans and installing more virtual assistants could reduce costs while boosting productivity.
10. AI is powered by GPUs, not CPUs
Major machine learning players like Facebook and IBM are notably using more high-end GPUs like Nvidia's Tesla chips for AI applications instead of traditional CPUs. Nvidia claims that its Tesla K80 GPU is "two to five times" faster than Intel's Xeon Phi 7120 at "key science applications."
That complements Nvidia's push in connected and driverless cars, but it could be bad news for Intel, which has struggled with sluggish sales of PC chips and slowing growth in data centers.
The key takeaway
AI programs probably won't claim your job or make life-altering decisions for you anytime soon, but they're definitely tethering themselves to our everyday lives through mobile apps, social media, and virtual assistants. Tech investors should keep these facts in mind as top companies continue pursuing this "holy grail" of computer science.
The article 10 Stats About Artificial Intelligence That Will Blow You Away originally appeared on Fool.com.
Suzanne Frey, an executive at Alphabet, is a member of The Motley Fool's board of directors. Leo Sun owns shares of Amazon.com. The Motley Fool owns shares of and recommends Alphabet (A shares), Alphabet (C shares), Amazon.com, Apple, Facebook, Gartner, and Nvidia. The Motley Fool owns shares of Microsoft and has the following options: long January 2018 $90 calls on Apple and short January 2018 $95 calls on Apple. The Motley Fool recommends Intel and Nuance Communications. Try any of our Foolish newsletter services free for 30 days. We Fools may not all hold the same opinions, but we all believe that considering a diverse range of insights makes us better investors. The Motley Fool has a disclosure policy.
Copyright 1995 - 2016 The Motley Fool, LLC. All rights reserved. The Motley Fool has a disclosure policy.