10 Reasons to Buy Realty Income and Never Sell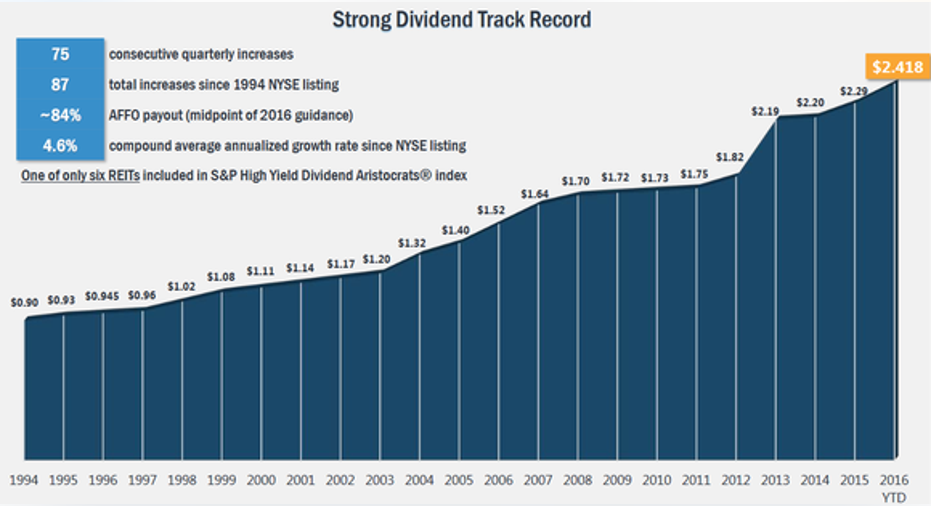 Image Source: Getty Images
Freestanding retail REIT leader Realty Income (NYSE: O) is one of my favorite stocks, and for good reason. I've been building a position in the company for several years now, and plan on keeping my shares forever -- using them as a growth investment now, and as an income-generator later down the road.
With that in mind, here are 10 of the reasons I plan to own Realty Income forever (and will probably buy even more), and why you might want to do the same.
1. Monthly dividends -- Realty Income actually has a trademark on the phrase "The Monthly Dividend Company." Unlike most stocks that pay quarterly, Realty Income chooses to spread its 3.6% dividend yield over monthly installments. This can be an excellent benefit when you eventually rely on your investments for income -- after all, who wants to wait three months for their next paycheck?
2. Dividend growth -- The October 2016 payment will represent the 555th consecutive monthly dividend paid by Realty Income, and the company's 88th dividend increase since its 1994 IPO. Realty Income's business model is designed to produce increasing income, and the company has increased its payment at an average rate of 4.6% per year.
Image source: Realty Income investor presentation
3. Net leases -- Realty Income's tenants sign long-term (15+ year) initial lease terms, which are structured as "net" leases. Under the terms of a net (also known as a triple net) lease, tenants are responsible for expenses such as property taxes, insurance, and building maintenance. This eliminates the majority of unpredictable expenses for Realty Income, and sets the company up for years of steady, growing income.
4. Low-risk retail -- Not all retail businesses are equal from a risk standpoint. Realty Income hand-picks tenants that fit into one or more of three categories: low-price retail, non-discretionary retail, or service-based retail. Businesses in these categories tend to be less vulnerable to recessions and to competition from online retailers.
5. Great management -- Realty Income has an excellent management team with tons of experience, many of whom are highly invested in the company. As an example, CEO John Case owns about 180,000 shares worth more than $12 million as of this writing. In other words, when investors win, they win.
6. Size -- As I write this, Realty Income has about 4,600 properties and a market capitalization of $17.6 billion. This makes it the largest REIT specializing in freestanding retail properties, which gives the company some significant cost advantages. And since the company has increased its growth projections twice this year already, I think this edge will only get better over time.
7. Diversification -- Realty Income is well-diversified in several different ways. The properties are spread out geographically among 49 states plus Puerto Rico, and the tenants operate in 47 separate industries. In addition, Realty Income actually holds a significant amount of non-retail properties in its portfolio, including industrial, office, and even agricultural properties. The point is that Realty Income isn't too dependent on any single tenant, real estate market, or industry.
8. Growth potential -- Realty Income creates value for its shareholders in two ways: income and property appreciation. And while Realty Income's dividend is nice, it's the combination of the two factors that investors should really be focused on. How much are we talking about? Over its 22-year history as a public company, Realty Income has averaged total returns of 18.2% per year. To put this in perspective, a $10,000 investment in Realty Income's 1994 IPO would be worth roughly $396,000 today.
9. Rock-solid financials -- Remarkably, Realty Income has maintained a high level of performance without relying too much on debt. In fact, just 21% of the company's current capitalization is in the form of debt, and the financing methods of newly acquired properties indicate that this ratio will continue. By choosing to finance growth with equity instead of debt, Realty Income has built an investment-grade credit rating and has access to virtually all of the cheap capital it could possibly need.
Image source: Realty Income investor presentation
10. Little interest rate sensitivity -- A lot of REITs are sensitive to rising interest rates, which is a legitimate possibility over the next several years. Not only do rising rates make it more expensive to borrow money, but higher interest rates also make other income investments more appealing to investors, creating downward pressure on the stock prices. And, while Realty Income's stock price may indeed take a hit when rates rise, any weakness is likely to be short-lived. After all, during the last period of rising rates (2003-2006), Realty Income thrived, growing FFO per share at an 8% annualized rate.
Image Source: Realty Income investor presentation
The bottom line
Realty Income may experience some volatility in the short-term, which is to be expected of any stock capable of double-digit returns. However, over the long run, I'm confident that the company will continue to do what it does so well -- generate steadily growing income and ever-increasing value for its shareholders.
A secret billion-dollar stock opportunity The world's biggest tech company forgot to show you something, but a few Wall Street analysts and the Fool didn't miss a beat: There's a small company that's powering their brand-new gadgets and the coming revolution in technology. And we think its stock price has nearly unlimited room to run for early in-the-know investors! To be one of them, just click here.
Matthew Frankel owns shares of Realty Income. The Motley Fool has no position in any of the stocks mentioned. Try any of our Foolish newsletter services free for 30 days. We Fools may not all hold the same opinions, but we all believe that considering a diverse range of insights makes us better investors. The Motley Fool has a disclosure policy.