10 Reasons Merck Could Be the World's Most Perfect Stock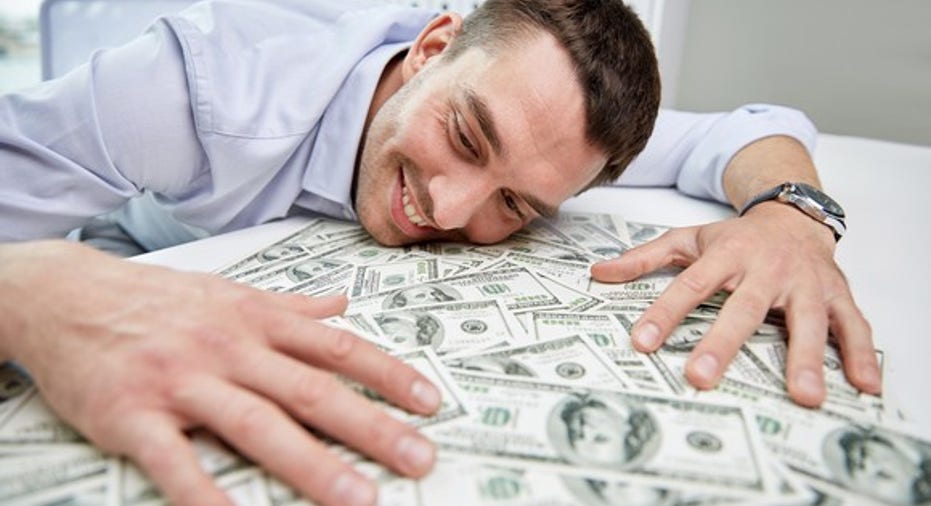 The average investor has more than 5,000 publicly traded stocks on reputable U.S. exchanges to choose from. With that much hay in the barn, finding that needle can be quite difficult.
But if you're looking for the world's most perfect stock, perhaps your search might end withpharmaceutical giant Merck (NYSE: MRK). Since Jan. 1970, including splits, shares of Merck have risen by a brisk 4,320%! Though it might appear that its best days are in the rearview mirror after such large gains, there are plenty of reasons to believe it still has ample upside opportunity.
Here are 10 reasons Merck just might be the world's most perfect stock.
Image source: Getty Images.
1. A leading cancer immunotherapy
Without question, the biggest catalyst in Merck's pipeline is cancer immunotherapy Keytruda. Cancer immunotherapies are drugs that suppress cancer's ability to hide within the body, acting as an aid to help the immune system locate and kill these abnormal cells. Sales of Keytruda exploded higher by 151% to $1.4 billion in 2016.
What makes Keytruda such an exciting compound ties into the recent failure of rival cancer immunotherapy Opdivo in first-line non-small cell lung cancer (NSCLC). Bristol-Myers Squibb's (NYSE: BMY) Opdivo wasn't even close to meeting its primary endpoint in first-line NSCLC as a monotherapy in the CheckMate-026 study, yet Keytruda passed its similar first-line NSCLC trial with flying colors. This opens a new pathway for Keytruda where it'll be able to outshine Bristol-Myers' Opdivo. This is a drug that could wind up selling $10 billion or more annually within the next decade, and it's looking to be the foundation of cancer-fighting therapies for years to come.
2. A long-tail hepatitis C opportunity
Another area of intrigue for Merck is its hepatitis C virus (HCV) drug Zepatier, which is a once-daily treatment. Gilead Sciences (NASDAQ: GILD) has absolutely dominated the HCV space with Harvoni, Sovaldi, and Epclusa because of their convenience and efficacy. Merck's Zepatier presents the first real challenge to Harvoni, and it does so with a considerably lower list price than Gilead's therapies. Last year, Zepatier generated $555 million in sales, but its extrapolated Q4 sales have it on target for around $900 million in annual sales. As Merck nibbles at Gilead's market share, Zepatier could turn into a blockbuster drug in 2017.
It's worth noting that Merck's HCV opportunity stretches well beyond the United States. The World Health Organization estimates that 180 million people are infected with HCV worldwide, leading to a long-tail opportunity for Merck.
Image source: Getty Images.
3. Biosimilars
Merck is also hedging its future by betting big on biosimilars, or biological drug copycats. Though the legal logistics surrounding biosimilar drugs is still a bit hazy, they're expected to go head-to-head with some of the biggest branded drugs in the U.S., and they're being priced at a discount to those branded therapies. In other words, there's a very strong incentive for physicians, insurers, and patients to consider biosimilar medicines because of their attractive price point.
Merck has been focused on five biosimilars: Humira, Remicade, Enbrel, Lantus, and Herceptin. Combined, these drugs sell close to $40 billion a year. If Merck can get even a small piece of that pie, it would be a big deal.
4. Bolt-on acquisitions
Merck is also a bit of a cash cow. With the exception of 2014, it's generated between $8 billion and $11.1 billion in free cash flow in every year since 2010. This healthy cash flow is what allows Merck to supplement its organic growth with what it likes to call "bolt-on acquisitions." Put simply, Merck is looking to complement its core therapeutic indications with mid-cap-sized acquisitions from time to time.
A good example is the company's acquisition of Cubist Pharmaceuticals, which was completed a little over two years ago. Cubist was predominantly focused on acute hospital care drugs, which also happens to be one of Merck's primary therapeutic indications. The addition of blockbuster drug Cubicin and other therapies to its product portfolio provided Merck with an instant return on its investment in the form of higher EPS and cash flow.
Image source: Getty Images.
5. A premier pharmaceutical pipeline
As you'd probably expect from a company Merck's size, it has a very healthy pipeline of developing drugs, many of which are in specialty indications. As of Feb. 24, 2017, the latest pipeline update, it had 13 ongoing phase 3 studies and more than a half-dozen phase 2 studies.
Aside from Keytruda, Merck has numerous diabetes combination studies being examined, including its blockbuster drug Januvia. Januvia is beginning to face a lot of pressure from SGLT-2 inhibitors, so if Merck can find a way to incorporate Januvia as a combination therapy for type 2 diabetes it could regain its luster. Add in the aforementioned biosimilars and Merck has a lot going on development-wise.
6. Tight cost controls
While cost-cutting may not be a long-term strategy, it's been an effective tool that's helped Merck navigate the patent cliff. Between 2010 and Aug. 2015, FiercePharma reports that Merck shed 36,450 jobs. All the while, Merck's sales actually grew even though it cut a significant portion of its staff, showing just how efficient the company has become.
In 2016, Merck saw its research and development costs rise by $490 million, or 7%. However, its materials and production expenses fell by more than $1 billion, and its marketing and administrative costs dipped by more than $550 million. Merck has the ability to pull levers and cut costs, which is a luxury most drugmakers don't have.
Image source: Getty Images.
7. Strong pricing power
Investors are also bound to like the significant prescription drug pricing power that a company like Merck brings to the table. The U.S. has a long list of inherent advantages for drugmakers, including its lack of a universal health plan and the fact that Americans demand pharmaceuticals more than any other country in the world. Those exceptionally long patent protection periods don't hurt, either.
There also aren't too many concerns that President Trump will be able to institute pricing curbs on prescription drugs. Congressional Republicans typically favor free market drug pricing, and Trump appears to be far too busy with other aspects of his agenda to concern himself with drug pricing. Translation: Merck can use its pricing power to boost its top and bottom line.
8. Steady growth in animal health
Thought it's an oft-overlooked building block, the company's animal health division is a steady source of growth. On a constant currency basis, sales of animal health grew by 8% to $3.48 billion in 2016.
The major factor at play is that American families, now more than ever, are welcoming pets into their homes. A Harris Interactive poll from 2012 found that 91% of respondents believed their pet was a part of the family. As a result, the American Pet Products Association found that total pet expenditures in 2016 grew to $66.75 billion, up from $21 billion just two decades earlier. Of that $66.75 billion, $14.7 billion was tied to supplies and over-the-counter care, and another $16 billion to veterinary care. This is a steadily growing business that Merck and investors can count on.
Image source: Getty Images.
9. Shareholder yield
Big Pharma is known for its healthy margins, and Merck is no exception. Aside from its cash flow giving the company ample flexibility when it comes to making acquisitions, it also provides plenty of capital that can be returned to shareholders. Merck is currently paying out $0.47 each quarter, which over the course of the year translates into a 3% dividend yield. That's well above the average yield of S&P 500 companies.
Merck has also aggressively repurchased its own common stock. Buying back its stock reduces the number of shares outstanding, which can boost EPS, lower the P/E ratio, and make a stock look more attractive on a valuation basis. In March 2015, Merck authorized a $10 billion share repurchasing program. This followed a $5 billion repurchase authorization from May 2013.
10. Valuation
Last but not least, Merck is priced attractively relative to the broader market. The company is valued at a forward P/E of less than 15 compared to the S&P 500, which has a forward P/E that's near 20. All the while, Merck has a healthy pipeline, excellent growth prospects from Keytruda and Zepatier, and ample cash flow to inorganically grow its business.
Merck may very well be the world's most perfect stock.
10 stocks we like better than Merck & Co.When investing geniuses David and Tom Gardner have a stock tip, it can pay to listen. After all, the newsletter they have run for over a decade, Motley Fool Stock Advisor, has tripled the market.*
David and Tom just revealed what they believe are the 10 best stocks for investors to buy right now... and Merck & Co. wasn't one of them! That's right -- they think these 10 stocks are even better buys.
Click here to learn about these picks!
*Stock Advisor returns as of April 3, 2017
Sean Williams has no position in any stocks mentioned. The Motley Fool owns shares of and recommends Gilead Sciences. The Motley Fool has the following options: short June 2017 $70 calls on Gilead Sciences. The Motley Fool has a disclosure policy.