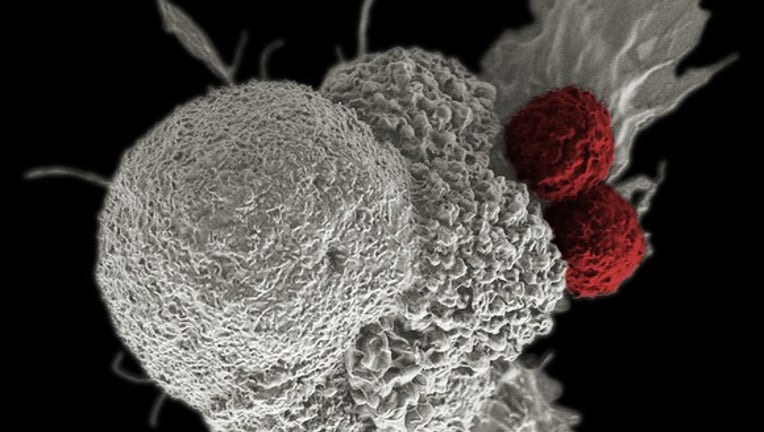 There's arguably no scarier diagnosis for a patient to hear than cancer, which is a large reason why oncology is one of the most researched therapeutic indications by today's drugmakers.
In 2014, per IMS Health, global oncology sales tipped the scales at $100 billion for the first time ever. Based on its estimates through 2018, sales could grow an additional 47% to $147 billion. That's a huge figure, and both Big Pharma and little biotech want their fair share, while also getting the chance to make their mark on treating a complex disease.
Drugmakers have a new weapon up their sleeves: cancer immunotherapies (also known as immuno-oncology drugs). Immunotherapies have one purpose: to reignite your immune system's ability to locate and fight cancer cells. Cancer's greatest trick is that it often goes undetected by the immune system, allowing it to freely proliferate. Cancer immunotherapies seek to cut off this immunosuppressant quality, exposing it to the full force of the immune system.
10 cancer immunotherapies you should be following
The early results from various approved immunotherapies and other experimental immunotherapies still in clinical trials have been extremely encouraging. In quite a few instances, we're talking about improved response rates and progression-free survival, longer survival, and better quality of life. The more data we see from drug developers on cancer immunotherapies, the more it's becoming evident that these drugs could form the backbone of cancer treatment (since many work best in combination with existing chemotherapies and oncology drugs) for years to come.
So what cancer immunotherapies should you be watching? Here are 10, some of which are already approved, that have game-changing potential.
1. Opdivo
Image source: Bristol-Myers Squibb.
If there's a current kingpin in the cancer immunotherapy space, it'sBristol-Myers Squibb's Opdivo, a drug which may already be on track for $3 billion-plus in sales in 2016. Bristol-Myers' Opdivo is approved to treat various forms of metastatic melanoma, second-line non-small cell lung cancer (NSCLC), and second-line renal cell carcinoma. Opdivo has been picking up market share especially quickly in the latter two indications. With the vast majority of studies demonstrating a survival advantage for patients taking Opdivo, and dozens upon dozens of combination studies ongoing, Bristol-Myers' immunotherapy workhorse should remain relevant for a long time to come.
2. Keytruda
Image source: Merck.
If Opdivo is akin to Batman, then Merck's Keytruda is most certainly Robin among cancer immunotherapies. Keytruda was actually approved a few months prior to Opdivo, but Opdivo has had a clearer path to success in NSCLC since it can treat patients regardless of PD-L1 expression, unlike Keytruda. Keytruda is currently approved to treat a variety of metastatic melanoma patients, where it's been very dominant, as well as high-PDL1-expressing NSCLC patients. Based on Q1 sales of $249 million, Keytruda could become a blockbuster drug this year. Known for ridding former-President Jimmy Carter of his metastatic melanoma metastases, Merck's Keytruda is an immunotherapy whose expansion into new labels should be closely monitored.
3. Tecentriq
If the name Tecentriq doesn't ring a bell, that's because Roche's drug only gained its first therapeutic approval two weeks ago. Previously known as atezolizumab, Roche's immunotherapy received the green light in treating bladder cancer after 14.8% of the 310-patients treated experienced at least partial shrinkage of their tumors, with a 2.1-month to 13.8-month duration of response. The objective response rate for high PD-L1-expressing patients was even higher at 26%. With Roche having the largest clinical pipeline of any drugmaker, it has a bounty of opportunities to run combination studies with Tecentriq.
4. Durvalumab
Having fallen way behind its peers in oncology, AstraZeneca is betting the farm on durvalumab, a clinical-stage cancer immunotherapy that's currently being tested in at least two dozen therapeutic indications, according to the company's posted pipeline. Among these are 10 late-stage studies, eight of which are in combination with CTLA-4 inhibitor tremelimumab. The upcoming annual meeting of the American Society of Clinical Oncology could give us a more in-depth look at AstraZeneca's leading immunotherapy.
5. Avelumab
Another Big Pharma clinical creation is avelumab, which is being developed by Pfizer and Merck KGaA . Pfizer paid nothing short of an arm and a leg to forge this alliance -- $850 million in upfront cash, $2 billion in possible development milestones, and a portion of its Xalkori revenue stream -- so there's a lot riding on its success. Preliminary data from Pfizer's and Merck KGaA's midstage JAVELIN study for Merkel cell carcinoma patients netted avelumab the highly coveted breakthrough indication back in November, possibly signaling big things to come.
6. VGX-3100
Cancer immunotherapies aren't exclusive to drug giants, as Inovio Pharmaceuticals' development of VGX-3100 for cervical dysplasia caused by human papillomavirus type 16 and 18 shows.
Image source: Inovio Pharmaceuticals.
Currently moving into phase 3 studies, VGX-3100 helped 49.5% of treated patients move from grade 2 or 3 of the disease to grade 1 or no disease in a midstage study. It also cleared HPV, and provided this drop to grade 1 or no disease in 40.2% of patients, which was far and away better than the placebo with only 14.3% effectiveness in HPV clearance and a drop in disease severity to grade 1 or no disease. Inovio's DNA-based vaccine platform is different from that of many of its peers, which makes this advancing immunotherapy one to watch.
7. JCAR015
With JCAR015 from Juno Therapeutics , we're talking about a much earlier-stage cancer immunotherapy, but nonetheless one with an encouraging outlook. A phase 1 study conducted in 22 evaluable adults with relapsed/refractory B cell acute lymphoblastic leukemia by the Sloan Kettering Cancer Center showed a 91% complete remission rate. By comparison, historical complete remission rates with current standard of care treatments are less than 10%! Juno's technology is also unique, relying on the production of chimeric antigen receptors (CARs) from genetically modified T-cells to induce an immune response against cancer cells that produce these CARs. It's an intriguing scientific advancement that's worth monitoring.
8. Ad-RTS-IL-12
Image source: NIH Image Gallery via Flickr
It may not be the most attractively named immunotherapy, but Ad-RTS-IL-12, which is being developed through a collaboration between Ziopharm Oncology and Intrexon for the treatment of breast cancer and glioblastoma multiforme (an aggressive type of brain cancer), is one of the most unique. The two are looking to combine Ziopharm's CAR-T therapy (same principles as with Juno's JCAR015 above) with Intrexon's RheoSwitch gene therapy technology, which allows for genes to effectively be upregulated or downregulated. In other words, Ziopharm's CAR-T could help the immune system locate cancer cells, and RheoSwitch could, for a short period of time (a few days to a week), kick the immune system into hyper-drive before returning it to normal function. Keep your eyes on this stealthy duo.
9. NeuVax
Image source: Galena Biopharma.
A cancer immunotherapy underdog of the group could be Galena Biopharma's vaccine NeuVax, which is designed to work as an adjuvant therapy to prevent the recurrence of breast cancer following treatment. In a midstage study that lasted five years, the recurrence rate in the placebo arm was 25.9% compared to just 5.6% in the NeuVax arm -- a 78% clinical benefit. Will the results translate over into a larger trial? That's what we're waiting to find out, as Galena is conducting the phase 3 PRESENT study as we speak. Interim data is due shortly, but the study itself won't be completed until sometime in 2018. If all goes well, Galena's NeuVax could have multiple opportunities to expand its label indications.
10. Epacadostat
Last but not least, we have Incyte's epacadostat, an IDO-1 inhibitor that's being tested in multiple tumor types. IDO-1 inhibitors work as an alternative to PD-1 inhibitors like Keytruda and Opdivo by blocking the immunosuppressant quality of cancer cells to allow for their detection. Results from a phase 1/2 study released in November in combination with Merck's Keytruda showed an overall response rate of 53% and a disease control rate (i.e., stable disease) of 74% for patients with advanced melanoma. Mind you, most people used to die within the first 12 months from advanced melanoma as recently as a few years prior, so this is certainly encouraging data for Incyte and its shareholders.
Did I leave an intriguing cancer immunotherapy developer off this list? Share your thoughts below.
The article 10 Potentially Game-Changing Cancer Immunotherapies You Should Be Following originally appeared on Fool.com.
Sean Williamshas no material interest in any companies mentioned in this article. You can follow him on CAPS under the screen nameTMFUltraLong, and check him out on Twitter, where he goes by the handle@TMFUltraLong.The Motley Fool recommends Juno Therapeutics. Try any of our Foolish newsletter services free for 30 days. We Fools may not all hold the same opinions, but we all believe that considering a diverse range of insights makes us better investors. The Motley Fool has a disclosure policy.
Copyright 1995 - 2016 The Motley Fool, LLC. All rights reserved. The Motley Fool has a disclosure policy.