10% of Tesla Motors Short-Sellers Have Bailed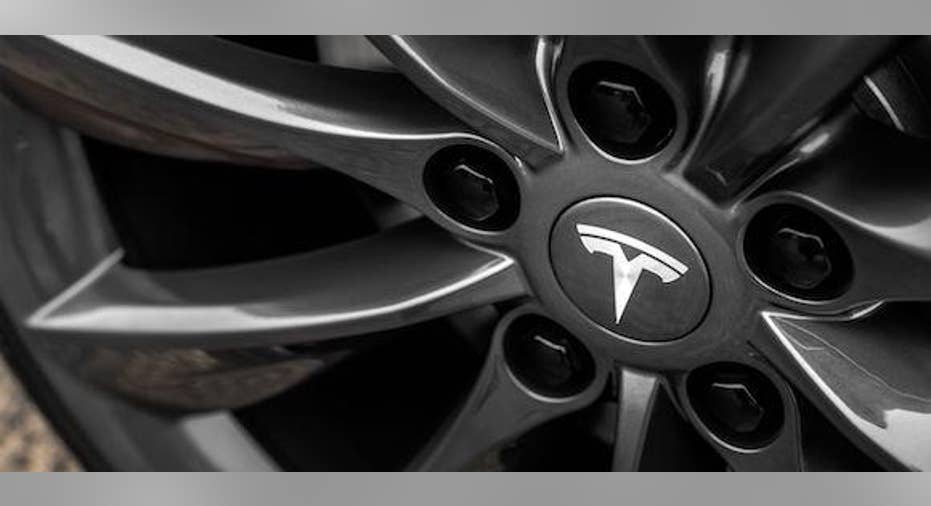 Image source: Tesla.
With Tesla Motors being the mother of all battleground stocks right now, it's particularly important for investors to keep a close eye on short interest numbers. There's a very large number of bearish investors out there that consider Tesla wildly overvalued and have taken positions accordingly.
Interestingly enough, as Tesla shares rallied after first-quarter earnings, short interest mostly held flat -- or even increased. That showed that the recovery was not being driven by short covering. Rather, the run up was being driven mostly by bullish investors taking long positions.
Well, Tesla short interest has just now posted a meaningful decline, and 10% of short interest has been covered.
Short interest is trending lowerThe exchange recently posted its short interest data as of settlement date April 15. There are now 29.07 million shares being held short. That's still a whopping 33% of float, but it also represents a 10% sequential decline from the 32.3 million shares that were held short as of settlement date March 31.
| Settlement Date | Short Interest | Days to Cover |
| --- | --- | --- |
| April 15 | 29.07 million | 3.36 |
| March 31 | 32.3 million | 6.89 |
| March 15 | 32.2 million | 6.89 |
| February 29 | 34 million | 6.66 |
| February 12 | 31.5 million | 3.81 |
| January 29 | 30.2 million | 7.79 |
| January 15 | 29.1 million | 6.55 |
Data source: Nasdaq.
Short interest has now hit the lowest level year to date.
Small squeezeKeep in mind that the April 15 settlement date corresponds to a trade date of April 12, while the March 31 settlement date corresponds to a trade date of March 28. Shares gained 8% during that time as short interest fell by 10%, so there was something of a short squeeze, albeit a relatively mild one.
The particular couple of weeks in question is also when the news flow around Tesla's highly anticipated Model 3 was escalating. The affordable EV was unveiled on March 31 and quickly gathered nearly 400,000 reservations in the weeks that followed. CEO Elon Musk also warned that it was "probably unwise" to short Tesla shares on April 5.
Between Musk's warning and soaring Model 3 reservation numbers, it makes sense that a good number of shorts would be looking for the exits. However, Tesla reports earnings on Wednesday, and it's anyone's guess as to how the market will react. We already know that the electric-auto maker fell short on deliveries due to continued challenges ramping Model X, even as it reaffirmed its full-year outlook.
But Tesla is about as unpredictable as it gets when it comes to earnings reactions. Tesla lost far more money than the Street expected in the first quarter, yet shares jumped on the strong outlook. Beyond deliveries, cash flow will be the most important metric for the upcoming release.
The article 10% of Tesla Motors Short-Sellers Have Bailed originally appeared on Fool.com.
Evan Niu, CFA owns shares of Tesla Motors, andhas the following options: long January 2018 $180 calls on Tesla Motors. The Motley Fool owns shares of and recommends Tesla Motors. Try any of our Foolish newsletter services free for 30 days. We Fools may not all hold the same opinions, but we all believe that considering a diverse range of insights makes us better investors. The Motley Fool has a disclosure policy.
Copyright 1995 - 2016 The Motley Fool, LLC. All rights reserved. The Motley Fool has a disclosure policy.