10 Key Numbers From IBM's Annual Report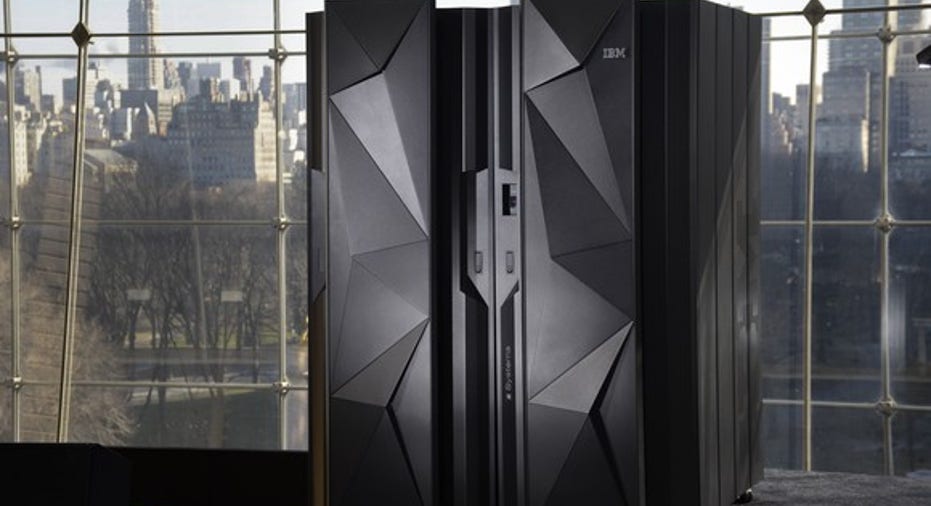 With International Business Machines' (NYSE: IBM) fourth-quarter results already reported, the company's recently released annual report doesn't unveil anything new. But the company did discuss a wide variety of topics related to its ongoing transformation, highlighting key initiatives that are helping to return it to growth. Here are 10 numbers that stood out to me as I perused Big Blue's report.
2,300 exabytes
One of IBM's moon shots is healthcare, where it's using its Watson cognitive computing system to churn through massive amounts of data with the aim of aiding doctors and producing better outcomes. IBM estimates that the total amount of healthcare data will exceed 2,300 exabytes (that's 2,300 quintillion bytes) by 2020, including medical records, images, and research. With so much new information being created so quickly, a powerful system like Watson has the potential to become an indispensable aid to medical professionals.
45 billion weather inquires
IBM acquired The Weather Company, sans the TV segment, in late 2015. The deal was all about data, with the Weather Company analyzing data from 3 billion reference points each day and providing services to thousands of clients. The Weather Company now handles 45 billion weather inquires each day, up from 26 billion at the time of the acquisition.
Image source: IBM.
$100 million
One industry that benefits from the Weather Company's services is the airline industry. Turbulence costs airlines approximately $100 million each year, with injuries, delays, and extra maintenance weighing on the bottom line. The Weather Company, with data produced from sensors on thousands of flights, provides airlines the ability to react quickly based on real-time analysis, minimizing turbulence and the associated costs.
1 million legal documents
Watson is being used in many areas outside of healthcare, by both IBM itself and third parties. ROSS Intelligence uses Watson to power its tool that can read in 1 million legal documents per second and quickly find relevant sections for a particular case. This allows lawyers to reduce the time spent doing research. Like in most applications of Watson, the system acts as an aid to a highly trained professional, not as a replacement.
35 billion security events
One of IBM's strategic imperatives is security, which produced $2 billion of revenue in 2016, growing by 14%. IBM Security serves over 12,000 clients, monitoring more than 35 billion security events every day. Watson is being used here as well, ingesting thousands of security research papers and security blogs each year in an effort to keep pace with cybersecurity threats.
74,000 pages
Tax preparation is yet another application of IBM's Watson. H&R Block began using Watson this year at some of its physical locations to aid tax prep professionals in wringing out every last deduction for its clients. The tax code is 74,000 pages long, and constant changes make it nearly impossible to keep up. This makes it a perfect application for IBM's brand of cognitive computing.
300 million pages
Even more complicated than the tax code is the mountain of regulations that financial firms must contend with. IBM estimates that global banking regulations will reach 300 million pages in length by 2020, making compliance an expensive and time-consuming task. IBM acquired Promontory Financial Group, a risk management and regulatory compliance consulting firm, last year with the aim of throwing Watson at the problem. Reducing the $250 billion in compliance costs and penalties that banks spend annually could eventually become a lucrative business for IBM.
20-fold
IBM's mainframe business has been around for decades, and it's still growing. Total installed mainframe capacity has increased by a factor of 20 over the past 20 years, driven by IBM's efforts to keep the platform relevant. A whopping 90% of global credit card transactions are processed on IBM mainframes, a reminder of the big iron behind modern payment systems.
Image source: IBM.
400 clients
The blockchain technology that underlies digital currencies like bitcoin could make a wide variety of processes more efficient. IBM is working with over 400 clients to use blockchain to solve business problems, including retailer Wal-Mart and shipping giant Maersk. According to Maersk, a single shipment can go through dozens of people before reaching its destination, a process that introduces room for error and fraud. Blockchain is still a very new technology, but IBM is jumping in with both feet.
8,088
IBM has long been a prolific producer of patents, and 2016 was no different. The company produced 8,088 patents last year, bringing its total since 1993 to over 97,000. All patents aren't created equal, and the volume of patent production doesn't necessarily correlate to the level of innovation. But IBM, forced to reinvent itself, is more innovative today than it has been in quite some time.
10 stocks we like better than IBMWhen investing geniuses David and Tom Gardner have a stock tip, it can pay to listen. After all, the newsletter they have run for over a decade, Motley Fool Stock Advisor, has tripled the market.*
David and Tom just revealed what they believe are the 10 best stocks for investors to buy right now... and IBM wasn't one of them! That's right -- they think these 10 stocks are even better buys.
Click here to learn about these picks!
*Stock Advisor returns as of February 6, 2017
Timothy Green owns shares of IBM. The Motley Fool has no position in any of the stocks mentioned. The Motley Fool has a disclosure policy.