1 Way Howard Stern May Be More Valuable to Sirius XM Holdings Now Than Ever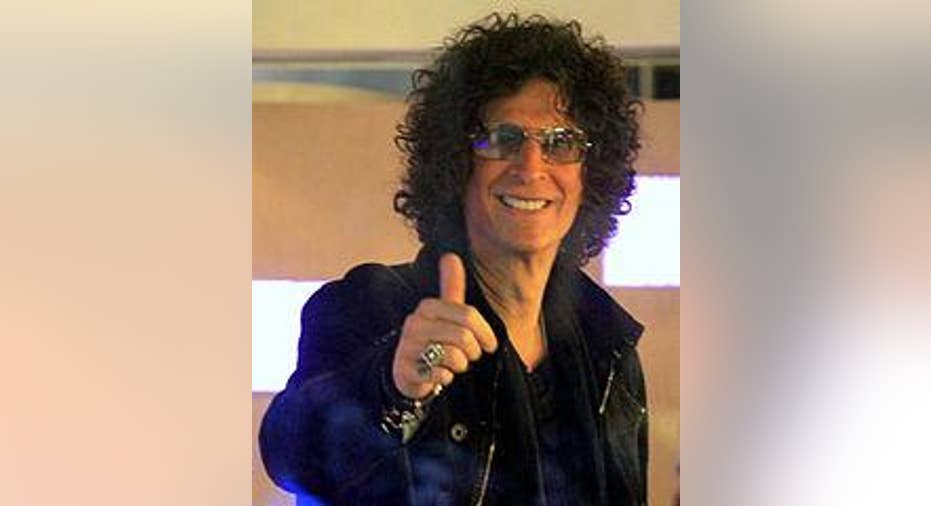 Source: Bill Norton/Wikimedia Commons
With just three shows left on his contract with Sirius XM , Howard Stern has yet to reach a deal that would keep his wildly popular radio show on the satellite service it's called home since 2006. No doubt, the tension has both loyal Stern fans and Sirius investors waiting with bated breath for an announcement before the holiday. CEO Jim Meyer has said the company wants Stern to stay on. Whether he does or not likely comes down to money.
Let's get two things out of the way right off the top.
Stern was a big reason that Sirius XM succeeded as a satellite radio service.
At this point, Sirius XM can, indeed, survive without Stern.
The second item would seem to be more relevant to investors at this point. Stern is a big investment for Sirius that would seem to continue generating diminishing returns. But before you conclude that The King of All Media is no longer worth the money, you might want to reconsider exactly how you're valuing Stern's current contribution to Sirius XM's future growth.
Big growth followed his arrivalSirius was a relatively young company in 2005, when Stern agreed to leave AM/FM programming and its FCC-regulated constraints. In exchange for a lucrative five-year deal some valued at a half-billion dollars, Stern delivered an injection of talent and an army of loyal listeners willing to pony up cash for something they'd always gotten for free.
In late 2004, Sirius had 800,000 subscribers. After signing Stern, in just over a year, it had 3.3 million. And by 2008, Sirius had 8.3 million subscribers.
Those listeners -- not all due to Stern, of course -- provided Sirius with a big boost in cash flow, and they no doubt made the possibility of a merger more palatable to the much larger XM service, erasing a competition between the two companies that would have eaten up valuable resources over time, leaving both weaker in the long run.
A different timeSirius XM today, however, is a much different service, one brimming with programming. It offers its 29 million subscribers all the major live sports broadcasts, live concerts, and a wider variety of music than ever. It also has a plethora of radio talk shows. Moreover, the company has convinced just about every car manufacturer to install its technology, and is now in 75% of vehicles that roll off the production lines. http://seekingalpha.
All that considered, Sirius has grown into a company that can survive just fine without the man who served as the face of the service in its most important formative years.
But that doesn't mean it should try to.
Stern's bigger value to Sirius today may be in the marketing that his show provides. As the show has transformed away from the so-called "shock jock" shows of the past, the in-depth celebrity interview has become the show's new foundation.
It's also one that continuously generates headlines across the news media.
Here are just a few recent examples:
"JJ Abrams talks terrifying reveal to Disney execs, other Star Wars details on Stern" Digital Trends, Dec. 10
"Nick Cannon Announces He's New RadioShack CCO On 'Howard Stern' " GossipCop, Dec. 2
"Emily Blunt discusses stuttering during Howard Stern interview" Entertainment Weekly, Oct. 1
"Bree Olson Tells Howard Stern She Did Not Find Out About Charlie Sheen HIV Diagnosis Until 3 Days Ago" International Business Times, Nov. 17
Every article is a potential free trial That's a pretty wide array of both topics and publications, all mentioning the Sirius host's show in the title.
Perhaps just as important, many of those articles also include embedded SoundCloud clips from the show each of which has a button that allows the listener to sign up for a free trial to Sirius XM.
That's built-in marketing for the satellite radio service at an important time. With its new-car penetration rate likely at its peak, the company needs to continue pursuing other avenues to reach new subscribers and continue growing. I cover that issue more fully here.
Until now, Sirius has been able to spend a relatively small amount on sales and marketing. Last year, Sirius spent some $336 million on sales and marketing. That was about 11% of the company's total costs. Compare that to streaming music service Pandora, which spent $277 million on sales and marketing in 2014, some 63% of its expenses.
Part of the reason for that difference is that Sirius has managed to bring aboard programming that delivers its own audience; Stern may be the best example of that. But that will become continually more difficult.
So, while Stern's value in delivering a built-in audience may be in the rearview, investors should not discount the importance of his role in future growth. The marketing power Stern provides offers significant value in itself, and that's something Sirius executives will need to take into consideration.
The article 1 Way Howard Stern May Be More Valuable to Sirius XM Holdings Now Than Ever originally appeared on Fool.com.
John-Erik Koslosky has no position in any stocks mentioned. The Motley Fool owns shares of and recommends Pandora Media. Try any of our Foolish newsletter services free for 30 days. We Fools may not all hold the same opinions, but we all believe that considering a diverse range of insights makes us better investors. The Motley Fool has a disclosure policy.
Copyright 1995 - 2015 The Motley Fool, LLC. All rights reserved. The Motley Fool has a disclosure policy.