1 Top Dividend Stock to Buy Now (It Might Surprise You!)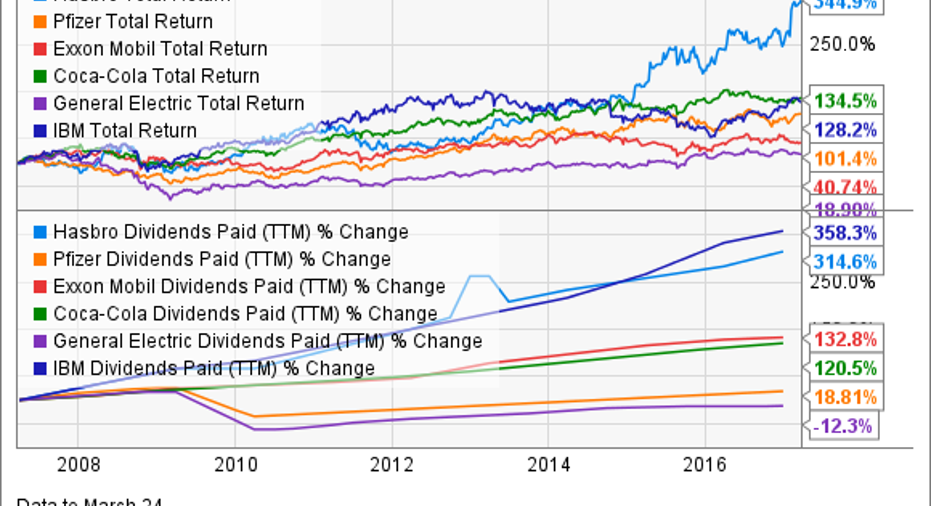 A worthwhile dividend stock that many investors probably don't think of as such is toymakerHasbro(NASDAQ: HAS). The company's brands include such perennial favorites as Nerf, Play-Doh, and Monopoly, and it has tight ties to entertainment powerhouse Walt Disney (NYSE: DIS).
Hasbro's dividend yield is currently 2.3%, which is somewhat on the modest side, but its dividend has been growing fast. Investors often miss out on good opportunities by looking only at current yield.
Image source: Getty Images.
Outshining many popular dividend stocks
The term "dividend stocks" probably brings to mind the stocks of pharmaceutical companies, such as Pfizer; stocks of oil and gas powerhouses, such as ExxonMobil; stocks of century-plus-old consumer product titans, such as Coca-Cola;stocks of industrial goliaths, such as General Electric;and stocks of old-guard technology giants, like IBM.
As you can see below, not only has Hasbro's 345% total return (stock price appreciation plus dividends) outperformed all these stocks over the last ten years, but Hasbro's dividend has increased the second-highest percentage, trailing only IBM's. And while IBM's dividend has increased the most, its stock's 128% total return has considerably lagged Hasbro's.
For context, the S&P 500 returned 103% over the last 10 years. Data by YCharts.
If these same general dynamics continue, an investor'seffective yield on his or her Hasbro stock, purchased now, would approach and eventually surpass his of her yield from the stocks of all these other companies purchased now (except IBM), even though they all currently have higher dividend yields than Hasbro. (Their current yields range from IBM and GE's 3.2% to Pfizer's 3.8%.)
A key thing to remember is that your effective yield is based on the price you paid for a stock, not its current price. It's important to consider a company's growth potential and related dividend growth potential even if your primary or sole goal for that stock is to provide you an income stream in the future. Of course, if youneed a certain yield now that's higher than the 2.3% that Hasbro stock is yielding, then Hasbro stock isn't a good fit for you.
Image source: Hasbro.
Plenty of room for continued dividend hikes
In February, Hasbro announced a 12% hike in its quarterly dividend, payable on May 15 to shareholders of record on May 1. This follows an 11% raise last year.
Among the popular dividend stocks previously mentioned, IBM's most recent dividend increase of 7.7%, effective last June, is the highest.The others' most recent raises range from Pfizer's 6.6% down to ExxonMobil's 2.7%.
Moreover, unlike most of the stocks (ExxonMobil, Coke, and GE), Hasbro's cash dividend payout ratio (dividends paid divided by free cash flow) indicates that it has plenty of room to increase its dividend. Hasbro's ratio is 40.1%. While several factors come into play, a cash dividend payout ratio of about 60% to 70% or less suggests that shareholders can probably count on more dividend increases ahead.
Data byYCharts.
Hasbro's robust financial performance supports the dividend-hike party continuing. In 2016,revenue rose 12.8% as reported and 14% in constant currency, adjusted earnings per share soared 27.1%, and EPS on the basis of generally accepted accounting principles (GAAP) jumped 21.6%.
Moreover, 2017 looks bright. Hasbro's toy sales should get a nice boost from Disney's recent release of Beauty and the Beast,which is wowing moviegoers. And a strong slate of movies will follow that should drive toy sales: Disney'sGuardians of the Galaxy Vol. 2and Hasbro's Transformers: The Last Knightin the second quarter; Disney'sSpider-Man: Homecomingin the third quarter; and Disney'sThor: Ragnarok,My Little Pony: The Movie,and Disney'sStar Wars: The Last Jedi in the fourthquarter.
Yes, that's a lot of mentions of Disney. Hasbro's status as a favored Disney partner is a big reasonfor the company's strong performance, though Hasbro's internal brands, particularly Nerf and Play-Doh, have also been performing well in recent years.
A worthy component of a successful investing playbook
Hasbro's business isn't as immune as some popular dividend stocks to macroeconomic factors, so it's not a good match for all dividend investors. However, the company's robust financial performance and outlook coupled with its low cash dividend payout ratio make it a worthy choice for investors looking for a stock that has the potential to continue to outperform both from stock appreciation and dividend growth standpoints.
10 stocks we like better than HasbroWhen investing geniuses David and Tom Gardner have a stock tip, it can pay to listen. After all, the newsletter they have run for over a decade, Motley Fool Stock Advisor, has tripled the market.*
David and Tom just revealed what they believe are the 10 best stocks for investors to buy right now... and Hasbro wasn't one of them! That's right -- they think these 10 stocks are even better buys.
Click here to learn about these picks!
*Stock Advisor returns as of February 6, 2017
Beth McKenna has no position in any stocks mentioned. The Motley Fool owns shares of and recommends Hasbro and Walt Disney. The Motley Fool has a disclosure policy.