1 Tentative Sign That Oil Companies Think the Worst Just Might Be Over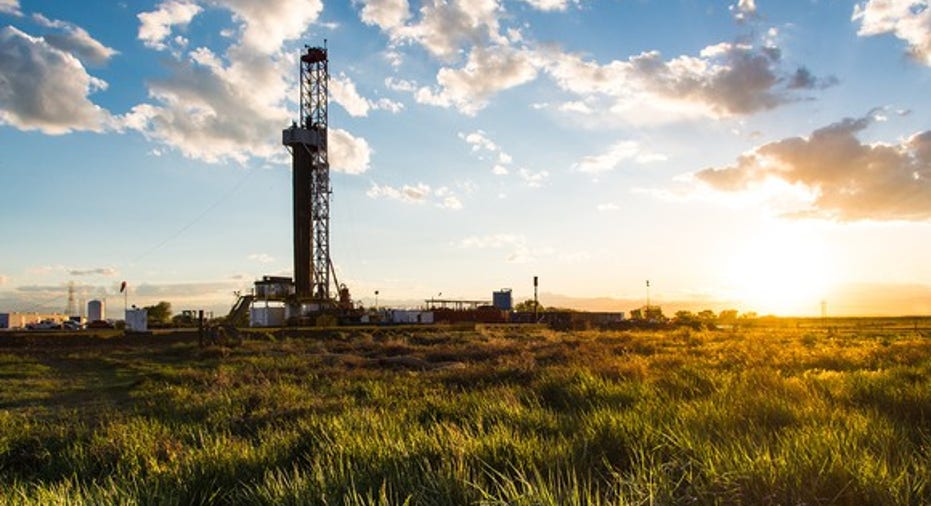 Image source: Anadarko Petroleum.
The tumbling of oil prices over the past two years sapped much of the cash flow oil producers need to invest in new wells. That forced the entire sector to cut spending, with capital expenditures budgets falling for two straight years -- the first time that happened since the late 1980s. According to one estimate, oil and gas spending in the U.S. was projected to fall by more than 25% this year, after slumping 36.1% last year. However, with oil prices bouncing sharply off the bottom, producers are starting to increase their spending plans, signaling that they think the worst could be in the rearview mirror.
Baby steps
Descending oil prices over the past couple of years forced Canadian Natural Resources tofrequentlyreevaluate its spending plans. These reviews resulted in the company reducing its capex budget five times last year, bringing it all the way down to C$5.44 billion, which was C$3.2 billion less than where it started 2015. After initially budgeting to spend C$4.5 billion to C$5 billion in 2016, it cut the range down to C$3.5 billion to C$3.9 billion after the crude crash accelerated to start the year. Canadian Natural Resources made the cuts to avoid impairing its financial position by spending too far above cash flow. Furthermore, with the oil market oversupplied with crude, the company preferred not to spend money it didn't necessarily have to bring on incremental supplies that the market didn't need.
However, with oil prices rebounding sharply over the past few months, Canadian Natural Resources has started adding cash back to its capex budget. While the company is only expecting to invest C$50 million more than initially planned, this is a step forward for a change. The capital will enable the company to drill 123 heavy oil wells, five light oil wells, and 11 thermal oil wells in the second half of this year. Canadian Natural Resources said that it could deploy even more capital this year if oil prices continue to rebound. However, it will likely wait until 2017 before resetting the budget much higher.
Image source: Apache Corporation.
First a trickle and then the gusher?
Canadian Natural Resources is one of a small handful of producers which are adding cash to their 2016 capex budgets. Among other notables in this group are Devon Energy and Pioneer Natural Resources . Devon Energy recently injected an extra $200 million into its capex budget, bringing its spending range up to $1.1 billion to $1.3 billion. That injection came after the company completed a bevy of non-core asset sales. With at least one more deal yet to come, Devon Energy would have the cash to add $1 billion to its capex budget once it is confident oil has stabilized.
Meanwhile, Pioneer Natural Resources boosted its budget by $100 million after acquiring additional acreage from none other than Devon Energy. It needed that incremental capital so it could get right to work developing its newly acquired land. That money is expected to accelerate the company's production growth heading into 2017.
Others, however, are taking a much more cautious approach. For example, Anadarko Petroleum CEO Al Walker was candid with investors about the company's plans for the balance of the year. On the company's first-quarter conference call, he said:
Apache CEO John Christmann, on the other hand, said that the "recent improvements in oil prices are encouraging" -- so encouraging that the company is starting to feel more confident about its ability to increase its capital program. In fact, Apache's CEO noted that "the potential timing and magnitude of this increase is the topic of significant planning and discussion right now at Apache and with our board." While that does not mean Apache will boost spending this year, it seems to be much closer to doing so than Anadarko, which appears content to wait until 2017 before increasingspending.
Investor takeaway
Oil companies are tentatively starting to increase capex spending now that oil prices have improved. While additional spending increases could be on the horizon, it seems apparent that producers don't want to get out ahead of the market by boosting spending too quickly. Instead, most appear content to keep spending increases minor this year, with the intention of ratcheting up investments in 2017.
The article 1 Tentative Sign That Oil Companies Think the Worst Just Might Be Over originally appeared on Fool.com.
Matt DiLallo has no position in any stocks mentioned. The Motley Fool owns shares of Devon Energy. Try any of our Foolish newsletter services free for 30 days. We Fools may not all hold the same opinions, but we all believe that considering a diverse range of insights makes us better investors. The Motley Fool has a disclosure policy.
Copyright 1995 - 2016 The Motley Fool, LLC. All rights reserved. The Motley Fool has a disclosure policy.