1 Tech Stock to Own With Mortgage Rates at New Lows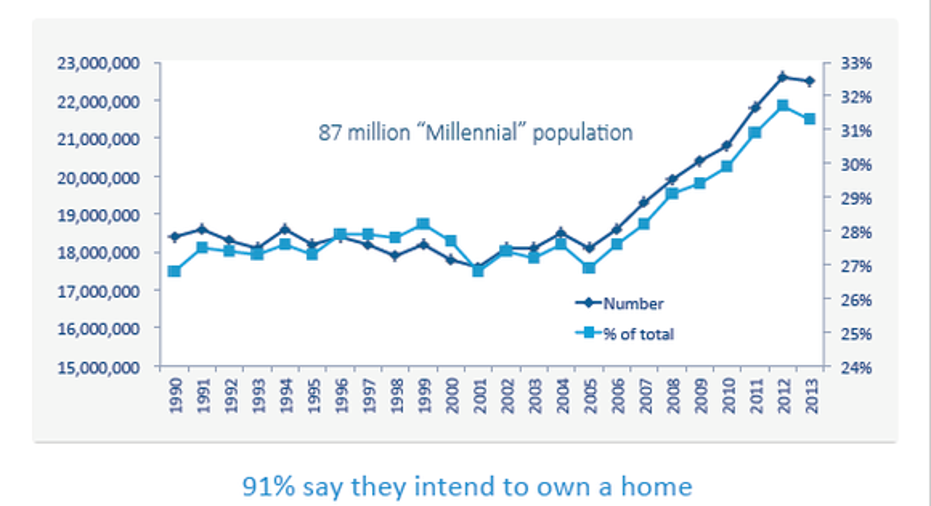 IMAGE SOURCE: ELLIE MAE.
Earlier this week, rates on a 30-year mortgage hit 3.40%, hovering around three-year lows. The low rates come as a surprise to many pundits, as the Federal Reserve increased the federal funds rate in December for the first time in nearly a decade.
However, low rates are looking to be the norm in the near future, as Fed Chairwoman Janet Yellen announced that last week that the federal funds rate target will remain between 0.25% and 0.50%. The Fed's press release also indicated that future increases will be gradual and "the federal funds rate is likely to remain, for some time, below levels that are expected to prevail in the longer run."
The low rate environment has been a boon to the housing industry as it recovers from the financial crisis. Housing starts have steadily risen since late 2010:
The mortgage industry has been a benefactor of low interest rates. According to the Mortgage Bankers Association (MBA), mortgage originations for one- to four-family homes were $1.63 trillion in 2015. The MBA continues to see strength going forward, with a forecast of $1.61 trillion in financing in 2016 and some tapering off the next two years.
Once company that has benefited greatly from the housing recovery is Ellie Mae . Not to be confused with Sallie Mae, Ellie Mae offers software that helps lenders automate the residential mortgage origination process.
If you've ever gone through the home-buying or refinancing process, you know that the mortgage industry is definitely one that could benefit from some automation. The loan workflow process can be rather painful for all parties involved. Just some of the parties involved in the lending process outside of just the borrower and lender are credit agencies, appraisers, insurance companies, investors, and flood certification specialists. They all have some part in the processing, underwriting, closing, and funding process of the loan. On top of all the complexities, the real estate agents involved typically target a 30- to 45-day process to close each transaction. With the number of parties and processes involved with a quick deadline, there is plenty of room for mistakes that can cause any number of parties to be liable for mistakes.
This is where Ellie Mae steps in and adds value. The company's primary source of revenue comes from on-demand subscriptions to Encompass, its mortgage software. Encompass allows banks, credit unions, and mortgage lenders to originate and fund mortgages while also improving compliance, loan quality, and efficiency.
Ellie Mae ended 2015 with $254 million in total revenue, a 57% increase from the prior year. Furthermore, there is sufficient evidence that the company is providing value to its customers as its average revenue per client has increased 36% since 2013.
| | | | |
| --- | --- | --- | --- |
| | 2013 | 2014 | 2015 |
| Revenue per active Encompass user | $1,472 | $1,612 | $1,996 |
Source: Company filings
Revenue per user can be increased in a few ways. First, lenders can increase the volume of loans it processes through Encompass. About 30% to 40% of Ellie Mae's business is dependent on volume. A lot of this volume is dependent on customers who are on Success Based Pricing. Customers on this pricing model pay fees based on the number of loans it funds. Additionally, the company offers a variety of other on-demand software services including electronic document management, customer relationship management, fraud detection, and tax transcript services. Finally, the Ellie Mae Network is a proprietary electronic platform which allows Encompass users to conduct business transactions with investors and other service providers. When Ellie Mae is able to obtain a customer and present its value to lenders, it can successfully cross-sell a wide variety of products and services.
In addition to adding value to current customers, there is still a long runway for growth in the mortgage software market. Of the 8,000 lenders in the marketplace, about 1,700 are currently Ellie Mae users. According to National Mortgage Licensing System data, there are 850,000 mortgage banking professionals. Only 20% or 166,000 of those users are contracted software-as-a-service users, which is the on-demand, subscription based model Ellie Mae utilizes. Users get the benefit of software through web access but can outsource hardware and software support costs to the provider.
The lending software market is largely unpenetrated. According to Ellie Mae, the total addressable market is $6.25 billion and with a market share over 20%, Ellie Mae has a large lead over its competitors. The competitive landscape is largely fragmented with a large number of private players in the mortgage origination software market. There is also competition with service providers who provide electronic document management, compliance, and other services. However, Ellie Mae is hoping to consolidate the space and become a one-stop shop for lenders.It is off to a strong start.Co-founder and Chairman Sigmund Anderman has said that the company has never lost a customer to competition.
What if rates increase?
On the surface, it appears that the largest risk to Ellie Mae's business would be an increase in interest rates. With 30% to 40% of its business effected by loan volume, increasing rates are a risk to the housing industry, and by default, Ellie Mae. However, while rising rates will definitely have an effect on refinancing, home purchases have largely been less sensitive to interest rates.
SOURCE: ELLIE MAE.
The mortgage business should also continue to stay strong as the housing industry shows signs of pent-up demand, especially among the millennial market. According to data from the Census Bureau, Moody's Analytics, and the Fannie Mae National Housing Survey, over 22 million of 87 million 18- to 34-year-olds are currently living with parents. Of those, 91% say they intend to own a home.
At a market capitalization of $2.5 billion, Ellie Mae is teetering just above the definition of a small-cap stock. If the housing industry can continue its steady recovery and Ellie Mae continues to capture a larger share of its growing market, Ellie Mae has the potential to grow even larger. However, investors should also beware that as a small-tech stock, priced at 9 times sales and 125 times trailing earning, the ride will be volatile.
The article 1 Tech Stock to Own With Mortgage Rates at New Lows originally appeared on Fool.com.
Palbir Nijjar has no position in any stocks mentioned. The Motley Fool owns shares of and recommends Ellie Mae. Try any of our Foolish newsletter services free for 30 days. We Fools may not all hold the same opinions, but we all believe that considering a diverse range of insights makes us better investors. The Motley Fool has a disclosure policy.
Copyright 1995 - 2016 The Motley Fool, LLC. All rights reserved. The Motley Fool has a disclosure policy.