1 Reason NVIDIA Thinks Its Staggering Growth Will Continue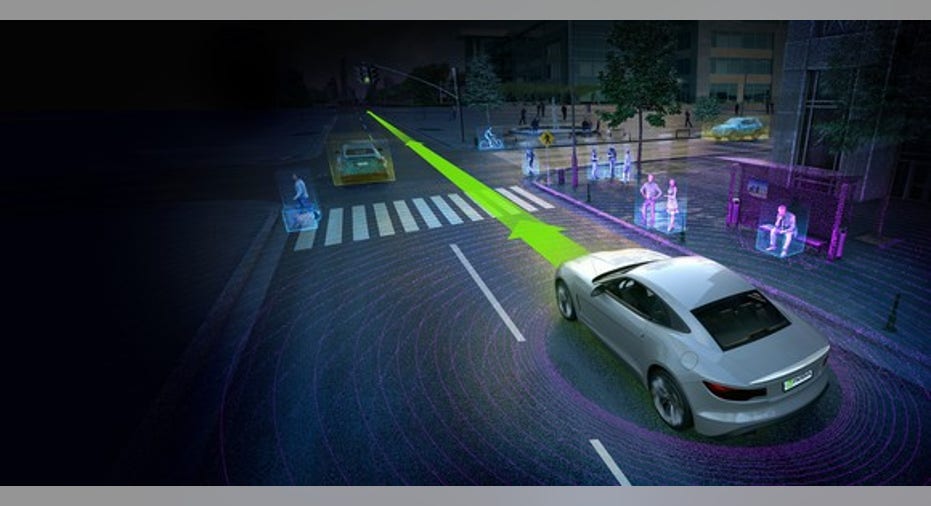 In case you haven't heard, NVIDIA Corporation (NASDAQ: NVDA), the leader in the graphics processing unit (GPU) chip industry, has been experiencing staggering growth, with impressive increases across a variety of metrics. The company became the stock market darling of 2016 as itsstock price tripled, and investors must be wondering whether its performance can continue. NVIDIA thinks it can. The reason? The artificial intelligence (AI) market.
Image source: Getty Images.
The games we play
To give investors some background, for years the company's bread and butter has been the discrete desktop GPU market, where it commands a 70% market share. That market is still exhibiting phenomenal growth, with the company's gaming revenue up 66% year over year to $1.3 billion in its most recent quarter. When asked whether the opportunity in gaming is set to continue, the company's president and CEO Jen-Hsun Huang stated:
NVIDIA is forecasting huge growth in autonomous driving. Image source: NVIDIA.
Artificial intelligence
But that's not what gets Huang really excited. He gets most animated when discussing deep learning, a discipline of AI, which was mentioned 34 times in NVIDIA's recent conference call. There have been plenty of headlines touting AI as the next big thing. All the biggest tech companies have been embracing the technology en masse, which has led to advances in natural language processing, voice recognition, and the development ofvoice-activated digital assistants-- and NVIDIA thinks the best is yet to come. This is what Colette Kress, NVIDIA's CFO had to say on the topic:
AI and autonomous vehicles will drive future growth. Image source: NVIDIA.
Drive me crazy
Also within the scope of AI are self-driving cars. NVIDIA developed its Drive PX 2 platform, which "is an end-to-end AI computing system that uses groundbreaking approaches in deep learning to perceive and understand the car's surroundings." More than 80 companies are using the Drive PX 2 platform in the pursuit of self-driving car technology,which is still in its early stages. The potential for NVIDIA to realize robust future revenue streams grows with each new entrant. In an interview on website VentureBeat.com, when asked about the pace of the self-driving car phenomenon, Huang stated:
Autonomous driving is enabled by AI, but NVIDIA sees advances in both as potentially multibillion-dollar growth drivers. It also believes that we are still in the earliest stages of each. The company is agnostic as to who uses its GPUs to achieve growth in these areas. While other companies are making big headway in AI, NVIDIA is supplying the computing power necessary to get the job done.
10 stocks we like better than NvidiaWhen investing geniuses David and Tom Gardner have a stock tip, it can pay to listen. After all, the newsletter they have run for over a decade, Motley Fool Stock Advisor, has tripled the market.*
David and Tom just revealed what they believe are the 10 best stocks for investors to buy right now... and Nvidia wasn't one of them! That's right -- they think these 10 stocks are even better buys.
Click here to learn about these picks!
*Stock Advisor returns as of February 6, 2017
Suzanne Frey, an executive at Alphabet, is a member of The Motley Fool's board of directors. Teresa Kersten is an employee of LinkedIn and is a member of The Motley Fool's board of directors. LinkedIn is owned by Microsoft. Danny Vena owns shares of Alphabet (A shares) and Facebook. The Motley Fool owns shares of and recommends Alphabet (A shares), Facebook, and Nvidia. The Motley Fool has a disclosure policy.