1 Number Apache Corporation Needs to Reverse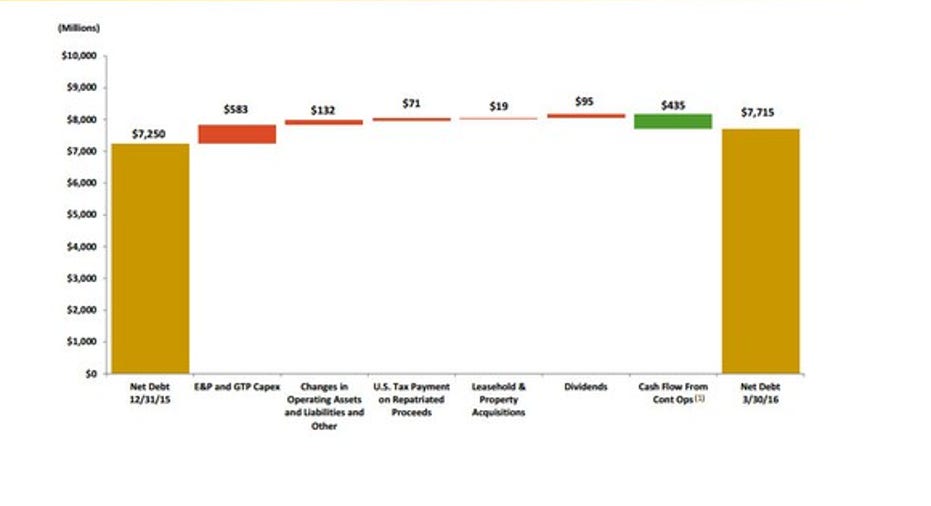 Image source: Apache Corporation.
With the oil market in turmoil to start the year, Apache put together a plan to help it navigate the volatile conditions. One of its goals was to maintain its financial strength. To achieve this aim, the company wanted to end the year with its debt level at least unchanged from the level at the beginning of the year, if not lower. However, with one quarter in the books, that number is heading in the wrong direction, which is a trend the company needs to reverse over the next few quarters.
Going the wrong way
Heading into 2016, Apache planned to match capital expenditure with cash flow at a $35 oil price to avoid adding any more debt to its balance sheet. That was a common targetacross the sector, with Continental Resources , for example, aiming to do so under the assumption that oil would average $37 per barrel.The first quarter, however, was a tough one for the oil sector after crude prices plunged into the $20s. Those low prices ate into the cash flow that Apache had expected to earn, which caused it to outspend cash flow on capex and other expenditures.This resulted in the company's debt level rising:
Source: Apache Corporation Investor Presentation.
This increasing debt came despite the fact that Apache spent less on exploration and production capex than budgeted, investing just $466 million last quarter, which was below its guidance of $500 million to $550 million. While that helped close the gap, cash flow was under significant pressure after the company was only able to realize $31.51 per barrel of oil last quarter. Again, this was not an Apache-specific problem, as weak oil price realizations caused Continental Resources' debt level to rise by $100 million last quarter.
A self-correcting problem?
While Apache's debt went in the wrong direction last quarter, two catalysts could reverse that concerning trend. First, Apache's capex guidance for the full year is $1.4 billion to $1.8 billion, which implies a quarterly run rate of $350 million to $450 million. That run rate is lower than the company's spending level and spending guidance last quarter. This suggests that capital spending will decline throughout the year.
In addition, oil prices are now much higher, with oil topping $50 a barrel during the second quarter. There is a growing consensus that oil could have further to run because market fundamentals are improving. This suggests that the company's cash flow could be a lot stronger over the second half of the year, and it is entirely possible that Apache could generate excess cash flow this year.
That is, unless the company decides to ramp up spending, which is something it is starting to consider. That potential spending surge is a concern because, if Apache and its peers start increasing capital spending too early, it might knock the wind out of the sails of oil prices. However, so far most producers are not reloading their capex budgets in response to crude's rebound to $50. Instead, we are seeing producers like Continental Resources deciding to wait until oil hits $60 a barrel before adding rigs. As long as oil companies take the cautious approach and do not flood the market with new oil too early, oil price should stay firmly above Apache's cash flow breakeven point of $35 per barrel.
Investor takeaway
While Apache's debt level jumped last quarter, it appears that this will be an outlier. Not only is the company's capital spending projected to decline, but oil prices are now much higher than the company's initial projections. This should make it easy for Apache to reverse the direction of its debt, enabling it to meet its goal to end the year with less debt than it started.
The article 1 Number Apache Corporation Needs to Reverse originally appeared on Fool.com.
Matt DiLallo has no position in any stocks mentioned. The Motley Fool has no position in any of the stocks mentioned. Try any of our Foolish newsletter services free for 30 days. We Fools may not all hold the same opinions, but we all believe that considering a diverse range of insights makes us better investors. The Motley Fool has a disclosure policy.
Copyright 1995 - 2016 The Motley Fool, LLC. All rights reserved. The Motley Fool has a disclosure policy.